Income from the West: Long-term reliable income streams
---
The Western Australian ("WA") economy continues to go from strength to strength as per the latest release of Labour Force data from the Australian Bureau of Statistics (ABS). For the third consecutive month, WA has recorded the lowest unemployment rate of all the states and territories at 4.7% vs the national rate of 5.1%. WA also retains the lowest underemployment rate of all states and territories at 7.2%.

The ongoing strength of the Western Australian economy is no surprise to equity investors which have seen the value of Australia's mining giants skyrocket, alongside the dividends they pay. 
With iron ore currently trading at a near record-high of over US$210 a tonne, many investors remain optimistic on the outlook for big dividends with claims that a new 'dividend super cycle' is underway.
It was just a handful of years ago in 2016 iron ore didn't trade once over US$100 a tonne. The dividend outlook for both Rio Tinto and BHP was very different with the market uncertain about their ability to pay dividends. In back-to-back weeks in the February 2016 corporate reporting season, Rio Tinto then BHP both slashed their long-held progressive dividend policies. This meant that rather than having an incrementally growing dividend, their dividend would be tied to a payout ratio relative to the profit they made in the respective periods.
At the time it resulted in an almost 75% decrease in BHP's dividend and a 51% decrease in RIO's dividend.
Fast-forward five years and these companies are now paying out record level dividends and are once again in favour with many investors. 
For those not constrained by the bounds of investing in traditional asset classes like equities, there are other hidden gems in Western Australia that can also provide investors with strong levels of income in the form of direct commercial property.
While these opportunities are not abundant, astute investors can enhance their investment portfolios by allocating to these assets which are set to benefit from Western Australia's economic resilience – and the income these assets generate is not reliant on underlying commodity prices.
Compare the income
When looking to construct portfolios of stocks or bonds, investors typically seek diversification across high quality companies assessing the financial strength and ability to pay future cash flows. When considering investing in commercial property assets, investors should do the same by finding assets that are secured by long leases to financially strong tenants.
For investors that focus on high-quality commercial property assets with non-discretionary tenants, this is akin to holding an income-focused equity portfolio but often with lower risk and higher yields. For example, a non-discretionary weighted shopping centre is likely to be secured by tenants such as Coles (ASX: COL), Woolworths (ASX: WOW), National Australia Bank (ASX: NAB) and Commonwealth Bank (ASX: CBA). These tenants all pay rent to the landlord as a contractual obligation, providing a much higher level of income security than holding the underlying equity.
Such large corporate tenants offer many ways to get exposure however, investors often isolate their thinking to the equity and to a lesser extent corporate bonds. But investors open to a broader investment universe could purchase assets where the same covenant for that yield offers them a 7% yield via direct property.
The table below shows a list of tenants, that are some of Australia's major national tenants, and their respective trailing twelve month equity stream: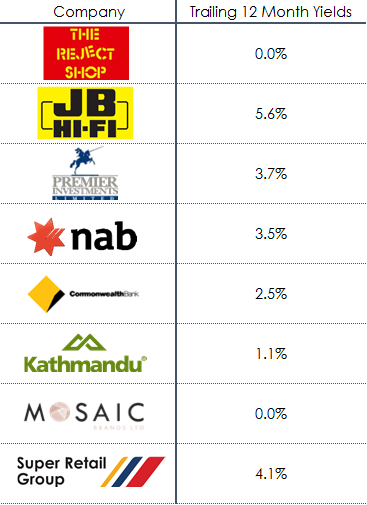 Source: ASX
As an added benefit to security of income, rental contracts typically feature fixed rental increases or turnover rent clauses, which provides investors with a clear pathway for a steady, growing rental income stream.
For those unfamiliar, turnover rent is a fixed percentage of rental income received by the landlord once a store's sales reach the turnover threshold in a particular period. Effectively it enables the landlord – you, as the investor – to receive a higher rental amount if the store performs well. Investing in assets with favourable demographic tailwinds (like Western Australia) can in turn result in a higher level of turnover rent and ultimately a higher return for the investor.
And when syndicated alongside numerous other complementary properties, can provide a higher yield than many other investments in the market – with the income paid monthly.
The chart below shows the current trailing yields on major ASX companies BHP Group (ASX: BHP), Rio Tinto (ASX: RIO), Woolworths and Coles as well as the Yield to Maturity for debt investors in Coles and Woolworths bonds and how they stack up against unlisted commercial property trusts.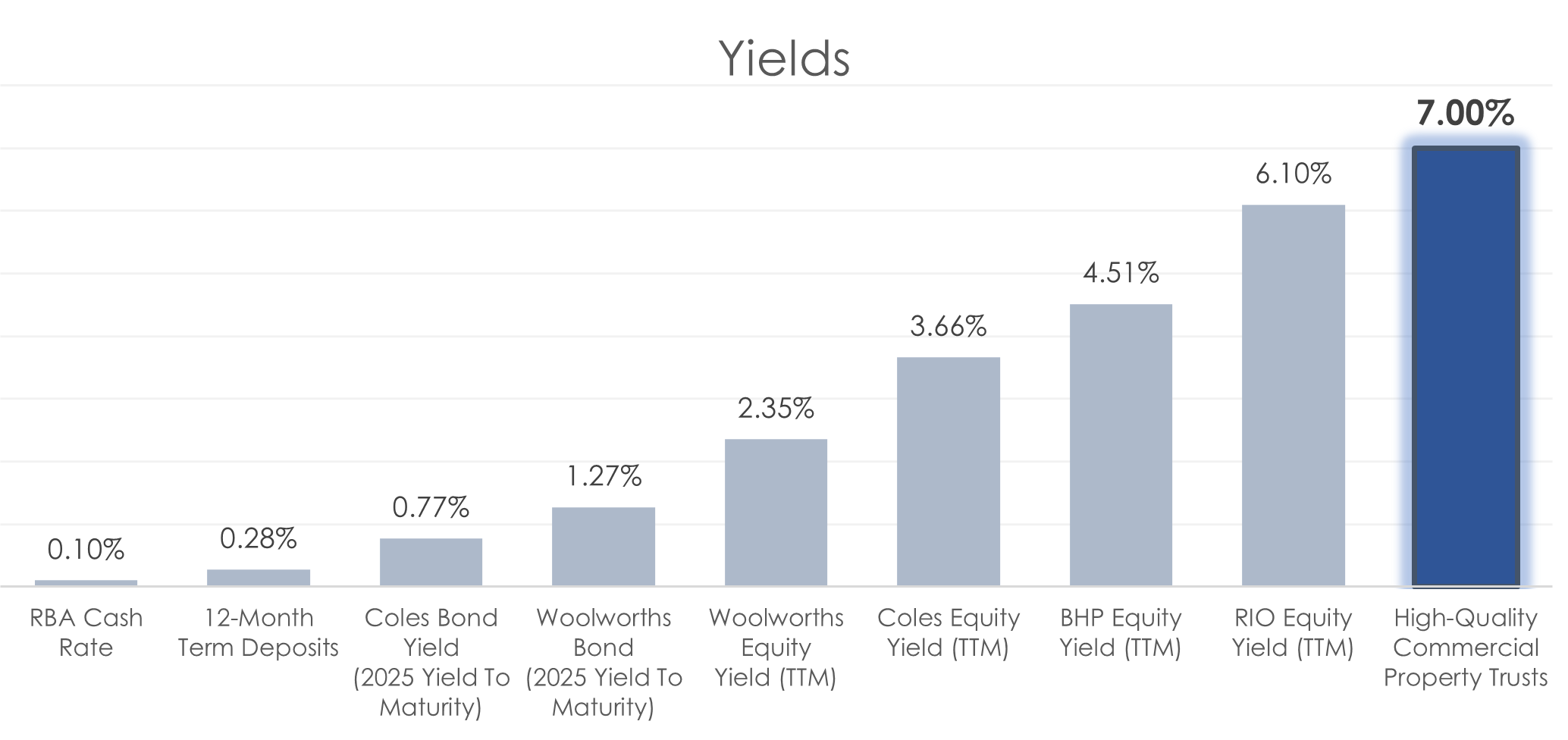 Source: RBA, Refinitiv Data, Company Releases, ASX, Fawkner Property
Strength of the Western Australia economy
Western Australia's extremely strict but successful implementation of COVID policies meant that the economy faired far better than those on the Eastern seaboard. The table below highlights the key economic drivers for 2020 showing how WA outperformed the rest of the nation on every metric.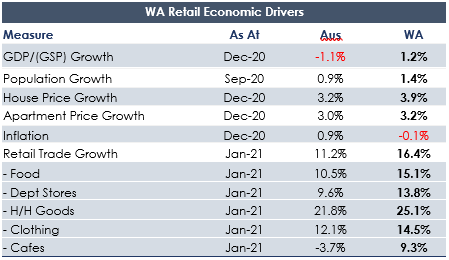 Source: Savills, JLL, ABS
The outperformance of the Western Australian economy has, on many metrics, been consistent relative to other states since the Global Financial Crisis. In his recent piece 'How Victoria became one of Australia's 'poorer' states over the past 10 years' prominent Australian economist Saul Eslake highlights some of the key metrics between each of the states.
Since the Global Financial Crisis, when ranked against all states and territories Western Australia has had the:
The second highest Gross State Product (GSP) per capita growth; meaning that on an individual basis the state's productive capacity or wealth has been increasing, rather than relying on immigration to increase growth.
The highest level of labour productivity growth; meaning that real output per hour has been increasing more than any other state.
Further, after a period of weak domestic migration between 2013 and 2019, Perth is now attracting more Australians to live there.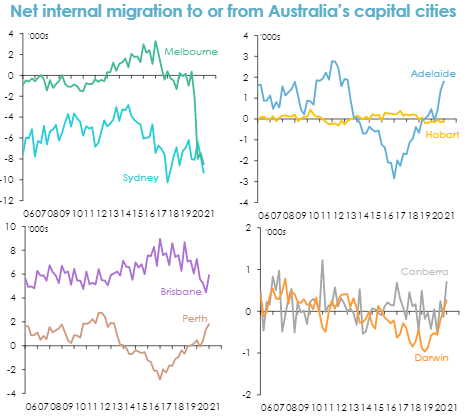 Source: Saul Eslake 31-May-2021
Why you should focus on non-discretionary
When assessing an investment for its income prospects, it is important not just to assess the current yield but the long-term prospects for that income. In the case of BHP and Rio Tinto, investors might consider whether their current dividends are sustainable into the long-term given the currently record high iron ore price.
As an example, the Federal Government's latest iron ore price assumption, as featured in the federal budget of US$55 a tonne by March 2022, would result in significant downward pressure on the miners' dividends if this scenario was to eventuate. It is worth noting though that commodity prices, including iron ore, can be particularly hard to predict given their reliance on external nations such as China's, import demand.
Commercial property investors can therefore seek to mitigate yield uncertainties by deriving rental cash flows from providers of non-discretionary goods and services, now well known to be considered 'essential services'. Essential Service providers like grocery stores, service stations and convenience retail centres and childcare providers typically have much lower variability in their sales than providers of discretionary goods.
Therefore, by constructing portfolios anchored by financially strong 'Essential Services' tenants, in attractive locations and set to benefit from favourable underlying demographic trends such as metropolitan Perth, investors can attain much more clarity when projecting future cash flows. The result is a consistent, reliable income stream over the long-term that is backed by physical real estate.
Fawkner Property is Australia's leading Essential Services Property Syndicator. For more of our insights, click the 'follow' button below.
Not an existing Livewire subscriber?
If you're not an existing Livewire subscriber you can sign up to get free access to investment ideas and strategies from Australia's leading investors.
And you can follow my profile to stay up to date with other wires as they're published – don't forget to give them a "like".
---
Livewire's Top-Rated Fund Series gives subscribers exclusive access to data and insights that will help them make more informed decisions.
Click here to view the dedicated website, which includes:
The full list of Australia's 100 top-rated funds.
Detailed fund profile pages, with data powered by Morningstar.
Exclusive interviews with expert researchers from Lonsec, Morningstar and Zenith.
Videos and articles featuring 16 top-rated fund managers.
........
This general information has been prepared without taking account of your objectives, financial situations or needs. A Product Disclosure Statement or Information Memorandum can be obtained by contacting Fawkner Property at info@fawknerproperty.com.au. You should consider the contents of a Product Disclosure Statement before making any decision about whether to invest with Fawkner Property.