The share price performance of Brambles following the announcement about the retirement of Tom Gorman the current CEO is reminiscent of previous retirements at Brambles and for that matter many other leading companies.
The cult of personality has been led by the media and many other industry and financial participants who perceive personal disadvantage from a change which has magnified the personality downgrade.
It is worthwhile remembering what Warren Buffett had to say about not investing in personalities ..
"I try to invest in businesses that are so wonderful that an idiot can run them. Because sooner or later, one will."
We are not suggesting for a moment that Mr Gorman's successors are idiots simply emphasizing another Buffett quote..
The key to investing is not assessing how much an industry is going to affect society, or how much it will grow, but rather determining the competitive advantage of any given company and, above all, the durability of that advantage."
So in the case of Brambles we are talking about an enormous moat and a business that has already invested heavily recently in its own future which is therefore unlikely to be a drain on nearby gains. There has been talk about the new team resetting the base which we believe is unlikely based on current forecasts for 2017.
The real question is the valuation and the peer group comparison which we would argue is driven by home bias in Australia and not by valuations in the main geographies where Brambles does business.
We are not arguing that Brambles is a Buy a Sell or Hold simply that there are other suitable benchmarks than the ASX alone to make a decision about its worth not just on a theoretical calculation based on past numbers.
There is no doubt that Brambles is creating shareholder value when you compare the Return on Invested Capital with its weighted average cost of capital.
We would also argue that the choice is about investing in fast moving consumer goods and transport first and then the best performing opportunity rather than in a formula about value regardless of its academic validity.
Readers can draw their own conclusions from the following numbers.
Let's start with five of Brambles biggest users and see how the industry sectors in which they are represented are performing lately.
The first number is the current performance rank out of 198 sectors the second number in brackets is the rank six months ago.
Colgate
P and G     Cosmetics                      166 (123)
Coca Cola Beverages                      163 (146)
Unilever    Packaged Food             142 (50)
Walmart    Major discount retail  167 (174)
The improvement in Walmart and retailing's ranking reflects the end of the honeymoon for Amazon (but that is another story).
Independent Research likes to be in the top current ten rankings which at the moment include banks, minerals, education, coal and steel. We especially like to be in industries which are rising not falling.
Next, we have used as our benchmark, an Exchange Traded Fund The Spdr Consumer Staples XLP which contains the largest weighting of all ETFs for our benchmark stocks.
For the record here is the performance of this small sample over the last 12 months.
Consumer Staples  XLP       Plus     6%
Walmart                  WMT    Plus   21%
P and G                    PG         Plus     9%
Colgate                    CL          Plus     5%
Coca Cola                KO         Minus  1%
Unilever                  UL          Minus  5%
These are hardly inspiring numbers by comparison with a 15 per cent improvement in the Dow year to date. Even less inspiring by comparison with United Parcels Service UPS up 24% and Fedex up 37% year to date.
Thirdly, how do the numbers for the industry, Consumer Staples, and Brambles biggest customers look right now.
[Screen Shot 2016-12-14 at 10.09.52 PM.png]
By comparison the range of numbers we have seen for Brambles are around
PE 2017              21 times
EV/EBITDA        10.6 times
Yield                     2.7%
EPS growth        10-19%
Price to Book        4.6 times
Net Debt/Ebitda   1.5
CONCLUSION
Brambles is creating shareholder value and has a great business with massive competitive advantages that will be hard to replicate. It has upside potential from an improvement in ROIC which will flow from energetic new management next March.
It is a stock that is suitable for portfolios looking for offshore exposure however there is better value elsewhere amongst its Consumer Staples peers and comparable value in the Consumer Staples ETF for those prepared to venture outside the ASX.
It is not our first choice and it is not the bargain we would like to pick in the current market.
DISCLAIMER NOTICE: While the information contained in this article has been prepared with all reasonable care from sources that Independent Investment Research (IIR) believes are reliable, no responsibility or liability is accepted by IIR for any errors, omissions or misstatements however caused. In the event that updated or additional information is issued by the Company, subsequent to this publication, IIR is under no obligation to provide further research unless commissioned to do so. Any opinions, forecasts or recommendations reflects the judgment and assumptions of IIR as at the date of this article and may change without notice. IIR and each Participant in the Report, their officers, agents and employees exclude all liability whatsoever, in negligence or otherwise, for any loss or damage relating to this document to the full extent permitted by law. This publication is not and should not be construed as, an offer to sell or the solicitation of an offer to purchase or subscribe for any investment. Any opinion contained in the Report is unsolicited general information only. Neither IIR nor the Participants are aware that any recipient intends to rely on this Report or of the manner in which a recipient intends to use it. In preparing our information, it is not possible to take into consideration the investment objectives, financial situation or particular needs of any individual recipient. Investors should obtain individual financial advice from their investment advisor to determine whether opinions or recommendations (if any) contained in this publication are appropriate to their investment objectives, financial situation or particular needs before acting on such opinions or recommendations. This report is intended for the residents of Australia. It is not intended for any person(s) who is resident of any other country. This document does not constitute an offer of services in jurisdictions where IIR or its affiliates do not have the necessary licenses.
---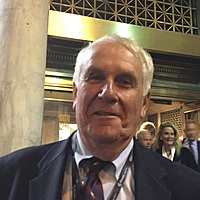 Independent Investment Research
Over 30 years in Australia, South Africa, London and the United States John Kimber has worked in investment research, advisory, and corporate finance at Prudential Securities, BT Alex Brown and Ord Minnett. He completed his series seven...
Expertise
No areas of expertise