Good morning, good economic news from China yesterday, GDP +6.9%, didn't help our market which saw the banking sector weaken taking the ASX200 index down by 0.2%. Stronger resources only partly stemmed the weakness.
I'm not an economist but enjoy reading history and economics, I know that is sad. The spread differential between the US 2 and 10 year bonds has always been an interesting and reliable indicator, so let's look at that. Normally we would expect that longer dated bonds would trade at a higher yield than shorter dated bonds, this is called a positive yield curve and generally indicates stable to improving economic conditions. A contracting spread, ie a flattening yield curve, may then indicate weakening economic conditions coming up.
Let's look at what has been happening in the US:
The 2 year and 10 year bonds are represented by the blue and amber lines respectively and the difference between them, the spread, by the grey line. Looking at the grey line it hit a low of 76 basis points in July 2016 and has most recently traded down to 79 basis points in the week of 29 June, currently at 97 basis points. The low point for the past 16 years is 35 basis points hit in September 2000 and look what happened economically after that! By February 2011 the spread was up to 291 basis points and here we are back at 97 basis points.
The main reason for this fall is mixed expectations by bond market participants. Many are looking for rate rises from the Federal Reserve while others do not believe the funds rate will rise but are looking more at falling or insipid inflation. The latter group's view leads to falling longer term rates which have inflation expectations priced in, hence a flattening yield curve.
The bond market is telling us that inflation and growth prospects in the US are not strong, something the Federal Reserve would find it hard to ignore in their deliberations and so we are seeing expectations for rate increases being wound back .
Markets were mixed overnight with bond yields generally lower. Index futures suggest a small fall again today.
Kind regards
Alex
---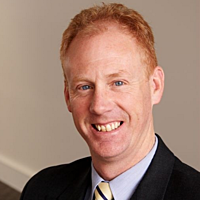 Director
Joseph Palmer & Sons
Alex Moffatt has almost 40 years' experience dealing in equity, debt and currency markets in Australia, the UK and USA. He has worked at several companies in the wealth management industry, including Schroders in the UK. A director of Joseph...
Expertise
No areas of expertise