It's no surprise there's no surprise
---
With REITs earnings largely derived from contractual rental income, it's no surprise that the sector has delivered solid earnings growth and that there's been no earnings surprises. The general trends thus far have been further cap rate compression (massive demand for real estate), debt cost savings, further corporate efficiencies and strong office rental growth in Sydney and Melbourne. There were a number of results and management meetings this week with the highlights below. The upshot is that REIT investors can relax.
Abacus Group (ABP) – approvals required
Abacus have a great track record of extracting value from assets/sites but it is difficult to forecast given the trading nature of the firm and reliance on Government approvals for their largest development sites. Management have done a good job with the first half underlying profit up 22% pcp, driven by an increase in the commercial and self-storage sectors. The balance sheet gearing is 23% and NTA lifted 10.5% to $2.94.
Australian Unity Office Fund (AOF) – the quiet achievers
Management are poised to take advantage of the tight Sydney and Melbourne CBD markets with a suburban asset pool offering much cheaper accommodation. They increased FY17 guidance due to better leasing outcomes and lower debt costs. Management have detailed knowledge of their markets and the stock offers an attractive yield of 7.3%.
Centuria Industrial (CIP) – expectations reset
Management restated the outlook post taking over on January 9 with prior earnings and distribution guidance of ~21.6cps changed to 20.5cps (a 5% drop). Centuria now assume asset sales will be used to lower the 42% gearing level as opposed to being reinvested as per prior guidance. This is a prudent approach as they focus on their June 2017 debt refinance. The stock now offers a compelling yield of >8% aided by the gearing level of 42%.
Dexus (DXS) – it won't happen overnight
FY17 guidance was lifted by ~1% due to a lower average cost of debt given the group has terminated expensive interest rate swaps. Office earnings were buoyed by a surrender payment from Lend Lease who moved to new premises before their lease expired. Industrial earnings lifted on the back of higher occupancy and higher tenant retention. They have gearing at the lower end of their range and thus have capacity to acquire or develop accretive assets. The strong rental growth being experienced in Sydney will take a few years to filter through to earnings given the long term leases in place.
Folkstone Education (FET) – pre-Fab result
Folkestone Education Trust (FET) delivered 8.4% EPS growth in 1H17 and reiterated its FY17 guidance. Growth was driven by solid rental growth, a reduction in interest costs, and income from completed developments. Management noted that since 2013 they have completed 18 developments worth $96m and have a further 22 sites under construction or awaiting approval for a total completion value of $122m. FET are set to trial prefabricated (prefab) centres which means they can now be built in five months, half the time of traditional construction methods. Another good result from the team.
Goodman Group (GMG) – best on ground
This result is the best to date with the group delivering an FY17 earnings upgrade to 7.5% despite the fact that headline gearing has reduced to 9% (21% look-through = when you include the gearing in funds that they co-invest in). With property yields above the cost of debt this reduction is a drag on earnings so growth could be much higher. The only issue is that the active proportion of earnings (non-rental) has risen with development earnings ~40% of EBIT. GMG are fully aware of the cyclical nature of property and their caution/paranoia will enable them to withstand any future shocks or take advantage of distress.
GPT Group (GPT) – solid as Ayers Rock
The Group announced strong CY16 FFO growth of 5.6%, driven by rental growth, lower debt costs, lower employee expense plus a dash of one-off performance fees and the final payment for the Ayers Rock resort sold in 2011. Management highlighted their exposure to the strong Sydney and Melbourne office markets, with Sydney witnessing +20% effective rental growth. The outlook was for ~2% FFO growth because CY16's "one-offs" would not be present. They have low gearing and thus have capacity to acquire assets, fund developments or buybacks which should enable them to exceed forecasts.
Mirvac (MGR) – can't fault them
MGR delivered a strong first half result and have targeted the upper end of prior FY17 guidance of 9–11% EPS growth. The commercial portfolio that accounts for ~80% of earnings is in good shape, with a strong east coast presence boosting rental growth and their retail portfolio rapidly improving. Most questions concerned the 20% that comes from apartments and land lots, with MGR acknowledging a 2% default rate, albeit 70% of these (16/23 defaults) subsequently sold at a higher price.
Vicinity (VCX) – a good outlet
FY17 guidance was affirmed with their outlet malls performing well (they own DFO) and re-leasing spreads were positive. They've done a good job on the non-core asset sales to take gearing to 24% and have reduced overheads by 12% pcp. Chadstone is now valued at a 4.25% cap rate. They acknowledge that retail sales growth has moderated and that a redevelopment plan for Roselands remains unclear. A solid result.
Written by Pat Barrett, Property Analyst at UBS Australia
---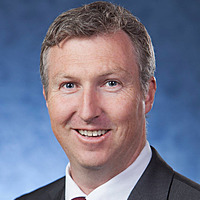 Pat Barrett has twenty five years experience in the listed and direct property industries, most recently covering property securities, infrastructure and utilities analysis at UBS.
Expertise