Jeremy Grantham: We are at the end of a golden era
---
It was January 2021 when Jeremy Grantham of GMO published a piece on this very website saying that the last dance is near. In it, he noted that the bubble was finally nearing a peak featuring "extreme overvaluations, explosive price increases, frenzied issuance, and hysterically speculative investor behaviour." 
It may have taken another year for that bubble to burst but it appears that the hot money is finally flowing out - just as the US 10-year yield surged past 3%, the Federal Reserve began to wind down its pandemic stimulus program and financial conditions continue to tighten overseas. Then in a recent interview with The Economist's Money Talks podcast, Grantham dropped the ultimate mic. 
We are at the end of a golden era.
This wire will take a look at his thesis - and most importantly, why the pain is probably not over yet. 
Bubbles, bubbles, everywhere
Much like the incredibly cheesy song aimed at making babies gurgle with laughter, there are bubbles everywhere in Grantham's view. In the episode, he noted that equity bubbles have been building since 1995 when internet stocks were all the rage. Grantham takes inspiration for moments like these from John Kenneth Galbraith who said - 
The bigger the bubble, the greater the bezzle
He also said he is concerned about the cracks which are beginning to appear - saying we're now at one of those moments where there is every excuse to find something wrong in the market even if it doesn't appear to be so. 
It's not quite 2000, but history sure is rhyming again.
Grantham's point even reflects on our own local exchange - apart from the energy and utilities sectors, the S&P/ASX 200 is mostly in the red over the last year with a lot of that carnage only coming since the beginning of 2022. 
The sector which has seen most of the selling has been the information technology space. This, naturally, makes sense when you see such names as Zip and Sezzle down more than 80% year-to-date while Airtasker and Adore Beauty are both down more than 70% since their respective IPOs during that mad rush in 2021.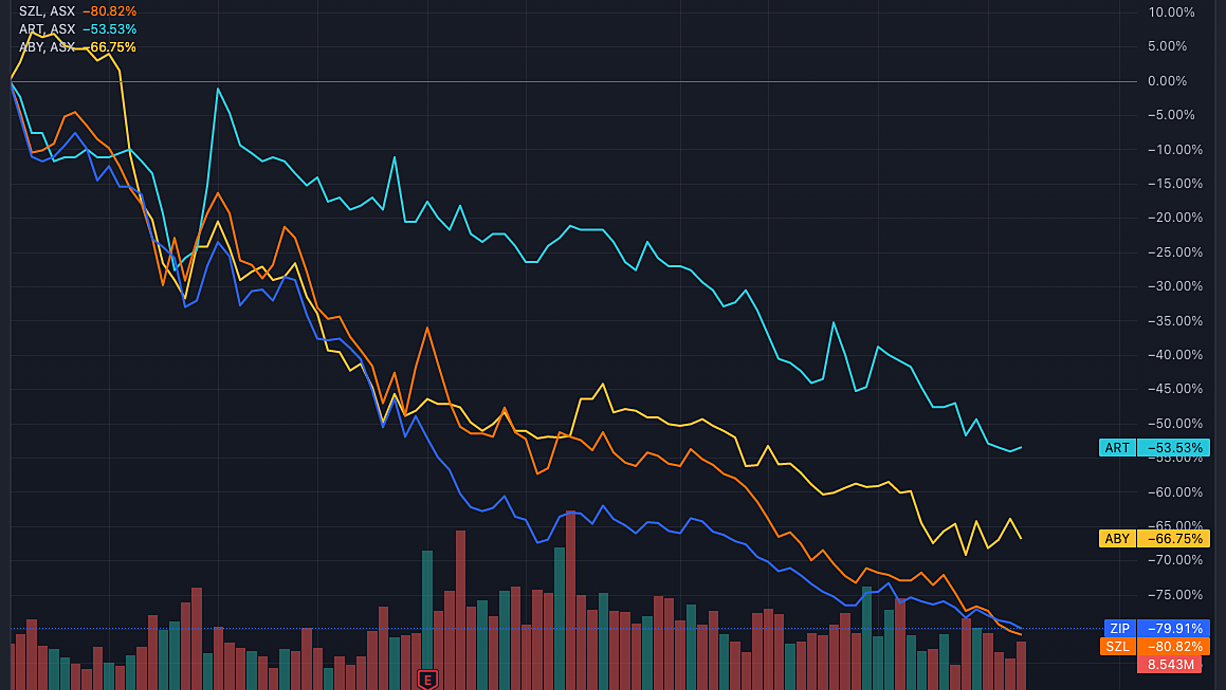 No wonder analysts are saying this time is different.
The other great bubble may still burst
While it's easy to talk about equity market bubbles, the other great bubble is not as easy to chart - the global housing market. Grantham believes that this bubble will not be as easy to tamper with given the lessons (and tragedies) of 2008. 
"You don't want to mess with housing bubbles," Grantham tells The Economist. "They have a more painful and lasting effect on the economy."
He goes on to add that a housing market in trouble shouldn't be combined with an equity market in trouble. Unfortunately, that's already happened - or as he sagely put it:
We have managed to bubble everything that matters
Was this all inevitable?
So while Grantham takes his victory lap, there is always the question of hindsight. Could we have seen this coming? 
Yes - is Grantham's short answer. 
"You can see from every measure that retail participation was greater than normal," Grantham says. "It had an extra $2 trillion in its piggy bank... they had two years boring themselves in their rooms!"
While boring might be a little harsh, he does have a point. Think of all those stock market forums which have now appeared on Reddit, Discord, and others. There are whole Facebook and Telegram group chats dedicated to spruiking investment ideas. None with any regulatory oversight or interest of course.
Now that the Federal Reserve is not coming to save asset prices (recent comments from Esther George should dispel any doubts about that), the going is to get a lot tougher for many investors.
---
Content Editor
Livewire Markets
Hans writes the website's pre-market wrap "Charts and Caffeine", moderates "Signal or Noise", and leads Stats Incredible in the daily newsletter.
Expertise