Lithium pioneer Biddle pitches his next cutting-edge mineral to investors
---
Plus, imminent PFS could spark re-rating for Kingston and sold-down Rumble offers punters several leveraged exploration plays.
It hasn't taken long for Neil Biddle to get some pep into the share price of the formerly sleepy Greenvale Mining (GRV).
Greenvale got a mention here back on September 10 when it was a 4.2c stock. It has since marched to 10.5c for a market cap of $35 million.
There are two forces at work.
There are those punters getting behind Biddle after following him at Pilbara Minerals (PLS), which he turned from a stock going nowhere to one of the biggest hard rock lithium/tantalum producers in the world.
And then there are those investors who have taken to Biddle's planning for near-term production from Greenvale's long-held Alpha torbanite project in central Queensland, and Greenvale's newly acquired position in one of the last frontier's for big-time copper-gold discoveries in the Northern Territory.
COVID has delayed approvals to get on the ground in NT, making it a story for next year. Meanwhile, Biddle has got his followers excited about the Alpha project, a project that has sat on Greenvale's books for 40 years.
Biddle reckons Alpha's time has arrived.
Just like he was one of the first to educate this market about how a thing called the electric revolution and how demand would grow for lithium from Pilbara's Pilgangoora project, Biddle has been busy bringing the punters up to speed on why he is excited about Alpha's torbanite, most recently at the Resources Rising Stars Gold Coast conference.
Biddle explained that torbanite is not a shale oil or a coal. It is a mineral in its own right and that Alpha is the only "commercial" deposit left in Australia.
Torbanite's usefulness comes from its ability to contain up to 650 litres of hydrocarbons per tonne, split into 60% bitumen and 40% light hydrocarbons.
And from that make-up, three high-value products can be produced - bitumen, light crude (a precursor to diesel) and activated carbon.
It turns out all of Australia's bitumen needs of some 800,000tpa are now imported as oil refineries have been closing on a regular basis.
"We already have customers lined up for bitumen. In fact one of the customers is providing lab services for our bulk sampling program which will commence shortly," Biddell said.
But the real kicker in the product mix is the activated carbon, a $US5 billion market growing at 10% a year. It is the front-line choice for emissions and water purification, all of which is a now a global obsession.
Alpha could produce high quality activated carbon as its porosity soars after the hydrocarbons are extracted. The alternative in the activated carbon stakes is to grow a lot more coconuts which does meet the sustainability agenda.
A relatively low-cost Alpha development would require a retort which would heat the torbanite to 600 degrees using technology that is well known.
Biddell plans to get a PFS out by mid-2021 and follow up with offtake and a final feasibility study by the end of 2021. It is a tight schedule but as Biddle noted, Alpha has been waiting for its day in the sun for 40 years.
It wasn't lost on those at the conference that Biddle's lithium work at Pilbara was about providing one of the key battery materials to power EV's along the world's roads. Now he is talking about providing the bitumen underneath, along with diesel for ICE engines, and activated carbon to keep our air and water clean.
Kingston (ASX:KSN):
The share price of Kingston Resources (KSN) has been holding up well despite the broad sell-off in gold equities in response to gold's recent price weakness.
It last traded at 24.5c for a market cap of $60m.
There is a clue in that as to why Kingston should be holding value – it has the lowest enterprise value to resource ounces metric of all ASX-listed gold explorers/developers.
That reflects the PNG address of its 3.2Moz Misima project, which was a big and low-cost producer in years gone under Canada's Placer Dome.
Kingston is looking to bring Misima back into production. And according to a diary entry, it must be close to releasing a pre-feasibility study and supporting maiden reserve estimate for the project.
The pending PFS and reserve estimate is another reason why Kingston has been holding its value while other explorers/developers have been wilting.
A 130,000oz-a-year project with costs of around $1200-$1300 Aussie dollars an ounce would not surprise in the PFS. The cash potential of a project that size at current margins on the gold price will force a re-rating event for Kingston, whether Misima is in PNG or not.
And as for operating in PNG, a peaceful island with a long gold production history is where you would want to be. And that is Misima.
RUMBLE (RTR):
One of the beaut things about the recent gold price retreat has been that the explorers are cheaper than they were.
Given they are not in production – and the game-changing discovery could be just around the corner – a fall in the gold price to what remains elevated levels shouldn't matter at all.
That is doubly so if gold is not the only focus. But it has mattered, with one of the more active explorers out there, Rumble (RTR), an example.
It has fallen from 17c a month ago to 13.5c on Thursday. That is despite its Western Queen gold project shaping up as something bigger than first thought, and its exposure to high-impact exploration in the Paterson province and the Fraser Range.
A systematic approach at Western Queen (rather than focussing on the drill out of a single high-grade shoot like others might) is pointing to the potential for multiple high-grade shoots as well as new open-cut potential along a 2.7km section of a shear zone.
What shapes up at Western Queen is going to be of vital interest to the owners of three mills within a 110km of the project, not unlike how NTM Gold's (NTM) Redcliffe project recently became of interest to Dacian (DCN) to run through its Mt Morgans mill some 100km away.
It could well be argued that Rumble's market cap of $70m is covered by Western Queen. But elsewhere in the portfolio, there are a number of other projects that could be game changers for the company.
The two standouts at present are the Lamil joint venture with AIC Mines (A1M), 30km west of Telfer in the Paterson, and the Thunderstorm joint venture with IGO (IGO) in the Fraser Range.
AIC kicked off a drilling program at Lamil in September and results should start flowing late this month or early December. It is Tier-1 stuff, potentially at least.
Greatland, the former London-listed junior in a joint venture with Newcrest at the Havieron gold discovery in the Paterson, is now a $US1.1 billion company, such is the potential of exploration in the region to generate some big-time value.
Down in the Fraser Range, the joint venture with IGO has been pulling some impressive gold results from shallow drilling in palaeo-drainage systems at Thunderstorm, with enthusiasm building that there could be multiple hard-rock sources to be found.
Funny thing with that is that IGO is thinking about selling its 30% stake in the Tropicana gold mine up to the north to concentrate on its nickel interests. Who knows, Thunderstorm might one day become a replacement.
That's a big maybe. But with the likely $1.5 billion value of IGO's stake in Tropicana, Rumble for one will be hoping for a Tropicana repeat in its joint venture with IGO (IGO 70%/Rumble30%).
Not already a Livewire member? Sign up today to get free access to investment ideas and strategies from Australia's leading investors.

Enjoy this wire? Hit the like button to let us know.
---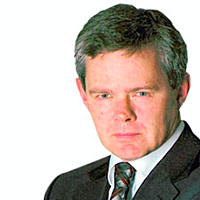 Principal
Independent Journalist
One of Australia's leading business journalists, Barry FitzGerald, highlights the issues, opportunities and challenges for small and mid-cap resources stocks, and most recently penned his column for The Australian newspaper.
Expertise