Meta: Don't throw the baby out with the bathwater
---
Swell's Senior Analyst Sally Fang, breaks down the real impact of ATT on Meta's business model. This article addresses the key developments around the social advertising industry, ATT changes and explains why we believe Meta is poised to accelerate its revenue growth over the long run.
Despite clear structural tailwinds behind mobile and social advertising growth, many headlines have expressed concern on Meta's growth sustainability under macro headwinds and increasing competition from TikTok based on short-term earnings results. However, we believe that investors should pay more attention to the third factor behind slowing revenue growth at Meta, Apple's AppTrackingTransparency (ATT) policy changes. This article will address the key developments around the social advertising industry, ATT changes and explain why we believe Meta is poised to accelerate its revenue growth over the long run.
Social advertising prior to 2020
One of the golden rules of advertising is that "money follows eyeballs". The world of mobile advertising evolved significantly from the first mobile ad shared via SMS in 2000 to the release of the first iPhone in 2007 which paved the way for the first in-app ads in 2014. Growth in the mobile app ecosystem along with advances in 3G and 4G connectivity drove the increase in mobile devices share of internet usage, which overtook desktop devices for the first time in 2016.
By 2017, the world was orientated towards mobile first. In turn, social media platforms became the primary way internet users engaged with their friends, family, community, and interests.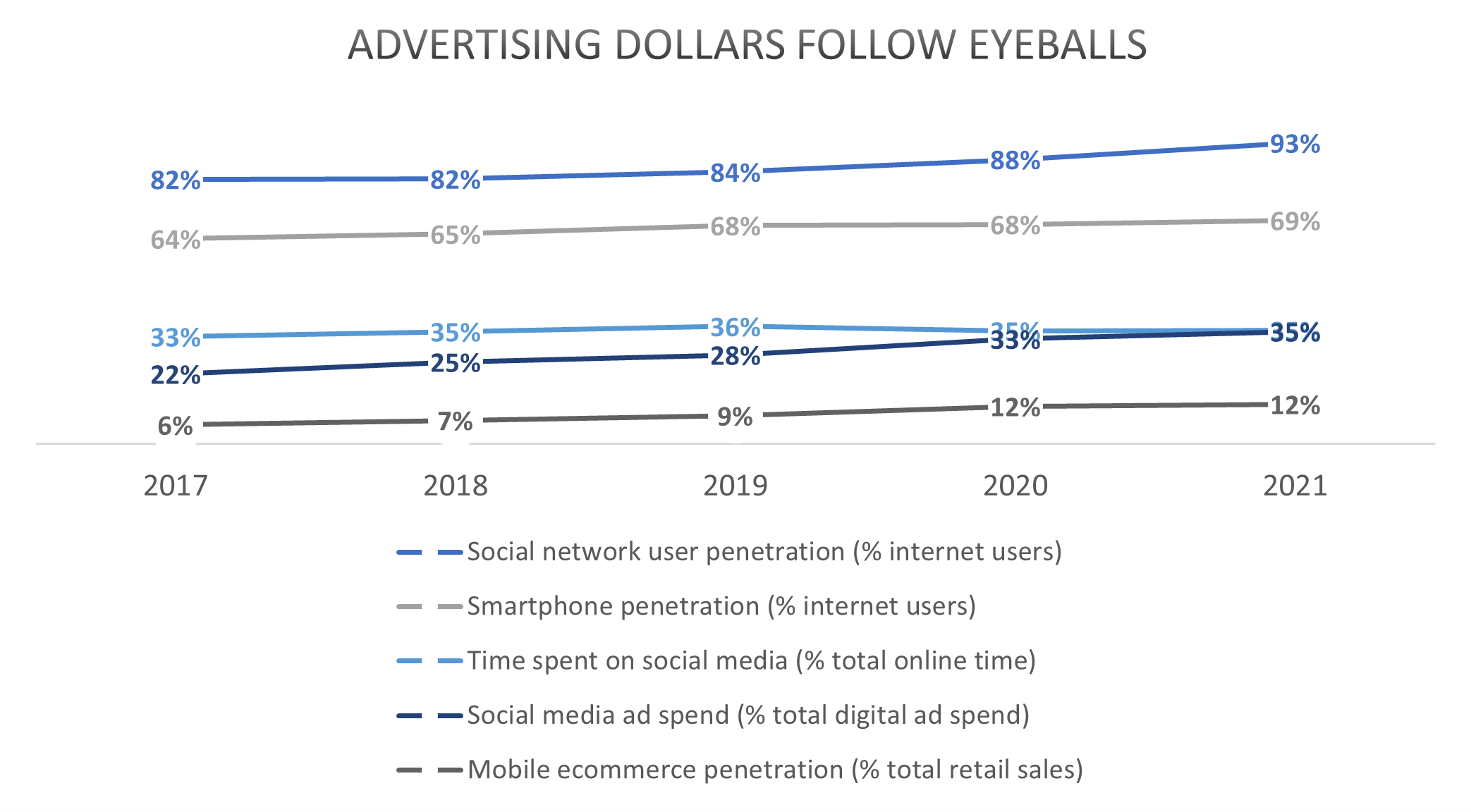 Interestingly, social advertising dollars lagged usage penetration significantly prior to 2020 and reached parity in 2021. One key driver that helped close the gap was the expansion of ecommerce, particularly on mobile devices. 
We believe the pandemic accelerated structural changes will continue to drive social advertising growth over the long run.
Social advertising 2020-2021
Due to pandemic-related movement restrictions, digital media usage and omnichannel commerce adoption rose significantly. Out of necessity, businesses invested in new technology, infrastructure, and advertising to meet consumer expectations. In 2021, digital advertising formats grew by +31% to reach US$442 billion or 146% of the pre-pandemic market size. Social advertising grew 34% as its ability to reach engaged eyeballs over traditional means became clearer.
However, the mobile advertising industry has since experienced a slowdown in 2022. Meta, the biggest player in mobile and social advertising, posted its first-ever yearly revenue decline of 1% for the second quarter. One key contributing factor was ATT which upended the mobile advertising industry.
IDFA - What happened?
Apple implemented ATT as part of the iOS 14.5 rollout in April 2021. The policy required app publishers to explicitly collect opt-ins from IOS users to access the Identifier for Advertisers (IDFA), handicapping the primary means by which iOS advertising campaigns were measured and optimised.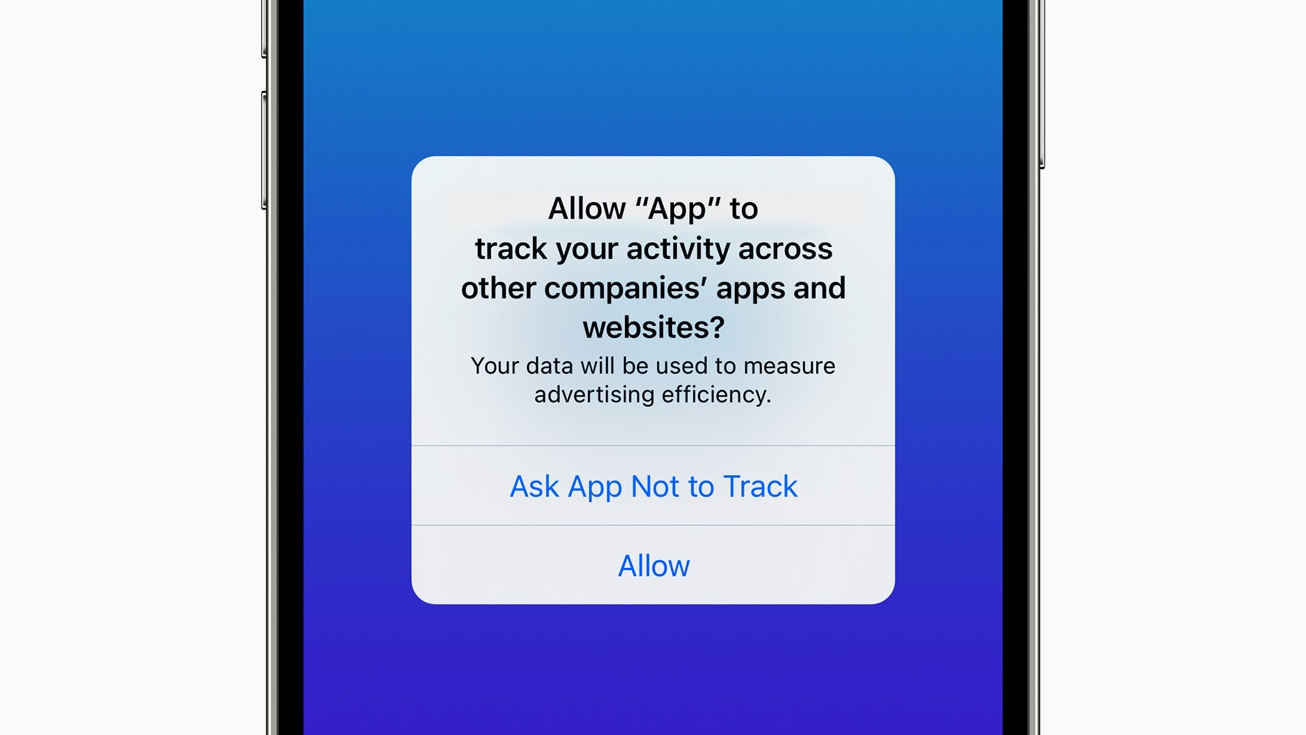 ATT Impact

The impact on Facebook was especially evident since its advertising platform was perfectly tuned for enabling advertisers, particularly SMBs, to launch cost-efficient campaigns based on return on ad spend (ROAS). For many advertisers, especially in precision-tuned industries such as ecommerce and gaming, ROAS informs real-time ad budgets.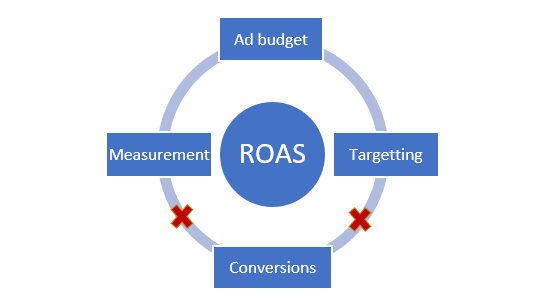 Primary changes  

Post-ATT user-level traffic is coarser.

Loss in ability to measure and inform ad buying model about the relevancy of users, economic profile and composition of traffic.
Loss in ability to use previous conversion data to predict and capture the fat long tails of high-value users that want to spend a lot of money. 
To summarise, lower ROAS = lower ad budget = coarser measurement and targeting = lower ROAS
Industry expert Eric Seufert previously estimated that impact on FB would be 7% revenue headwind in the worst case but estimates that the impact ended up being about 12-15%. You might then wonder, how come Meta has not implemented viable workarounds? One primary limitation has been Apple's new measurement framework, SKAdNetwork, which significantly limited the ability to attribute conversions.
Apple SKAdNetwork
Current SKAdNetwork   
While we won't go into the technical details of it all, the insufficient measurement framework essentially created a chicken-and-egg problem for many advertisers, as described by Eric Seufert, where campaigns lack the conversion values required to calculate ROI because they are low scale, but the campaigns can't be scaled because ROI can't be calculated.
SKAdNetwork 4.0  
Potentially driven by the realisation that the inadequate framework resulted in damaging consequences, Apple provided new SKAdNetwork updates during the 2022 WWDC session in June to be released later this year. The table below provides an overview of the key updates and improvements. 

In essence, Apple seems to be taking a more moderated approach towards privacy standards that shifts some power back to players of larger scale and more sophistication. With SKAdNetwork 4.0, larger ad platforms with more computing capability and capacity will be able to capture more value from the expanded pool of data. 
Industry-wide privacy-first shift
The privacy-first shift approach to advertising is taking place industry-wide. Google will finally sunset third-party cookies and announced that it expects to also suppress the availability of ad IDs on android phones (GAIDs). In addition, national and regional privacy-related regulations will add to the complexity of navigating the market, making it harder for independent publishers and technologies to execute. 
Privacy-first shifts power to walled gardens as businesses must integrate with scaled platforms to reach the target audience in privacy-safe ways.
Meta - Industry trends
According to Zenith, social ad spend is forecast to grow at an average rate of 15.1% a year between 2021 and 2024. We believe social ad spend could grow at a higher rate propelled by three underlying drivers:
The structural shift towards privacy-first standards underpinned by media inflation means that brands need to aggregate first-party data and anonymised third-party data to reach the best prospects in the most efficient channels by leveraging innovative ad tools, AI-driven ad formats, and immersive Augmented Reality experiences.
The structural shift toward the digital economy underpinned by omni-channel commerce means advertising in social channels will be an increasingly important channel within the marketing mix. US retail ecommerce sales will top $1 trillion for the first time this year and ~40% of US ecommerce sales will take place on mobile devices per eMarketer.
The structural shift towards discovery-driven content consumption underpinned by fragmentation of user attention means that platforms with the most creators and the best creator tools will be able to aggregate engaged audiences with diverse interests. 
Meta's moat
We can look at Meta's investment priorities to understand why Meta is poised to benefit from the above structural shifts. Meta has highlighted three investment priorities in its earnings calls:
Reels – "AI not just as a recommendation system but as a discovery engine that can show all of the most interesting content that people have shared across our systems"
Ads – "AI investments to drive better recommendations for people and higher returns for advertisers"
Metaverse – "enable deeper social experiences"
One common technology underpinning it all is AI. And Meta is widening its deep moat in AI through its investments in servers, data centres and AI.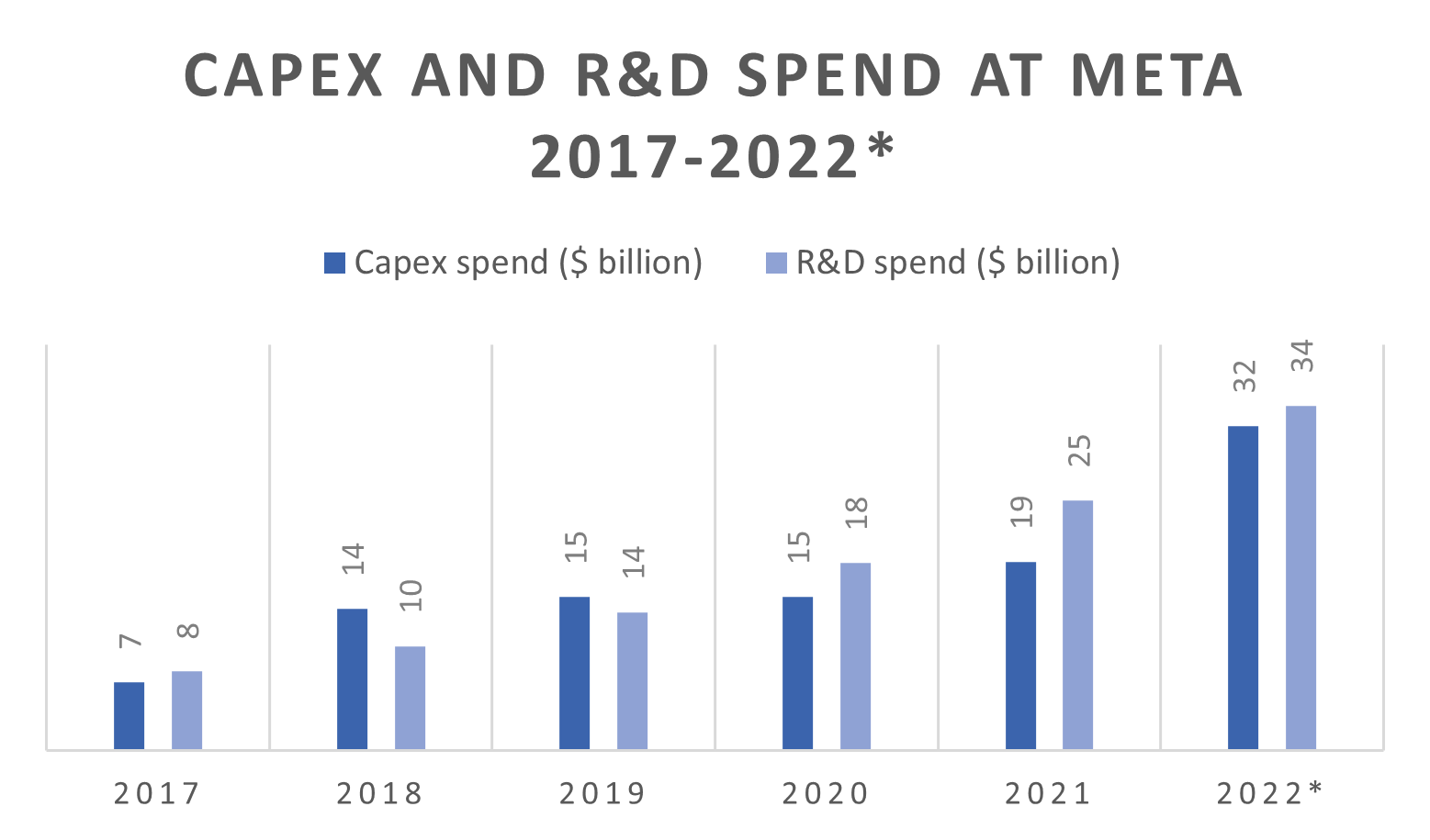 In fiscal year 2021, Meta was the fourth largest capex spender in the S&P 500, behind Amazon, Alphabet and Microsoft. Their nearest public social media competitor, Twitter, is expected to spend less than $1 billion in 2022. Therefore, not counting accumulated advantage over the past decade, Meta will have a 30x infrastructure advantage over Twitter just this year.
In addition, Meta operates its own data centres with proprietary hardware, delivering cost benefits and greater agility. Snapchat, for instance, is dependent on Google Cloud and Amazon Web Services. This is a huge line item within cost of revenue, especially as the industry increasingly moves towards AI and AR-driven user experiences and ad formats. Recently, TikTok also confirms that TikTok has adopted Oracle Cloud infrastructure to store and audit US user data.
In an internal meeting, Zuckerberg and Meta's Chief Product Officer Chris Cox outlined a goal to increase the number of GPUs in its data centers fivefold by year-end. Earlier in the year, Meta introduced its cutting-edge AI supercomputer for AI research, the AI Research SuperCluster (RSC), which will be the world's fastest when it is completed later this year. Mark Zuckerberg commented in a Facebook post, "The experiences we're building for the metaverse require enormous compute power (quintillions of operations/second!) and RSC will enable new AI models that can learn from trillions of examples, understand hundreds of languages, and more."
AI advances will power the next generation of user, creator and advertiser experiences with Meta's ecosystem. Although this is still early days, results thus far demonstrate that Meta is well positioned to capture a significant portion of the evolving social advertising market.
Reels engagement is growing quickly. Reels made up 20% of the time that people spend on Instagram in the first quarter and Meta saw a more than 30% increase in the time that people spent engaging with Reels across Facebook and Instagram in the second quarter
Driving closer integration with commerce by facilitating advanced interactions between brands and consumers. Click to Messaging ads is one of Meta's fastest-growing ad formats. It is a multibillion-dollar business growing at double digits.
Pivot to discovery engine of all content. About 15% of the content on Facebook and a little bit more on Instagram is recommended by Meta's AI from outside a user's social graph. The number is expected to more than double by the end of 2023.
Price per ad is decreasing and impressions are increasing. This is a big positive as it indicates increasing ad inventory and attractive ROAS opportunities for advertisers. Facebook experienced its second biggest drop in stock price after pivoting towards Stories when the same dynamic was playing out. While the market viewed it as a negative, it ultimately set up multiple years of growth. 
Conclusion
To conclude, we believe that the market is heavily discounting Meta based on short-term headwinds, providing the perfect opportunity for long-term investors like Swell to navigate through the noise and understand fundamental valuation drivers. 
........
This article has been prepared without consideration of any specific client's investment objectives, financial situation, or needs. While this article is based on information from sources that are considered reliable, Swell Asset Management, its directors, and employees do not represent, warrant or guarantee, expressly or impliedly, that the information contained in this article is complete or accurate. Any views expressed are taken to be those of the individual, except where the individual specifically attributes those views to Swell Asset Management and is authorised to do so. Swell Asset Management is an authorised representative of Hughes Funds Management Pty Limited ACN 167 950 236 AFSL 460572.
---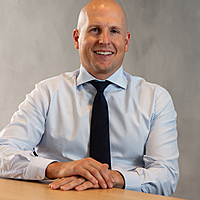 CIO
Swell Asset Management
Lachlan is the founder and CIO of Swell Asset Management, a boutique investment manager specialising in global equities.
Expertise