Navigating a new landscape for dividends
---
With much of the world in quarantine, dividends are at a crossroads.
As much of the global economy remains essentially shut down, many companies face tough choices when it comes to returning cash to shareholders. Dividend cuts and suspensions have jumped to the highest level in more than a decade. But even in this environment, some companies have maintained payouts and even raised them.
More than ever, this divergence in dividend commitment emphasises the need for stock-specific research to help identify high-quality companies that can weather the storm. Interest rates also remain ultra low in developed markets, further underscoring the need to find companies that can generate sustainable income for investors.

Dividends face challenges

In periods of economic duress, dividend cuts and suspensions are not unexpected. In the United States they have reached a level last seen during the Great Recession as sales have slowed and companies scramble to preserve cash. In Europe, dividends have come under immense political pressure as government regulators warn banks to preserve capital amid the coronavirus pandemic.

Many investors may be surprised to learn the degree to which ethical and social considerations are influencing dividend policy in a wide range of industries. This is especially prevalent among companies in France, Spain and Germany.

Many European companies have delayed annual meetings to reevaluate conditions later this year. Given that some companies in Europe pay dividends only once or twice a year, instead of quarterly, the monetary impact and uncertainty is significant.
Amid plummeting oil prices, Royal Dutch Shell last week reduced its dividend for the first time since 1945, cutting it by more than 60% to 16 cents a share.
Rays of hope
Despite a severe global economic downturn, not all companies are following the same path. Many remain committed to sustaining and even increasing their dividends.
For example, in Europe, Nestlé and Zurich Insurance accelerated plans to hold virtual annual meetings and committed to paying dividends as planned. German chemical giant BASF is sticking to its payout, and several utilities in the U.K. have expressed strong support for sustaining their dividends during this turbulent time.
Among U.S. companies, Procter & Gamble and Johnson & Johnson have raised their disbursements, and Starbucks is maintaining its dividend. Even in the hard-hit oil sector, ExxonMobil said on 29 April it would maintain its quarterly dividend despite reporting a $610 million first-quarter loss.
Assessing dividend sustainability
As companies take different paths, our investment analysts are rigorously scrutinising balance sheet strength, financial conditions and cash-flow outlooks on a company-by-company basis.
Take the U.S. communications services industry. The business has consolidated in recent years, making several companies both providers and distributers of content. This consolidation has had financial ramifications.
AT&T acquired DirecTV and, more recently, Time Warner. As a result, AT&T's net debt rose to $150 billion and its earnings became more economically sensitive due to the cyclical nature of the advertising business. On the other hand, Verizon Communications has roughly $130 billion of net debt and less exposure to advertising. Verizon stock yields less than AT&T, but its dividend is perceived to be safer by the market.
Our equity analysts collaborate with our fixed income team to evaluate the risk that a company may cut its dividend to avoid a credit rating downgrade. High levels of corporate debt could impact dividend sustainability.

Our analysts and portfolio managers are also weighing subjective issues that could impact the dividend, such as:

• Acquisitions: Companies may prioritise acquisitions, buying smaller or weaker competitors for strategic reasons while valuations are distressed, and cutting dividends to accelerate debt repayment.
• C-suite changes: A recently appointed CEO or new chairperson of the board may not have the same level of commitment to past dividend policies.
• Board composition: Some board members may be executives of other companies who have cut dividends and may not have any qualms about doing it again.
A time to upgrade income portfolios?
A new paradigm is emerging for dividend-paying stocks and, therefore, we believe it is important to upgrade the quality of income-oriented portfolios. In our view, an effective approach involves:
1. Diversification: Generating a disproportionate amount of income from a given sector or region can increase the risk of a severe reduction of dividend income. Companies in many sectors outside of traditional areas, such as technology and health care, now pay dividends. A global approach, where appropriate, also expands the pool of dividend-paying companies, providing further diversification.
2. Fundamental research: Financial and liquidity analysis can help assess the ability of a company to pay its dividend in a variety of scenarios through collaboration between equity and fixed income analysts.
3. Holistic perspective: This involves assessing myriad qualitative and subjective factors including any recent management changes, the composition of the board and the company's approach to Mergers and Acquisitions during a time of distress.
Key takeaways
Dividend-paying stocks face pressure on many fronts today.
Fundamental research and diversification are the keys to investing in income-oriented companies.

Given ultra low interest rates, dividend payouts remain a crucial source of investment income.
Position your portfolio to navigate through cycles
Capital Group believes in a smarter way of investing that combines individuality and teamwork into a tailored approach to help investors meet their goals. Find out more by clicking 'CONTACT' below.
---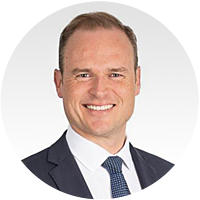 Investment Director
Capital Group
Matt Reynolds is an Investment Director at Capital Group. He has over 20 years of industry experience including head of Australian equities – core at Colonial First State Global Asset Management. He holds a bachelor's degree in Economics from The...
Expertise