NSW shocks bond markets by slashing $22 billion in debt
---
In the AFR today, John Kehoe reports on another huge shock for bond markets with the NSW government sensationally announcing late Friday afternoon that it will be suspending $11 billion in projected taxpayer revenue contributions to the NSW Generations Fund's (NGF) Debt Retirement Fund. This is on top of the unprecedented $11 billion in debt repayments that Premier Dominic Perrottet announced on 20 September, which will be made using the capital accumulated in the Debt Retirement Fund. The latter is a unique creation of Perrottet's and had increased in size from $15 billion in May to $26 billion following the sale of the second-half of WestConnex in September. By rediverting this $11 billion of taxpayer revenue from the fund back to NSW's budget and repaying $11 billion in debt, new Treasurer Matt Kean, a long-time ESG advocate, will both radically reduce NSW's fiscal pressures and cut taxpayers' debt burden by a never-before-seen $22 billion. The AFR's Kehoe reports:
The NSW government will stop borrowing billions of dollars to pay for inflows into its $15 billion financial market investment fund, in a U-turn that will help the state manage debt pressures from the pandemic.
NSW Treasury Corp announced the state government had decided to "temporarily suspend" certain contributions to the NSW Generations Fund, because of the economic impact of COVID-19.
The decision to stop leveraging up the state government's balance sheet for the NSW Generations Fund (NGF) follows a series of stories in The Australian Financial Review warning the plan had raised concerns among credit rating agencies, bond investors, Labor and public finance experts.
NSW Treasurer Matt Kean said on Sunday, "given the unprecedented impact of COVID, it is appropriate to consider the right policy settings of the NGF going forward and that's what the government is doing.
"The government's approach to funding the NGF going forward is expected to be set out at the 2021-22 half-yearly review in December, once a final decision is made.
In Coolabah's own ESG activism campaign (see here, here and here), we had argued that NSW should stop diverting scarce taxpayer revenues to the NGF's Debt Retirement Fund, which have to be replaced with additional debt issuance given NSW is running budget deficits. That is to say, this approach to funding the Debt Retirement Fund would have paradoxically increased NSW debt---and hence the fiscal risks the state faces---at the worst possible time.

Prior to the COVID-19 shock, NSW had made the policy decision to divert all state royalties and state-owned corporation dividends to the  NGF's Debt Retirement Fund. The AFR's Kehoe reveals today that this was forecast by Treasury to sum to an enormous $11 billion of de facto taxpayer debt funding into the Debt Retirement Fund this financial year and over the forward estimates in what was equivalent to running a huge leveraged carry trade (by raising debt and betting this money on equities and junk bonds). By suspending these funding commitments, NSW Treasurer Kean has, therefore, saved taxpayers $11 billion of future debt issuance on top of the $11 billion Premier Perrottet has promised to repay:
Dividends paid to the government from NSW state-owned corporations (SOC) and mining royalties had been forecast to add almost $11 billion to the fund over the four years to 2024-25.
But because the government's budget is deep in deficit due to COVID-19, the diversion of SOC dividends and mining royalties to the fund would have added to the state's $120 billion-plus gross debt bill.
The decision to freeze the inflows comes after the government announced in September that the $11 billion received from the privatisation of the remaining 49 per cent share of WestConnex would be used to repay state debt, and not be retained in the Generations Fund.
During the week, Treasurer Kean also announced a review of the Debt Retirement Fund's approach to ESG following incredible revelations in The Guardian that it was providing debt and equity funding to dictatorships and tax havens, including Russia ($75 million), Saudi Arabia ($45 million), China ($225 million), UAE ($15 million), Cayman Islands ($30 million) and Angola ($15 million).
Michael West Media also reported last week that a number of the asset managers selected by NSW's investment and debt issuance agency, TCorp, to run money for the Debt Retirement Fund had direct exposures to China Evergrande bonds, which have infamously missed their interest repayments. It is unclear, however, whether the Debt Retirement Fund allocates to the specific vehicles that own Evergrande securities.
The AFR today also carries comments from Labor's indomitable shadow treasurer Daniel Mookhey, who correctly notes that "NSW's debt would have skyrocketed had the Treasurer carried out Mr Perrottet's plan to bet the state's operating income on global stock markets, instead of using the money to pay the government's bills". One clarification here is that this was not Perrottet's plan per se, but rather a proposal developed by his bureaucracy.
There remain some important outstanding policy issues for the NSW Treasurer Kean to resolve in respect of the NGF's Debt Retirement Fund. These include:
What to do with the circa $2.3 billion of debt-funded contributions NSW previously made to the fund in the 2021 financial year. These should self-evidently be harnessed for infrastructure funding and/or debt repayment (otherwise they will just represent NSW leveraging-up taxpayer money to punt on markets); and
What to do with the circa $15 billion of capital (including the $2.3 billion of abovementioned contributions) left in the Debt Retirement Fund once NSW repays its $11 billion in debt. Rather than gambling this on financial markets, the $15 billion should be deployed to pay for the $108.5 billion in infrastructure spending that Premier Perrottet has signed-up for. After all, the $7 billion from the sale of the first-half of WestConnex that seeded the Debt Retirement Fund in 2018 was committed by Perrottet to pay for new infrastructure spending. This could be easily achieved by the Debt Retirement Fund buying bonds issued by the NSW to pay for future infrastructure spending, which is permitted under the NGF's legislation. 
Make no mistake, the $26 billion Debt Retirement Fund is an extraordinary innovation. Premier Perrottet had the exceptional foresight to create it in 2018 when NSW's budget was recording huge surpluses and the state had negative net debt. Perrottet's vision was to use the Debt Retirement Fund to accumulate reserves to repay debt whenever the budget lurched into deep deficit, which of course it did in 2020 during the 1-in-100 year shock wrought by the pandemic.
And it is because of Perrottet and now Treasurer Matt Kean, who has a long track-record as an ESG advocate, that NSW is in the remarkable position whereby it can draw-down on the Debt Retirement Fund during this crisis to slash taxpayer debt by $22 billion or more. 
Importantly, the Debt Retirement Fund can be replenished by Kean when the NSW budget returns to surplus via future reserves and asset sales. Taking profits on stocks when they are trading at all-time highs while interest rates are near record lows is also a very smart move. 
As a lender to all the major state governments, Coolabah and our stakeholders, including super funds, believe that these are responsible ESG decisions that we would strongly support. 
The flow chart below comes from Michael West Media.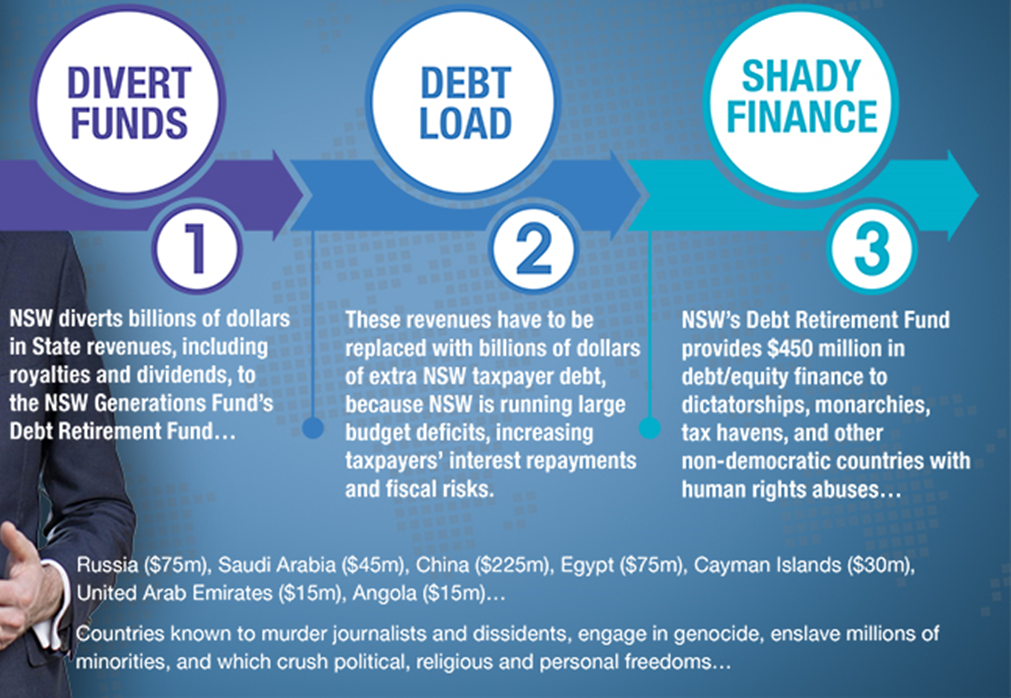 Access Coolabah's intellectual edge
With the biggest team in investment-grade Australian fixed-income and over $8 billion in FUM, Coolabah Capital Investments publishes unique insights and research on markets and macroeconomics from around the world overlaid leveraging its 16 analysts and 5 portfolio managers. Click the 'CONTACT' button below to get in touch.
Never miss an update
Enjoy this wire? Hit the 'like' button to let us know. Stay up to date with my current content by
following me
below and you'll be notified every time I post a wire
Welcome to Livewire, Australia's most trusted source of investment insights and analysis.
---
To continue reading this wire and get unlimited access to Livewire, join for free now and become a more informed and confident investor.
---
---
Chris co-founded Coolabah in 2011, which today runs over $8 billion with a team of 40 executives focussed on generating credit alpha from mispricings across fixed-income markets. In 2019, Chris was selected as one of FE fundinfo's Top 10 "Alpha Managers" based on his risk-adjusted performance throughout his career across. He previously worked for Goldman Sachs in London and Sydney, the Reserve Bank of Australia, and founded the award‐winning research/investment group, Rismark. He has regularly advised governments, developing unique policy proposals. Chris graduated with the University Medal (Economics & Finance) from Sydney University. He studied in the PhD program at Cambridge University in 2002/03, leaving to set up his funds business.
........
Investment Disclaimer Past performance does not assure future returns. All investments carry risks, including that the value of investments may vary, future returns may differ from past returns, and that your capital is not guaranteed. This information has been prepared by Coolabah Capital Investments Pty Ltd (ACN 153 327 872). It is general information only and is not intended to provide you with financial advice. You should not rely on any information herein in making any investment decisions. To the extent permitted by law, no liability is accepted for any loss or damage as a result of any reliance on this information. The Product Disclosure Statement (PDS) for the funds should be considered before deciding whether to acquire or hold units in it. A PDS for these products can be obtained by visiting www.coolabahcapital.com. Neither Coolabah Capital Investments Pty Ltd, EQT Responsible Entity Services Ltd (ACN 101 103 011), Equity Trustees Ltd (ACN 004 031 298) nor their respective shareholders, directors and associated businesses assume any liability to investors in connection with any investment in the funds, or guarantees the performance of any obligations to investors, the performance of the funds or any particular rate of return. The repayment of capital is not guaranteed. Investments in the funds are not deposits or liabilities of any of the above-mentioned parties, nor of any Authorised Deposit-taking Institution. The funds are subject to investment risks, which could include delays in repayment and/or loss of income and capital invested. Past performance is not an indicator of nor assures any future returns or risks. Coolabah Capital Institutional Investments Pty Ltd holds Australian Financial Services Licence No. 482238 and is an authorised representative #001277030 of EQT Responsible Entity Services Ltd that holds Australian Financial Services Licence No. 223271. Equity Trustees Ltd that holds Australian Financial Services Licence No. 240975. Forward-Looking Disclaimer This presentation contains some forward-looking information. These statements are not guarantees of future performance and undue reliance should not be placed on them. Such forward-looking statements necessarily involve known and unknown risks and uncertainties, which may cause actual performance and financial results in future periods to differ materially from any projections of future performance or result expressed or implied by such forward-looking statements. Although forward-looking statements contained in this presentation are based upon what Coolabah Capital Investments Pty Ltd believes are reasonable assumptions, there can be no assurance that forward-looking statements will prove to be accurate, as actual results and future events could differ materially from those anticipated in such statements. Coolabah Capital Investments Pty Ltd undertakes no obligation to update forward-looking statements if circumstances or management's estimates or opinions should change except as required by applicable securities laws. The reader is cautioned not to place undue reliance on forward-looking statements.
---
Chris co-founded Coolabah in 2011, which today runs over $8 billion with a team of 40 executives focussed on generating credit alpha from mispricings across fixed-income markets. In 2019, Chris was selected as one of FE fundinfo's Top 10 "Alpha...
Chris co-founded Coolabah in 2011, which today runs over $8 billion with a team of 40 executives focussed on generating credit alpha from mispricings across fixed-income markets. In 2019, Chris was selected as one of FE fundinfo's Top 10 "Alpha...