One leading bank and a major multi-decade opportunity
---
Some of the most compelling long-term investment opportunities to be found today lie within the dynamic and rapidly evolving global emerging market landscape.
One of those, which Antipodes has conducted extensive analysis on in recent years, is Indian credit growth. We see this as a multi-decade growth story in a modernising nation that is amongst the most underbanked in the world.
A key metric: household debt to GDP
Below we have illustrated the extremely low levels of household debt in India vs GDP per capita. The ratio of household debt to GDP is intricately linked to income levels within a country.
However, even accounting for India's low GDP per capita, we think at around 13%, household debt to GDP is under-penetrated and has scope for significant growth in the years ahead.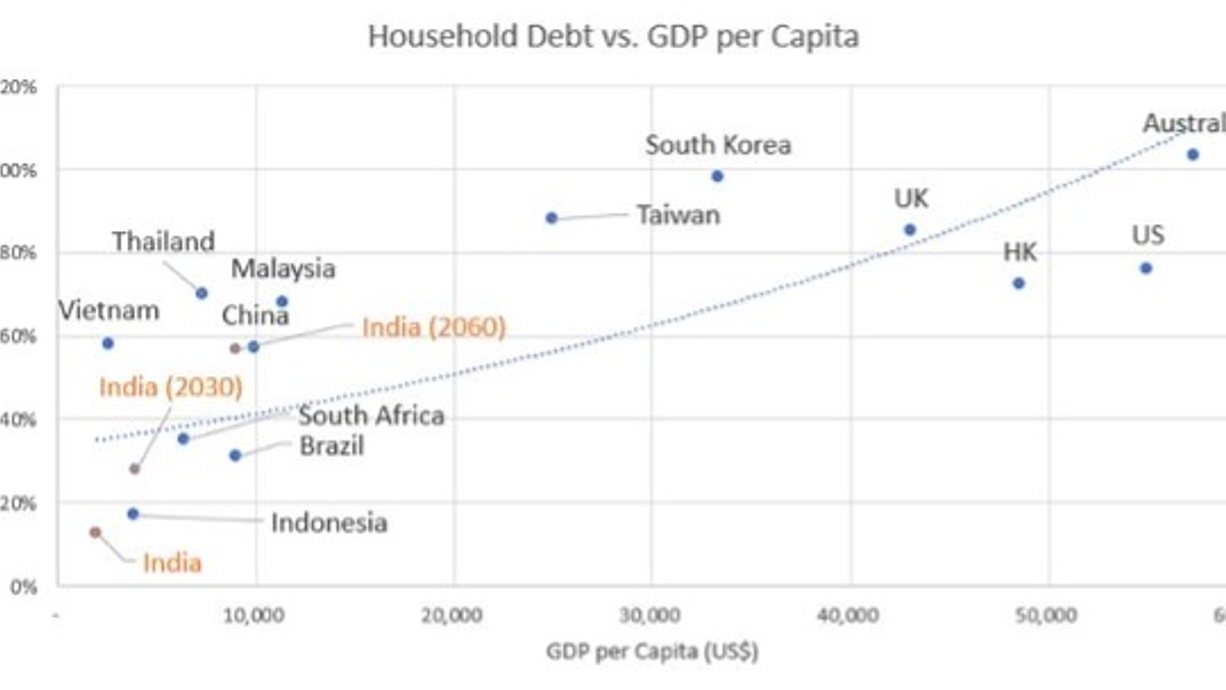 Source: Antipodes
As income levels in India continue to rise, our modelling shows that household debt to GDP can reach around 28% by 2030 and 56% by 2060.
This implies that loans-to-households in India can grow at around four times, or 15% at a compound annual growth rate (CAGR) to 2030. To 2060, this would be around 16 times, or an 8% CAGR.
Backing a market leader
Inefficient and bureaucratic public sector banks still make up most of the Indian system loans at 70%. However, India's private sector banks are quickly taking share, with our largest portfolio holding ICICI Bank leading the pack. 
Since our initial purchase in 2016, ICICI has risen nearly four-fold and still presents outstanding value given the long runway for growth.
Our conviction is supported by three key factors:
Competitive cost of funds from the building of strong retail deposit franchises in recent years.

Best-in-class management teams.

Leadership in technology innovation and agility.

My own personal experience as a customer of ICICI Bank, has further enhanced our conviction - the technological transformation within the franchise has been remarkable over the past decade and the company is beginning to reap the rewards.
Profitability and growth
ICICI Bank provides investors with a cheap banking exposure, relative to its rapid growth profile.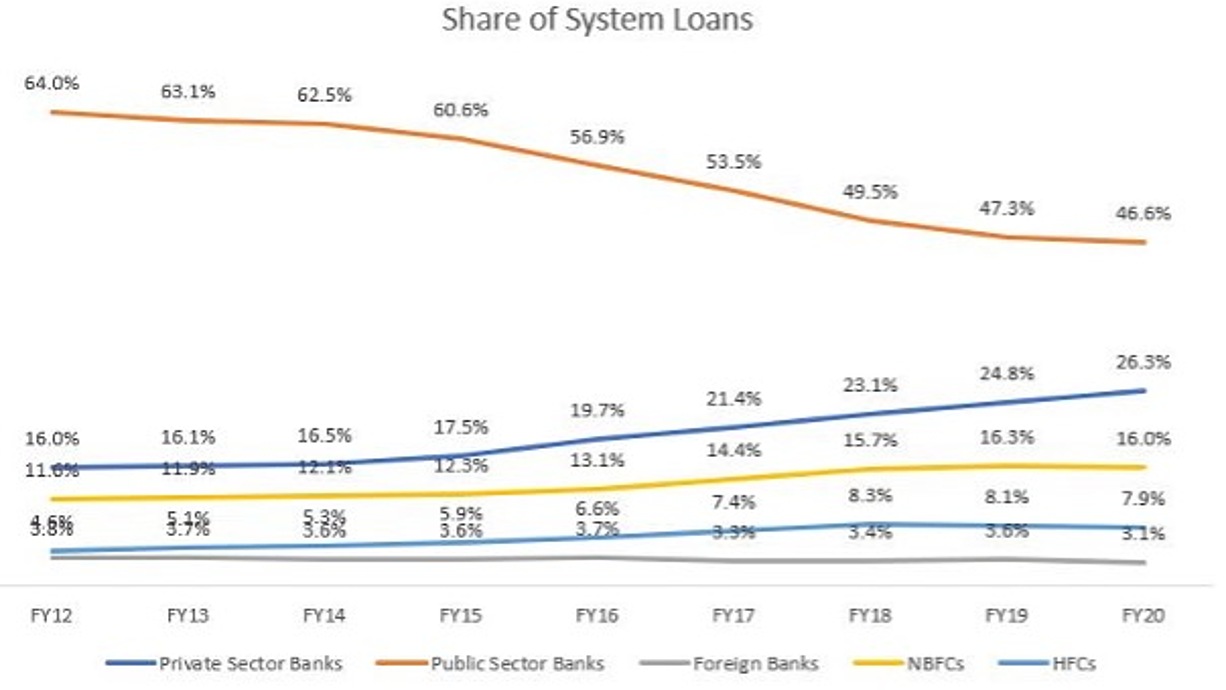 Source: Antipodes
The franchise is delivering leading levels of profitability and growth within a burgeoning banking landscape – owing to the strategic foresight and strong execution of the management teams in charge.
We project ICICI can compound earnings at 15-20% per annum and provide 15-20% ROE over an extremely long timeframe.
For investors, this is just one example of how combing an extraordinary top-down market opportunity, with strong bottom-up stock picking execution can provide stronger and smoother exposure to global emerging markets. 
Find out more
The Antipodes Asia Fund provides exposure to a portfolio of leading businesses across the Asia region. Click the 'contact' button below, or visit Antipodes' website to find out more. 
........
This communication was prepared by Antipodes Partners Limited (ABN 29 602 042 035, AFSL 481 580) (Antipodes). Antipodes believes the information contained in this communication is based on reliable information, no warranty is given as to its accuracy and persons relying on this information do so at their own risk. This communication is for general information only and was prepared for multiple distribution and does not take account of the specific investment objectives of individual recipients and it may not be appropriate in all circumstances. Persons relying on this information should do so in light of their specific investment objectives and financial situations. Any person considering action on the basis of this communication must seek individual advice relevant to their particular circumstances and investment objectives. Subject to any liability which cannot be excluded under the relevant laws, Antipodes disclaim all liability to any person relying on the information contained on this website in respect of any loss or damage (including consequential loss or damage), however caused, which may be suffered or arise directly or indirectly in respect of such information. Any opinions or forecasts reflect the judgment and assumptions of Antipodes on the basis of information at the date of publication and may later change without notice. Any projections are estimates only and may not be realised in the future. Information on this website is not intended as a securities recommendation or statement of opinion intended to influence a person or persons in making a decision in relation to investment. Unauthorised use, copying, distribution, replication, posting, transmitting, publication, display, or reproduction in whole or in part of the information contained on the website is prohibited without obtaining prior written permission from Antipodes. Pinnacle Fund Services Limited ABN 29 082 494 362 AFSL 238371 is the product issuer of funds managed by Antipodes. Any potential investor should consider the relevant Product Disclosure Statement available at www.antipodesonespartners.com when deciding whether to acquire, or continue to hold units in a fund. The issuer is not licensed to provide financial product advice. Please consult your financial adviser before making a decision. Past performance is not a reliable indicator of future performance.
---
Portfolio Manager
Antipodes
Sunny Bangia has over a decade of experience investing in Asia. He is the portfolio manager of the Antipodes Asia Fund. Prior to joining Antipodes, Sunny was a strategist at Platinum Asset Management, primarily covering Asian equities. From 2010...
Expertise