One small cap winning the arms race
---
EOS uses lasers to track satellites in space and to target enemy vehicles on the battlefield. It might sound like science fiction but it has $250m of sales and $36m of EBIT locked in for next year, with sales growing at 40%, and EBIT 50% the following year. It has no debt. At a PE of 20x for FY21, surging earnings and positive announcements to come, EOS is our number 1 pick for 2020.
It operates in three divisions, only one of which is currently being valued by the market. Let's start with that one.
Defence
These remote weapon systems sit on top of vehicles and are armed with machine guns, cannons and missiles. The division has an order backlog of more than $600m and has tender submissions worth more than $2.5b with existing customers. There is no competitor system as cheap, light or effective, so they have had a 100% tender win rate. We expect the tender pipeline to strengthen strongly in the near term due to the need of the West to stay ahead of Chinese and Russian technology, and the emerging threat from drones.

Space
EOS makes more than 15,000 space tracks each week. Their infrastructure is much cheaper to build and operate than the established global radar networks. It is also developing lasers to manoeuvre space debris in orbit. The main opportunity is military, with management estimating the potential market at $2b of the next 10 years. This division currently operates close to break even.
Communications
EOS has now completed several technology breakthroughs required for next-generation space communications. EOS has invested around $250 million over 9 years, including around $50 million of contributions from government partners in the USA and Australia. Their laser technology provides the equivalent bandwidth of optical fibre to satellites, which is 20 times the maximum bandwidth achievable with the micro-wave technology exclusively in use today. 

EOS has formed a Communications division by merging its space communications assets with EM Solutions, which provides mobile microwave satellite communications, as a way of introducing its new laser-based technology to the communications market. This new division is already EBIT positive.
While we expect that the stock price will climb in 2020 on contract wins from the Defence division, we believe that the Space and Communications divisions will ultimately be worth more than the current value of the company.
Its products might look like they are straight out of a movie, but they are protecting our freedom, improving our standard of living, and it's a great company visit. 
Stay informed in 2020
Stay up to date with my latest views. Hit the FOLLOW button below to be notified by email as soon as I publish my next wire.
This wire is part of the 'One thing investors can't ignore in 2020' series. To download the full ebook please click here.
---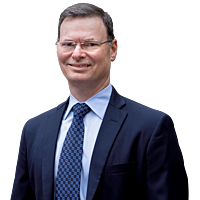 Principal
Monash Investors
Simon has over 30 years experience as an analyst and fund manager. He co-founded Monash Investors in 2012 - a long/short Australian equity manager with an absolute return focus.
Expertise