One stock well-placed to help solve a global food puzzle
---
Today the world faces a pressing global food crisis in which malnutrition, food insecurity and food waste are becoming increasingly pertinent issues in the face of population expansion, globalisation, and climate change.​

By 2050, the global population of 10 billion is projected to require 70% more food than it needed in 2012​
In this wire, we offer a deep dive into HelloFresh, a company that has not only transformed the at-home dining experience but is also helping to combat food waste, and is well placed to maintain its leadership in 14 markets globally, with its largest business in the US, followed by the UK, Australia and Germany.
The coming food crisis
According to the UN, one-third of food that is produced for human consumption is lost or wasted globally​
The wealthy waste more than the poor. Consumers begin throwing out food when their spending hits about $6.70/day. Consequently, the combined cost of the social, economic and environmental impact amount to $2.5 trillion annually​
The WHO estimates that 80% of premature heart disease cases, strokes and incidences of type-2 diabetes, as well as 40% of cancers, could be avoided if major risk factors for non-communicable diseases, such as unhealthy diets, were eliminated​

The concentration and distribution of food insecurity by severity differ greatly across the regions of the world.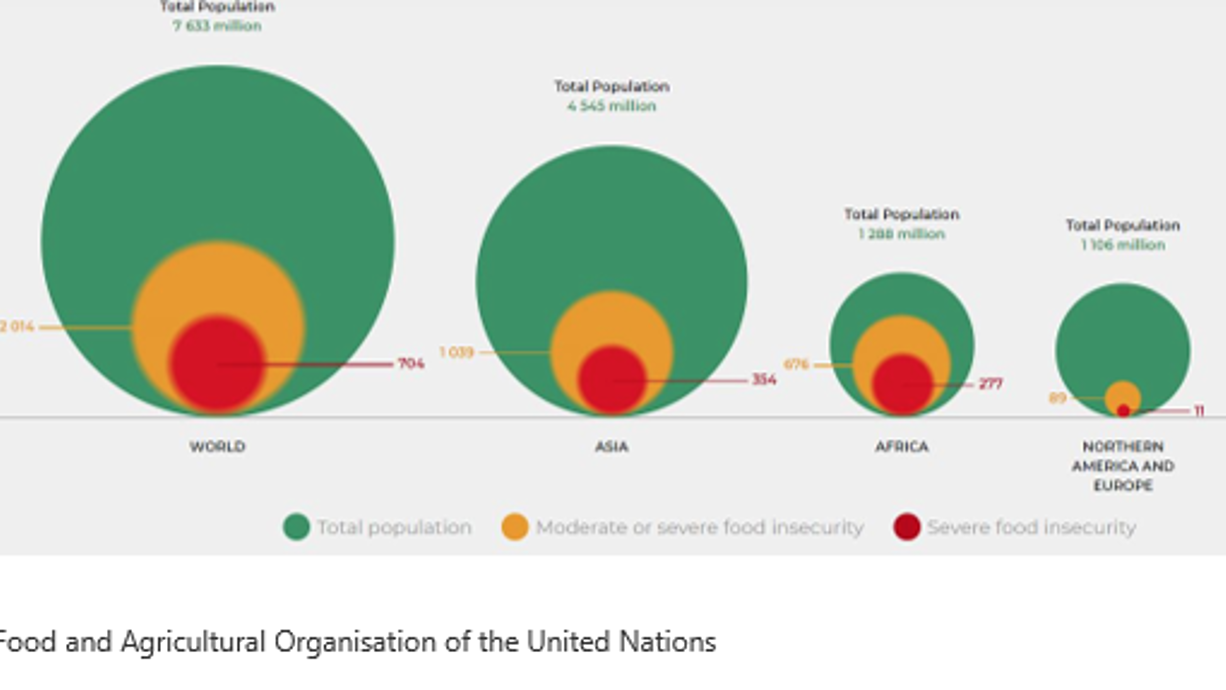 In response to the global food crisis, consumers are looking for solutions. They are searching for new ways to grow food, experimenting with alternative foods such as plant-based protein, and holding companies accountable for their environmental impact. 
A four-step transformative pathway 
In this way, we are witnessing a transformation in the way that consumers conceptualize and interact with food. We identify four key forces facilitating this change in consumer preferences.

Health & Wellness Consumers are demonstrating an increased demand for personalized nutrition products and clean label foods, with an emphasis on plant-based protein and authentic taste.
Sustainability Consumers are showing a preference towards companies that can produce food in a less resource-intensive manner and reduce food waste.
Technology Due to technological innovation, consumers are enthusiastic to make food consumption more convenient through eCommerce platforms. They choose companies conducting data analysis and using AI technology to create personalized nutrition solutions.
Demographic Shifts Key developments such as the rise of the middle class in emerging markets and an ageing population in developed markets are facilitating demand for premiumisation and clinical nutrition products.
Why HelloFresh?
HelloFresh addresses the changes in consumer preferences outlined above through its innovative meal-kit solution.
Founded in Berlin in 2012, HelloFresh has become the global leader in the meal-kit delivery market today. Catering to 5.3 million active customers as of 1Q21, HelloFresh provides fresh, healthy, and convenient meal kits to your doorstep. 
By providing step-by-step instructions and portioned ingredients, HelloFresh has transformed the at-home dining experience and is helping to combat food waste. The company operates in 14 markets globally, with its largest business in the US, followed by the UK, Australia and Germany.
As the largest meal-kit player globally, HelloFresh is well-positioned to take advantage of a huge total addressable market (TAM), with low and expanding penetration.
HelloFresh estimates that its TAM is approximately 135 million households whilst current penetration is only 3-4% today. Important macro trends should support growth and innovation in the meal-kit segment over the long-term. 
These include the digitalization of food ordering, consumer demand for healthier meals, and the need for more sustainable food solutions. In this context, it is expected that the meal-kit market can grow >100% over the next 5 to 6 years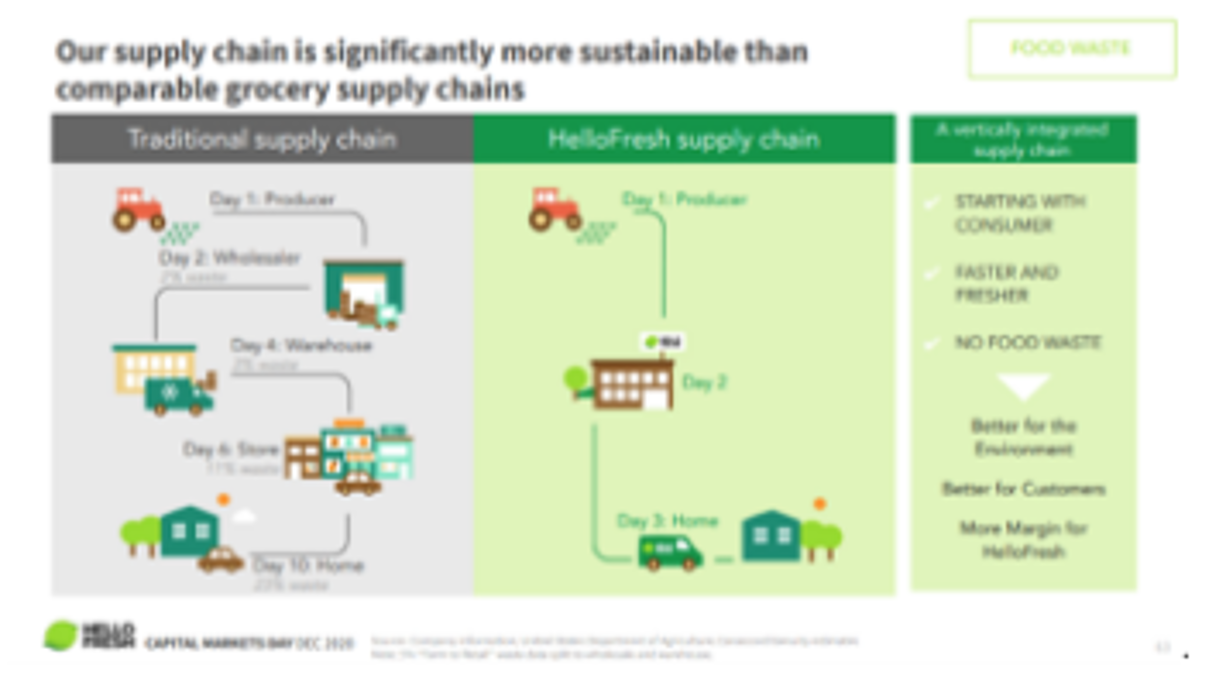 Why HelloFresh will maintain its leadership
Consistent TAM expansion via proven playbook of launching in new markets.

Four core brands, which cater to different price points and consumer needs, will help to fend off competition.

Enhancing the product offering will help to reduce churn and improve customer retention.
How have they done it: At a glance 
Vertically-integrated direct-to-consumer model has up to 30% less food waste in the supply chain, resulting in higher margins and profitability.


Targeted marketing strategy, with declining customer acquisition costs over time
For example, in the US 5 years ago, HelloFresh had just 20% market share, while now the company is close to 60% due to improvements in product, price and service.

With a data-driven approach, HelloFresh has a superior business model to e-commerce peers. It has higher order-rates, higher demand-predictability, and higher free-cash-flow conversion. And, through vertical integration of the supply chain and 90% own-branded products per box, HelloFresh is able to capture a larger portion of the profit pool than traditional grocery retailers.
Not a one-time beneficiary of the pandemic 
HelloFresh was a key beneficiary of the Covid-19 pandemic in 2020. Consumer demand for at-home cooking, using fresh ingredients that could be delivered safely and conveniently to the front door, accelerated rapidly during lockdowns. 
Significantly, HelloFresh effectively coped with this increased demand, almost doubling its active customer base from 2.6 million to 5.3 million between 2019 and 2020, while also achieving an EBITDA margin of 13.5% in 2020, an impressive feat given the company only turned profitable at the end of 2019. 
With a business model that facilitates strong free-cash-flow conversion, HelloFresh has been able to bring forward future Capex plans to cater to accelerated consumer demand.
Longer-term, management has several levers to pull to continue generating strong growth at HelloFresh. 
For example, the company can enhance TAM penetration via improving customer retention, push for TAM expansion by continuing to launch in new markets, and better monetize the customer base with add-ons. 
Conclusion: Three key assumptions
Management can use TAM penetration and TAM expansion strategies to generate 15-20% top-line growth over the next 5-10 years.

Profitability: whilst top-line growth is the priority for management, high cash generation and efficiencies of the operating model will help to drive long-term margin expansion.

Balance sheet: HelloFresh has a robust balance sheet, providing it with the ability to self-fund strong growth. Capital allocation priorities include capacity expansion at fulfilment centres and investment in automation to further debottleneck demand. 
These drivers highlight that HelloFresh is not a one-time beneficiary of the pandemic, but a company that we expect can generate high returns on invested capital over the long term.  
Co-Author: Ellie Stephenson, Portfolio Analyst

Learn more
Find out more about the Nikko AM Global Share Fund here

........
This material has been prepared by Nikko Asset Management Europe Ltd (NAM Europe) which is authorised and regulated in the United Kingdom by the FCA. This material is issued in Australia by Yara Capital Management Limited (formerly Nikko AM Limited) ABN 99 003 376 252, AFSL 237563. Nikko AM Europe does not hold an AFS Licence. To the extent that any statement in this material constitutes general advice under Australian law, the advice is provided by Yara Capital Management Limited. NAM Europe does not hold an AFS Licence. Effective 12 April 2021, Yara Capital Management Limited became part of the Yarra Capital Management Group (refer here for further information). The information contained in this material is of a general nature only and does not constitute personal advice, nor does it constitute an offer of any financial product. It is for the use of researchers, licensed financial advisers and their authorised representatives, and does not take into account the objectives, financial situation or needs of any individual. For this reason, you should, before acting on this material, consider the appropriateness of the material, having regard to your objectives, financial situation and needs. The information in this material has been prepared from what is considered to be reliable information, but the accuracy and integrity of the information is not guaranteed. Figures, charts, opinions and other data, including statistics, in this material are current as at the date of publication, unless stated otherwise. The graphs and figures contained in this material include either past or backdated data, and make no promise of future investment returns. Past performance is not an indicator of future performance. Any economic or market forecasts are not guaranteed. Any references to particular securities or sectors are for illustrative purposes only and are as at the date of publication of this material. This is not a recommendation in relation to any named securities or sectors and no warranty or guarantee is provided.
---

Never miss an update
Get the latest insights from me in your inbox when they're published.
---
---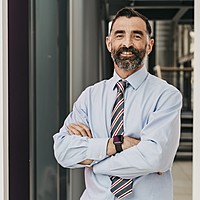 Portfolio Manager
Nikko AM
Iain joined Nikko AM in August 2014, and has over 22 years industry experience. Prior to joining Nikko AM, Iain was an Investment Director at SWIP, a Portfolio Manager at Kames Capital and Head of Research with Alliance Trust.
Expertise