Preparing for the great wildebeest migration
---
Over the last decade in Australian equities, factor returns for growth and momentum-based strategies have been astonishingly successful - versus value and earnings volatility - as investors have been happy to pay up for companies exhibiting strong earnings growth and share price momentum.

This investor desire to own companies growing quickly and or with certain earnings profiles has led to a significant re-rate in the multiple that investors are willing to pay for these companies. This is best illustrated by looking at the USA equity market as JP Morgan does in the below chart which compares the price to earnings (PE) ratios of the different strategies depicted.
Source: JP Morgan – Marko Kolanovic

The chart also highlights that investors are paying the highest PE premium ever for "low volatility" or earnings certain growth stocks despite a substantially better economic backdrop than what was experienced through the global financial crisis.
A similar thematic is illustrated in the domestic equity market by the move in the Woolworths share price over calendar 2019 where the stock has re-rated from a PE of 20 to 26 times today. Woolworths is a great company with excellent management however a PE re-rate of this magnitude given the company's earnings growth outlook is just not normal.
Source: Paradice Investment Management, Bloomberg

We think that the beginnings of a growth to value shift is evident and may represent a once in a decade opportunity to make money given crowded investor positioning in growth and certainty coupled with absurd valuations, witness the 41x PE multiple being paid for the ASX IT sector despite earnings declining over the last five years.
Source: Paradice Investment Management, Bloomberg

Much like the migrating wildebeest of Africa factor-based systematic strategies can quite easily change direction, in their case from growth and certainty to value and cyclicality, if the necessary pre-conditions are met. As an investor in Australian equities you are going to need to either stand aside from the stampeding herd or pivot as quickly as they may to make money in the year ahead.
With the herd positioned defensively, holed up in an oasis of ultra-expensive growth and earnings certainty stocks, we at Paradice Investment Management have headed into the desert to buy value and cyclicals before it rains, and the herd arrives. Albeit, we have packed our swags in case it's an overnighter. 
Stay informed in 2020
Stay up to date with my latest views. Hit the FOLLOW button below to be notified by email as soon as I publish my next wire.
This wire is part of the 'One thing investors can't ignore in 2020' series. To download the full ebook please click here.
---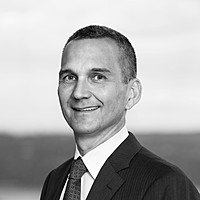 Director, Head of Large Caps
Paradice Investment Management
Troy is a Director at Paradice and manages the Australian Large Cap Equities portfolios. He has over 19 years' finance experience with 17 of those gained in the Australian equity market. Troy also has an MBA from London Business School.
Expertise