Property prices surge to near 40-year highs - should we be long?
---
Data this week showed that national house prices boomed in March up 2.8% taking the rise since September to 8% and these sort official numbers often understate what's happening in the real market. As housing prices begin to move, it highlights the reality that good properties often sell first and for good prices. And then all the poorer properties start to get gobbled up, which further underpins the very strong clearance rates we're seeing now. 
As "Joe" down the street gets a big price for his doer-upper on a battle-axe block, it incentivises another round of better properties to hit the market and potentially underpins another leg higher in prices.
In Sydney especially, much is being made in the media about a concerning boom. But this week the RBA Governor Philip Lowe didn't seem too worried when he kept interest rates unchanged at 0.1% and maintained the current QE program, and at this stage nor should he be. 
Today we've looked at four diverse property stocks on the ASX with varying underlying exposures, asking the question, should we be long?
Goodman Group (ASX: GMG) $18.57
Goodman is now the largest property company on the ASX with a market capitalisation of around $34 billion, about the same size as Afterpay (ASX: APT)! GMG has the most to gain through e-commerce and the need for smart warehousing solutions and enjoy a very strong relationship with Amazon. They are currently building Amazons first Australian robotics fulfilment centre in Western Sydney, a building the size of 22 football fields manned by around 2000 robots.
While GMG is not a traditional yield stock in the property space, its growth outlook is strong.
MM is bullish GMG targeting a move above $20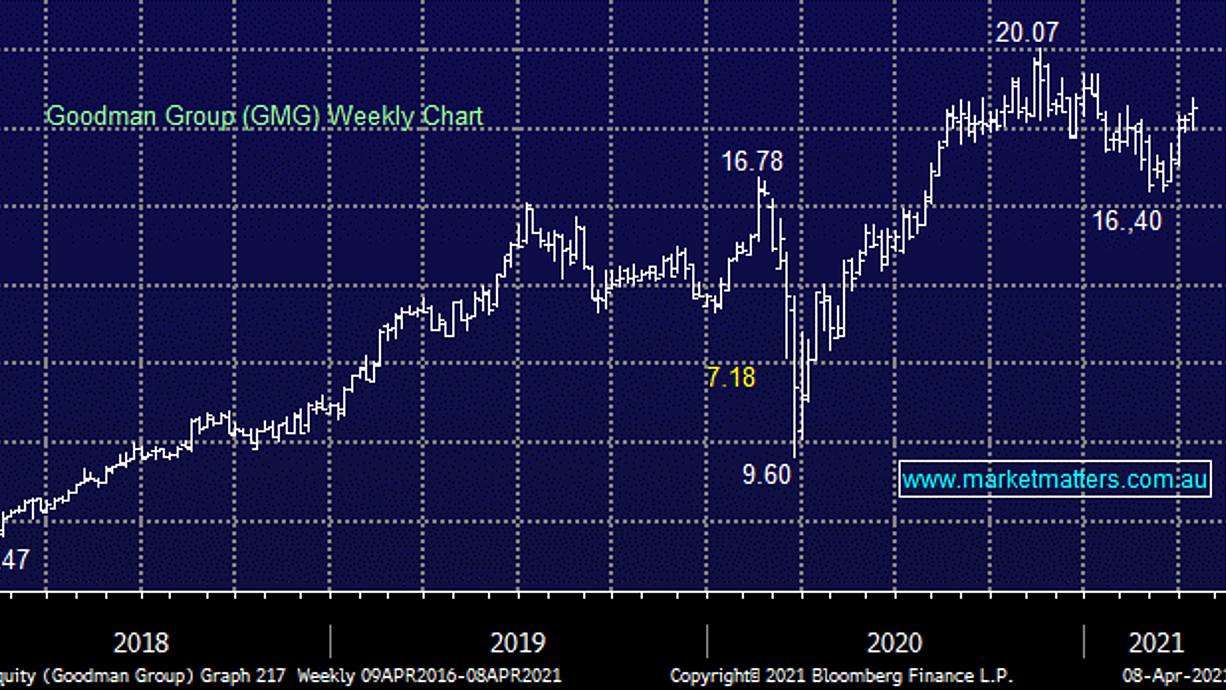 Stockland (ASX: SGP) $4.53
Stockland is a diversified property company although it generates most earnings from its 'communities' division, which includes traditional residential plus retirement living solutions. It also has exposure to retail and other commercial assets, which has been a tougher gig.
It seems clear that SGP will be a beneficiary of the strength in residential property prices, offset to some degree by their exposure to bricks and mortar retail. The issue in retail being that COVID in MM's view has changed the landscape from a structural perspective, rents will ultimately be lower due to reduced demand for floor space and that will have an impact on the value of assets.
MM is neutral SGP around $4.50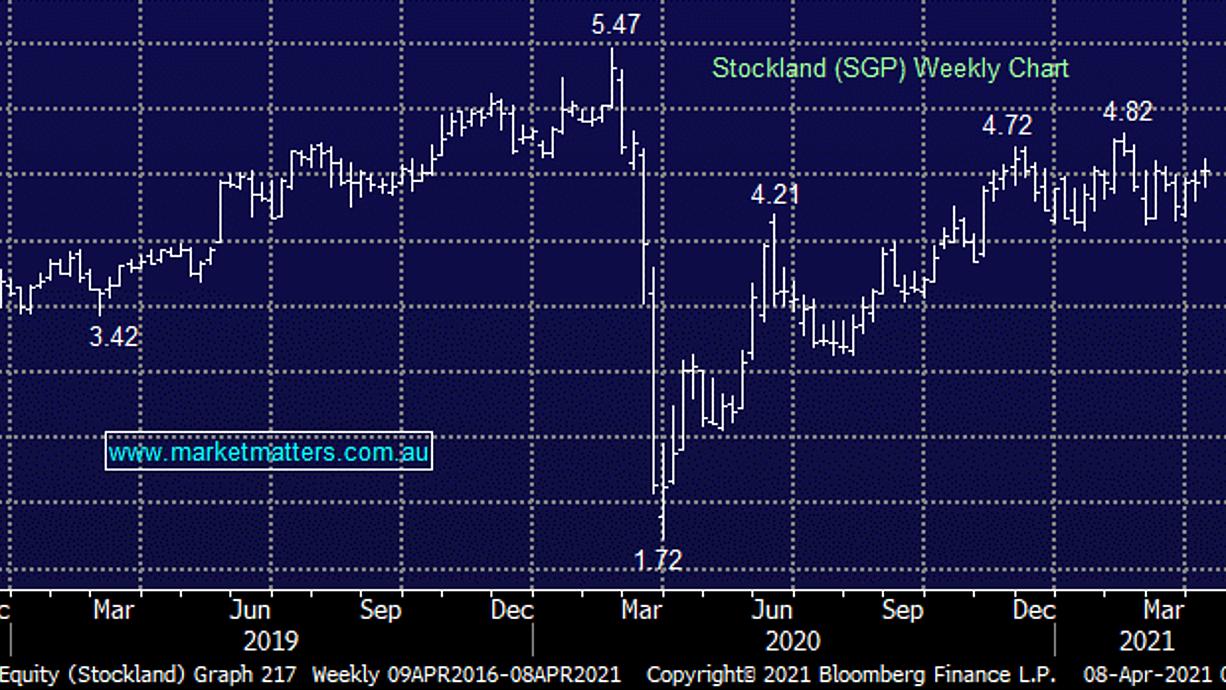 Dexus (ASX: DXS) $9.82
Dexus is Australia's largest office landlord and as you can imagine suffered heavily at the hands of COVID, and its recovery so far hasn't been as swift as many others in the sector. Uncertainty around what the new normal looks like in terms of demand for office space is clearly on the market's mind however this uncertainty in MM's view is very much in the price.
Ultimately, MM believes that office demand will taper but not by the magnitude that many think and there is a natural offset through growth in employment. For most businesses, the office will remain the primary place of work, of course with more flexibility around the edges.
DXS is trading at a 12% discount to the value of its underlying assets versus an average 8% premium. Couple this with a 5.5% projected yield over the coming 12 months and it's easy to see why we added it to the MM income portfolio last month.
MM remains bullish DXS initially targeting $11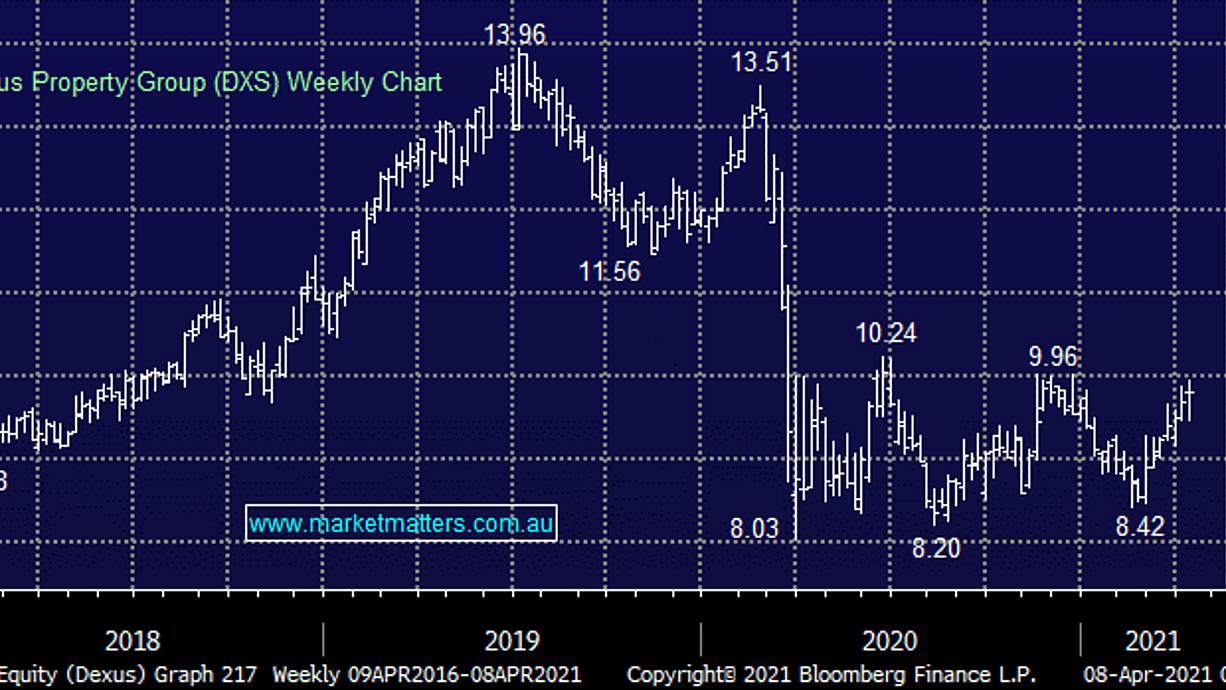 National Storage REIT (ASX: NSR) $2.13
Could this self-storage REIT be back in the sites of suitors – the share price certainly suggests as much?
A little over a year ago, the owner of around 200 storage assets in Australia & New Zealand was the subject of a 3-way takeover tussle, with two bidders offering $2.20 per share while a third, the Large US-listed Public Storage went in hard at $2.40. The deal looked like getting done however along came COVID and the extreme market volatility saw the bid pulled. Now there's talk of a revitalised bid and private equity firm Blackstone is also being thrown into the mix.
Abacus (ASX: ABP) is also a player in this game, they own Storage King and have made it clear that self-storage is an area of focus for them. They also own 9.9% of NSR, although we doubt they will actually make a full tilt at the company, it's more an opportunistic position.
MM is bullish NSR as a corporate/situational play around $2.13 

The bottom line
We are bullish GMG, DXS & NSR and neutral SGP
NSR is all about a potential corporate play, GMG is a longer-term growth story & DXS is one for the yield focused investors.
Make informed investment decisions
At Market Matters, we write a straight-talking, concise, twice daily note about our experiences, the stocks we like, the stocks we don't, the themes that you should be across and the risks as we see them. Click here for your free trial.