Six sectors we favour most as market sentiment shifts
---
In recent weeks, market sentiment has undeniably shifted away from relatively expensive, high-risk, low-quality stocks. To illustrate the magnitude of this aggregate shift, it's helpful to compare our measures of sentiment with our assessments of value, quality, and risk.
The correlation between sentiment and value has shifted from negative to positive over the past two months; the already positive correlation between sentiment and quality has become higher over the same period. At the same time, the correlation between sentiment and high risk has plummeted. Figure 1 shows the extent to which investors recently have been turning their attention toward more reasonably valued, higher-quality, lower-risk stocks.
Figure 1 : Correlation of Active Quantitative Equity's Proprietary Sentiment Scores with Proprietary Scores for Value, Quality, and Risk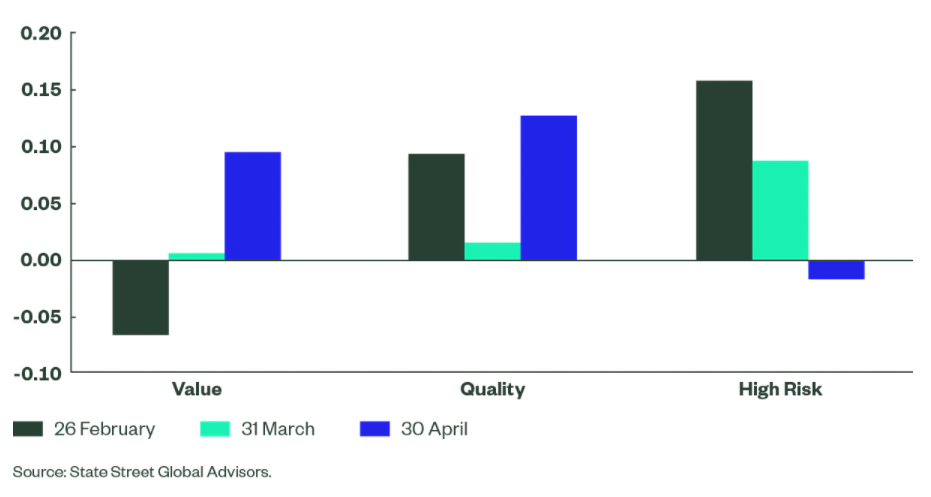 (as of the dates indicated)
That said, in our view not every area of the market with improving sentiment is a good place to invest, and not every segment with deteriorating sentiment should be avoided. Consumer Services and Real Estate both remain unattractive on our measures, despite their improvement in sentiment in recent months. In general, Consumer Services firms still represent very poor value (when taking quality considerations into account). And although many Real Estate companies continue to be of high quality, our signals – which quantitatively analyze the language used in earnings conference calls and in the explanatory notes of financial reports – are concerning.
The six market segments we most favor in this environment of shifting sentiment (in no particular order) are Health Care Equipment, Banks, Insurance, Technology Hardware, Autos, and Semiconductors. Our preferences are not always based on improvement in sentiment (see Figure 2). For example, although the broader Health Care sector has experienced heavy deterioration in market sentiment, we still like Health Care Equipment and Services, especially in the US. The language signals from Health Care Equipment and Services companies' conference call transcripts and financial reports are very strong, valuations are reasonable, and quality is high.
Figure 2 : AQE's Current Most-Favored and Least-Favored Sectors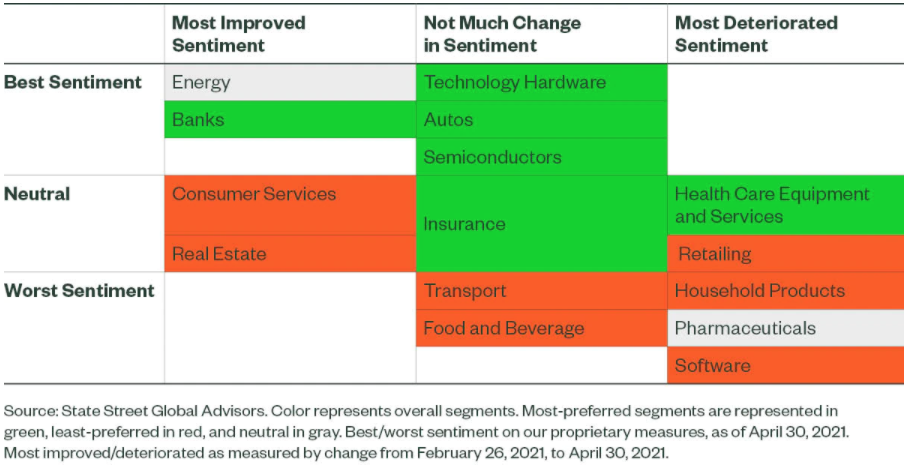 Banks have benefited from improving sentiment in recent weeks. While we favor banks overall, that improvement in sentiment is not the sole source of that positive assessment. Drilling down to examine banks by region reveals some important distinctions. European banks have seen a much larger improvement in sentiment than their North American counterparts, but we view European banks as only neutral in attractiveness compared with cheaper North American banks.
The same multi-dimensional view informs our negative assessments as well. Sentiment toward real estate stocks across the developed world has improved a lot in recent weeks, but in Europe sentiment toward real estate stocks has actually gotten worse. Our language signals for European real estate names are also very poor.
Bottom Line
Sentiment has turned to favor attributes we like, including high quality and cheaper valuation. When choosing stocks, however, it's important to weigh all important attributes, including value, quality, and risk – as well as sentiment – in order to avoid simply riding the latest sentiment trends.
Access high quality companies at attractive prices
Rather than building portfolios around the stocks weights represented in the benchmark index, our approach explores the market's full opportunity set, constructing a portfolio based on stocks total return and total risk characteristics. Click to follow button to stay up to date with all our latest insights.
........
The information provided does not constitute investment advice and it should not be relied on as such. It should not be considered solicitation to buy or an offer to sell a security. It does not take into account any investor's particular investment objectives, strategies, tax status or investment horizon. You should consult your tax and financial advisor. All information is from SSGA unless otherwise noted and has been obtained from sources believed to be reliable, but its accuracy is not guaranteed. There is no representation or warranty as to the current accuracy, reliability or completeness of, nor liability for, decisions based on such information and it should not be relied on as such. The views expressed are the views of Active Quantitative Equity through December 10, 2020 and are subject to change based on market and other conditions. This document contains certain statements that may be deemed forward-looking statements. Please note that any such statements are not guarantees of any future performance and actual results or developments may differ materially from those projected. Investing involves risk including the risk of loss of principal. Quantitative investing assumes that future performance of a security relative to other securities may be predicted based on historical economic and financial factors, however, any errors in a model used might not be detected until the fund has sustained a loss or reduced performance related to such errors. The trademarks and service marks referenced herein are the property of their respective owners. Third-party data providers make no warranties or representations of any kind relating to the accuracy, completeness or timeliness of the data and have no liability for damages of any kind relating to the use of such data. The whole or any part of this work may not be reproduced, copied or transmitted or any of its contents disclosed to third parties without SSGA's express written consent. © 2020 State Street Corporation.
---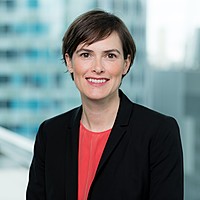 CIO, Active Quantitative Equity
State Street Global Advisors
Many people think equity investing is all about finding companies that offer the best returns. We're focused on the best way to form equity portfolios to deliver the best risk-adjusted returns, in line with specific return and risk objectives. Our...
Expertise