Sydney house prices fall in April --- boom over
---
In The Australian Financial Review  today I reveal that Sydney house prices fell modestly by -0.1% in April for the first time since December 2015, validating our call last week that the housing boom is grinding to a  stand-still. Auction clearance rates have also declined for 3 weeks running with the national rate dipping below 70% from the 78% peak a couple of months ago. We are forecasting a sustained deceleration in the  annualised  rate of house price growth from the double-digit territory over the last 12 months to very low single digits over the remainder of 2017. I give the RBA my usual dose of heat and then highlight an anomaly in the pricing of major bank subordinated vs senior debt.  Click on this link to read the column for free via Twitter or  AFR subs can click on  the  direct link here. Excerpts and two charts enclosed: 

"Since 1990 the RBA's risk-free rate has on average given Australian households a 2.7 per cent annual interest premium above inflation. If we only consider the post-2000 period, the cash rate delivered 1.6 per cent annually above inflation compared to -0.6 per cent currently. In the last quarter of a century, the real cash rate has never been more negative. The RBA is punishing prudent households by forcing them to chase unnecessarily high risks to get a return that exceeds their living expenses. Ten times leveraged investment property anyone? At the same time, the RBA rewards the imprudent—those geared to the gills—with artificially low borrowing costs. This represents an entirely unprecedented transferable of wealth from savers to borrowers in the name of maintaining economic growth above trend by blowing a housing bubble. Go figure. Similar economies like Canada, New Zealand, the US and the UK all target 2 per cent inflation rates (not 2 per cent to 3 per cent) on which basis Australia's current 2.1 per cent inflation rate would be considered "normal", not excessively low. Where did the RBA's 2 per cent to 3 per cent inflation target come from? Former governor Bernie Fraser guesstimated it was the right range back in 1993. But there was no science to it, and it makes no sense at all to distort savings and investment decisions so egregiously just to hit 2.5 per cent. I won't hold my breath for the RBA to swallow its pride and accept it got its policy settings wrong given its desire to project papal-like infallibility. So in the meantime let's focus on making money. One puzzle I've highlighted to colleagues is the curiously narrow interest rate spread between the major banks' senior and subordinated bonds. The junior-ranking subordinated, or "Tier 2", bonds have normally paid an interest spread above the bank bill swap rate that is between 2 times and 2.5 times the spreads offered on the majors' senior bonds with the same expected maturity. Take the last wholesale subordinated bond issued by NAB in September 2016. This priced at 2.4 per cent above the bank bill swap rate, or 2.4 times the spread on an equivalent senior bond. Yet today the same NAB security is trading on a spread of 1.75 per cent above bank bills compared to senior bond spreads of circa 0.93 per cent, which equates to a tiny multiple of only 1.88 times. This suggests that either major bank sub debt is super expensive and/or major bank senior is very cheap from an investor perspective If we assume current major bank senior is pricing at fair value, sub debt should be offering spreads of about 2.1 per cent above bills taking the mid-point of the normal 2 times to 2.5 times multiple. If one assumes the NAB multiple in September 2016 was reasonable, any new 5 year sub debt deal should pay 2.23 per cent over bills. An alternative explanation is that senior is simply cheap: whereas sub debt spreads are now inside their previous post-GFC "tights" set in 2014, senior spreads are still  0.2 per cent wide of these levels even though balance-sheet leverage is lower. What makes this puzzle more perplexing is that the supply risks are in the subordinated, not senior, space. The majors have already issued huge amounts of senior this year and with credit growth slowing they will presumably attenuate wholesale bond issuance. In contrast, they have massive sub debt maturities in 2017 with Deustche Bank estimating that Aussie banks will issue $20 billion of these securities this year. While I don't personally own any major bank sub right now, I do like senior." 
---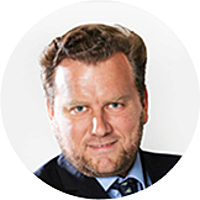 Portfolio Manager & Chief Investment Officer
Coolabah Capital
Chris co-founded Coolabah in 2011, which today runs $7 billion with a team of 33 executives focussed on generating credit alpha from mispricings across fixed-income markets. In 2019, Chris was selected as one of FE fundinfo's Top 10 "Alpha...