The Global Mid - Small Cap Opportunity
---
Most Australian investors domestic equity exposure is diversified across large, mid and small cap companies. Mid/small cap companies like Qantas, Treasury Wines, Cochlear, Computershare and NextDC have been some of the best performers on the ASX in recent years benefitting the returns of domestic equity portfolios. However, to date, any global exposure has typically been limited to large cap stocks. It raises an interesting question given the outperformance of global mid/small caps relative to large caps over time.
Since the turn of this century, the MSCI World SMID Index has outperformed the MSCI World Local Index by 3.3% per annum. To put that in perspective, $10,000 dollars invested in the MSCI World SMID Index in the year 2000 would be worth $31,677 vs $18,324 for that of the MSCI World Local Index over the same time period.
The sweet spot of opportunities for the team at Ellerston Global Investments (ASX:EGI) and investment bias is global mid/small cap companies with a market capitalisation of less than US$10b. The current weighted average market cap of EGI's Top 10 holdings is US$3.2b. As a result, the stocks in EGI's portfolio are unlikely to be found in most other global portfolios.
While an allocation to global mid/small caps makes sense in terms of global diversification, there are two characteristics specific to the global mid/small cap universe that provide a structural advantage in terms of generating investment returns.
The Size of the Universe - There are over 6,000 companies in the developed markets mid/small cap investable universe (market cap between US$500m to US$10b). This universe is five times larger than that of the developed market large cap universe. With this breadth of market opportunity the ability to find alpha generating investments is greater for those investors prepared to "turn over the most rocks". Amazon is the world's largest online retailer and fifth largest company as measured by market capitalisation at US$450b market cap. When it listed 20 years ago Amazon was a small cap with a market capitalisation of US$652m! Many of the large cap companies popular with investors today were once mid/small cap opportunities. It is just a matter of finding them.
Lack of Analyst Coverage - We believe the second structural advantage apparent in the mid/small cap space is the lack of analyst coverage from both the buy and sell side. The potential for discovering undervalued stocks is greater with companies that may be flying under the radar. Again if we draw on the example of Amazon, now a US$450b behemoth with 50 sell side analysts and some of the smartest hedge funds in the world covering the name, we believe the ability to have an 'edge' in an Amazon is markedly reduced. Analyst coverage, or lack thereof in the mid/small cap universe is best illustrated by the chart below which demonstrates the sell-side analyst coverage of a typical EGI position versus their respective large cap peer.
EGI Portfolio Analyst Coverage – Hostelworld, Entertainment One, Jeld-Wen, Northstar Realty Europe
Australia → Global → Global Mid/Small Cap
The concentration of the Australian market has led to investors diversifying their portfolios with global exposure. The question now is whether investors need to think about their global concentration and diversify away from global large caps.  When you look at the universe breakdown below, it is hard to imagine ignoring such a significant part of the equity market in the developed world.
To quote the famed investor Peter Lynch,
"searching for companies is like looking for grubs under rocks: if you turn over 10 rocks you'll likely find one grub; if you turn over 20 rocks you'll find two."
Please join us for our 2017 Investor Roadshow in October/November where you will hear from Arik Star, showcasing the team's best investment ideas and the context in which they are investing throughout the rest of 2017 and beyond.
---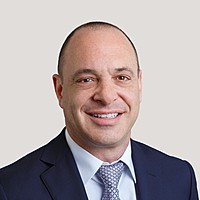 Portfolio Manager
Ellerston Capital
Arik is Co-Portfolio Manager for Ellerston Global. He has over 25 years financial markets experience, previously working for Consolidated Press Holdings, Thorney Holdings and Kira Capital. Arik has a Bachelor of Banking and Finance degree.
Expertise