The Match Out: ASX edges higher as bearishness reigns supreme
---
Stocks snapped a 3-day losing streak today that had seen the ASX 200 pullback -371pts / 5.5%, back down testing the June lows, off 12% this calendar year to date. While today's bounce back was far from convincing, we are seeing signs of some improvement with a number of sectors/stocks attracting strong buying. When we stand back and consider the overarching positioning at the moment, with the consensus being very bearish, we think a bounce from these levels is the more probable outcome.
The ASX 200 finished up +26pts/ +0.41% at 6496.
The Material sector was best on ground (+2.57%) while Energy (+1.72%) was also strong.
Property (-2.08%) and Communications (-1.04%) the weakest links.
My Bloomberg is filled with bears: Blackrock says we should shun most stocks as the market is simply not pricing in a recession and a 'hard landing' - more on this below.
Megaport (ASX: MP1) +6.72% was strong as money started to flow back into the tech stocks – a theme we think has legs. MP1 is very much at the pointy end of this trade.
Our Research Lead Shawn Hickman was on Ausbiz this morning discussing this view – Click Here to Watch
Australian Ag (ASX: AAC) +1.16% appointed a new CEO from within, the stock has corrected ~30% over the past few months and now looks interesting.
We had Whitehaven Coal (ASX: WHC) +6.83% CFO in this afternoon for an update ahead of their blackout period which starts at COB Friday till after the AGM on 26 October. No Buy-Backs through this period!
Coal Futures in Singapore were +3% to $US422/tonne which helped to support the coal sector.
Oil resources analyst Peter O'Connor sent a note around the desk this afternoon with the following conclusion…. The naughty valuation corner is now resident to ~75% of our coverage with only energy (old and new) holding punchier positioning. With conviction, I can say that we are closer to a BUY than a SELL … a lot of the current headwinds are in the price … Be alert for opportunity.
Iron Ore was ~1.5% higher in Asia supporting Fortescue (ASX: FMG) +5.52% that bounced from oversold levels.
Gold even rallied today setting at ~US$1636 around our close.
Asian stocks were okay Hong Kong down -0.3% while Japan was +0.50% and China was up +0.88%.
US Futures are all up, around +1%.
ASX200 chart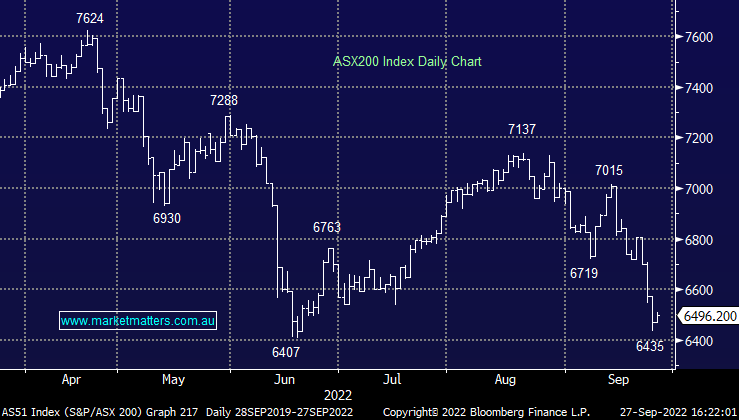 Bearishness reigns supreme
My Bloomberg terminal is filled with bears, Blackrock says we should shun most stocks as the market is simply not pricing in a recession and a 'hard landing' sort of scenario while Goldman Sachs has downgraded equities to underweight in their asset allocation matrix, a similar move made by Shaw's Chief Investment Officer a few days ago, saying that evidence that inflation is becoming persistent means higher interest rates, tightening financial conditions and slower world growth. All three create more difficult conditions for growth assets, prompting a move to underweight in multi-asset portfolios. In the most recent survey from Bank of America, it showed a record 52% of respondents underweight stocks and overweight cash while other crowded trades included long the US dollar, long oil and commodities and short treasuries. Most of these trends have remained solid, although commodities/energy less so as global growth fears bubble to the surface. In tomorrow morning's Portfolio Positioning Report we'll detail what we believe comes next and dig further into the stocks that we've bought this week. While at MM, we agree that there are many headwinds for equities, we also believe the consensus call & positioning is very bearish, and strong countertrend moves are now very likely. Turning bearish after the market has fallen ~10% is not the approach we are taking. 
Bearishness reigns supreme

Australian Agricultural Company (ASX: AAC) $1.75
AAC +1.16%: The owner of nearly 400,000 head of cattle and about 1% of Australia's land mass appointed a new CEO today from within, promoting Chief Operating Officer David Harris. It would be a tough gig given UK based Billionaire Joe Lewis owns a tad over 50% of the company (via an investment vehicle called Tavistock) while Andrew Forrest's Tatterang owns 17.4%. There was optimism that one of these two would take it out completely with it more likely being Tatterang however Tavistock crept up the register from 48% to a shade above 50% which is enough to have the lions shares of votes, and cast more doubt over whether or not a full takeover would happen. AAC has also been struggling with concerns around foot and mouth and lumpy skin disease after outbreaks in Indonesia, with shares now down 30% from their June highs and back to a level that looks appealing. 
Australian Agricultural Company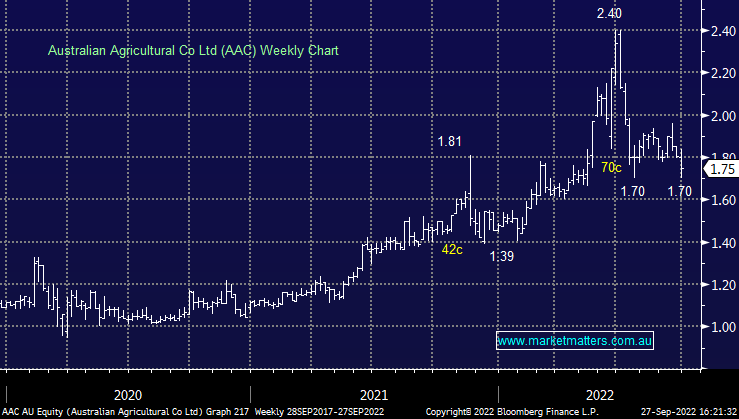 Broker Moves
Temple & Webster (ASX: TPW) Cut to Neutral at Jarden Securities; PT A$5.42
Bendigo & Adelaide Bank (ASX: BEN) Raised to Neutral at JPMorgan; PT A$8.70
Sigma Healthcare (ASX: SIG) Cut to Underperform at Credit Suisse
Sigma Healthcare Cut to Hold at Shaw and Partners
Major Movers Today
---
Make informed investment decisions
At Market Matters, we write a straight-talking, concise, twice daily note about our experiences, the stocks we like, the stocks we don't, the themes that you should be across and the risks as we see them. Click here for your free trial.
The Match Out will be available each day after the market close. Follow my profile to be notified when the latest report is live.