The Match Out: ASX slides, CBA reports strong results, Weekly Video Update covering performance
---
The ASX weakened today ahead of the all-important inflation print in the US tonight with consensus tipping a result of +8.7% YoY. Tech fell on concerns bond yields will rally again while the Utilities which are more defensive + some are linked to CPI fared well.
The ASX 200 finished down -37pts/ 0.53% at 6996
The Utilities sector was best on ground (+0.90%) while Financials (+0.53%) were also strong.
IT (--3.78%) and Healthcare (-1.49%) the weakest links.
Commonwealth Bank (ASX: CBA) -0.28% delivered a solid FY22 result today, a small beat on our numbers however it's trading at such a premium to the others that we saw some rotation from CBA (trading 2.3x book) to ANZ (trading 1x book).
GrainCorp (ASX: GNC) +5.1% has upgraded its earnings guidance - the third strong trading update in FY22 so far (previous releases on 7 February 2022 and 8 April 2022).
St Barbara (ASX: SBM) -11.57% fell on weaker than expected guidance for FY23 – we own this and the result was underwhelming – some recent gains evaporated!
Centuria Capital (ASX: CNI) +2.96% delivered solid results – not inspiring but solid with flat earnings expected for FY23.
Whitehaven Coal (ASX: WHC) +5.12% bounced back as Coal prices rallied – buying dips in WHC makes total sense
A2 Milk (ASX: A2M) -6.85% fell after the US deferred a decision to allow them to sell products there.
I was on Ausbiz this morning talking about the CBA Result – Click here to watch.
Iron Ore was ~2% lower in Singapore today.
Gold fell $6 $1788 by our close.
Asian stocks were weaker Hong Kong was down -0.2.46%, Japan off -0.61 % while China was off -0.55%
US Futures are all marginally, around -0.10%
Keep an eye out for The Trade Desk (TTD US) tonight – they had a good quarterly after close last night – we own and like.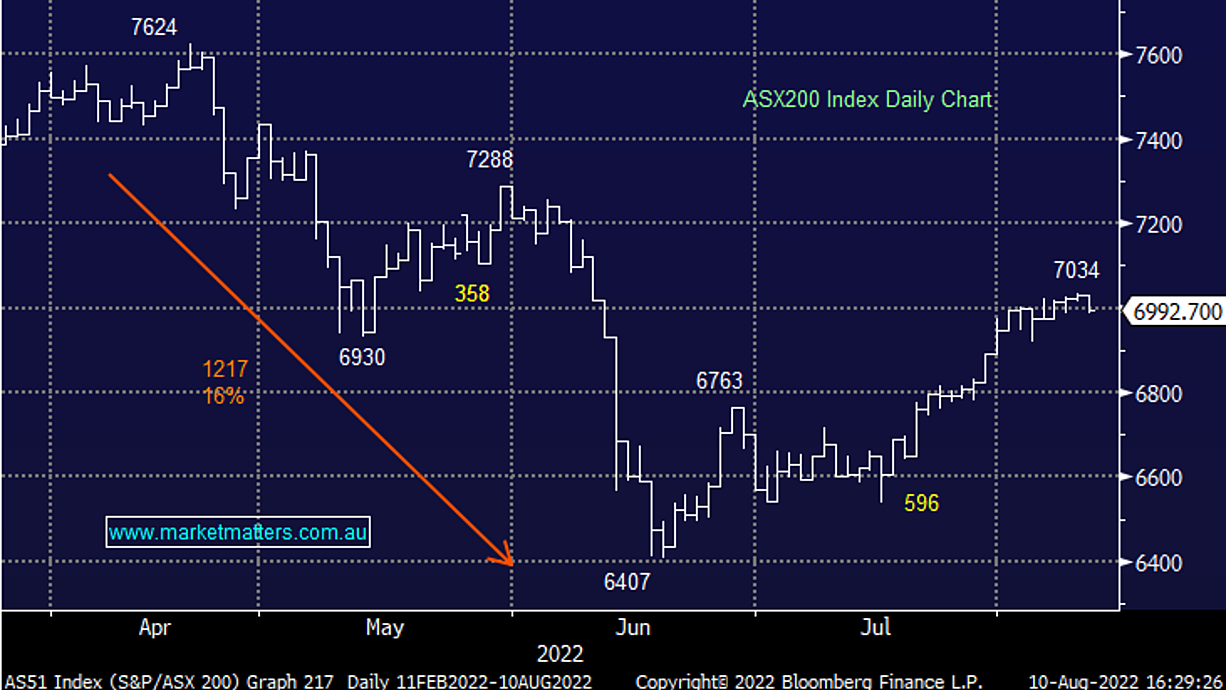 US Data Dump Tonight – Inflation the key – Source Bloomberg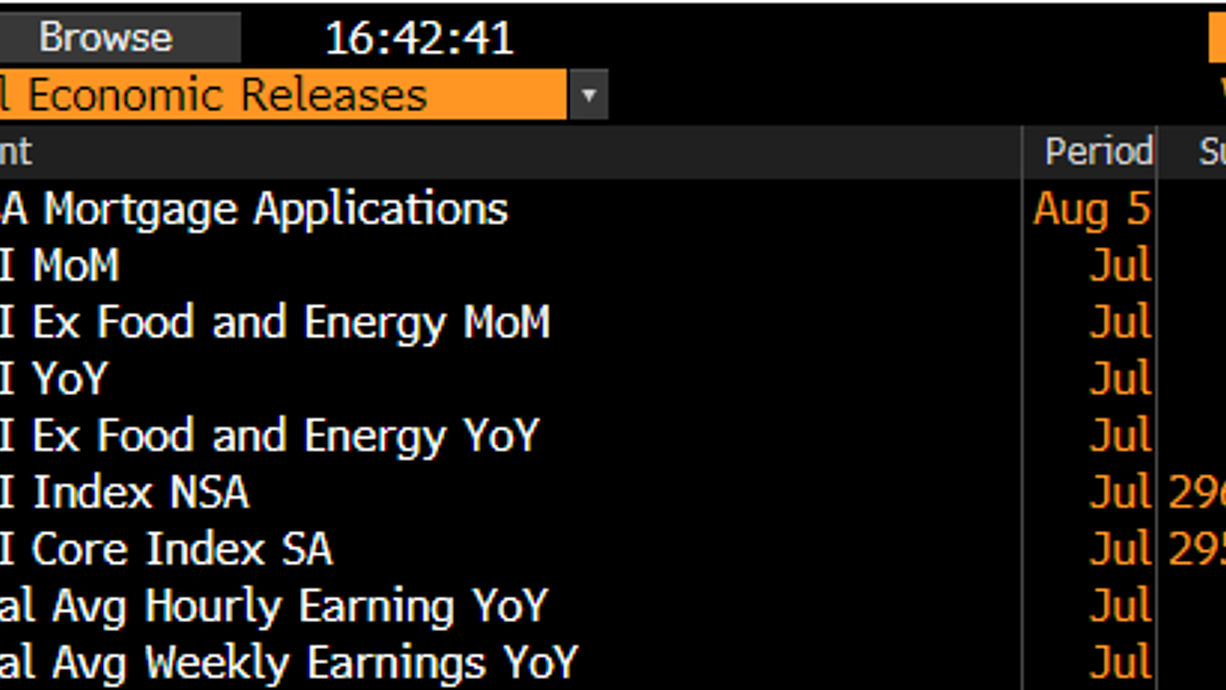 Weekly Video Update
This week James & Harry cover portfolio performance for July across the suit of Market Matters Portfolios. Transparency is core to our approach and covering portfolio performance on the website, and via a video each and every month keeps our subscribers fully abreast of the outcomes we're achieving. In July, the Emerging Companies Portfolio put on 14.5%, the Flagship Growth Portfolio added 7.5%, the Income Portfolio was 3.1% higher while our International Equities Portfolio increased 7.6% in Australian Dollar terms.
This week's video also addresses the CBA result, income stocks to \ buy here and now, along with a wider discussion on reporting.
Centuria Capital (CNI) $1.915
CNI +2.96%: A solid update from Centuria this morning with few surprises for the property company that has fallen 45% over the past year – suffice to say, there was not a lot of upside built in! Operating earnings per share of 14.5c was Inline with expectations from operating profit of $114.5m, about 1% below consensus. A final distribution of 5.5c was as we expected while Assets under management was up 18% YoY to $20.6bn. There is a net loss of $37.9m that will gain the headlines, however that is a result of property revaluations. For FY23 they guided for EPS of 14.5c and a dividend of 11.6c, essentially flat on FY22 (dividend a touch higher).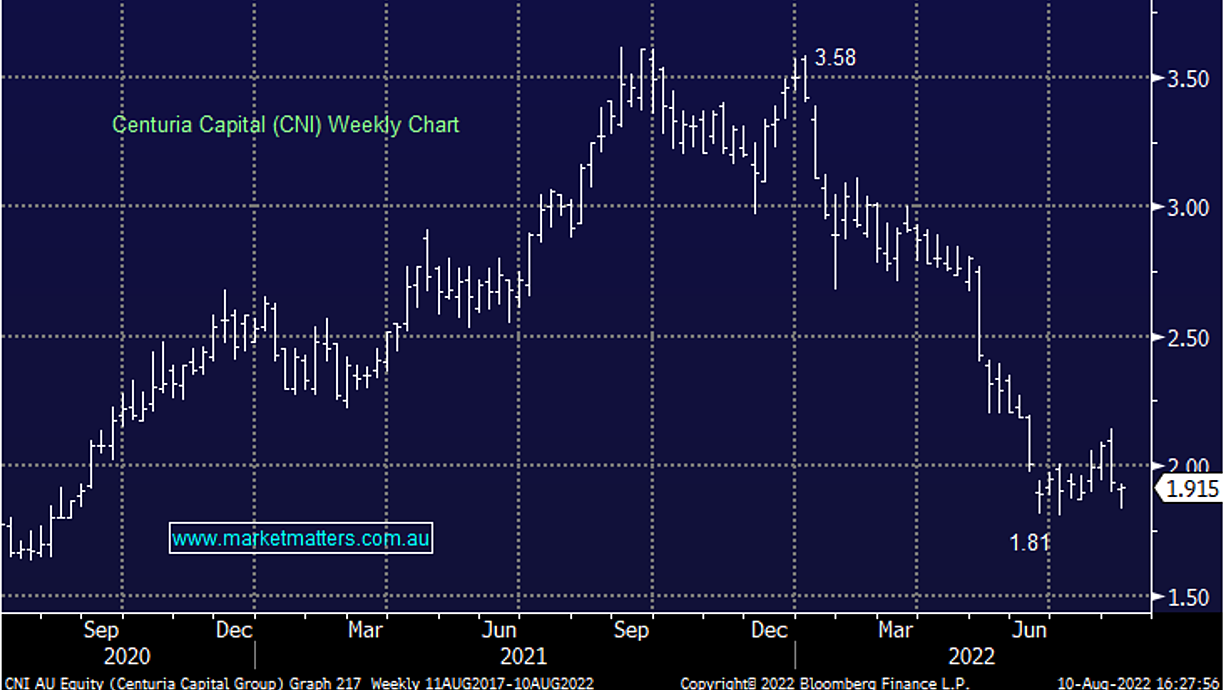 Ive Group (IGL) $2.27
IGL +4.13%: Today announced they are the preferred party to negotiate and acquire their major competitor (Ovato) that recently went into administration. The move has the potential to add over $200m in annualised revenues, a significant asset base and deliver material synergies (if successfully delivered and ACCC approved). This event has been a long time coming as OVT has had material difficulties, of which COVID has exacerbated. We would expect any transaction when all said and done to be highly accretive to IGL, albeit with plenty of water to flow under the bridge and more information to come.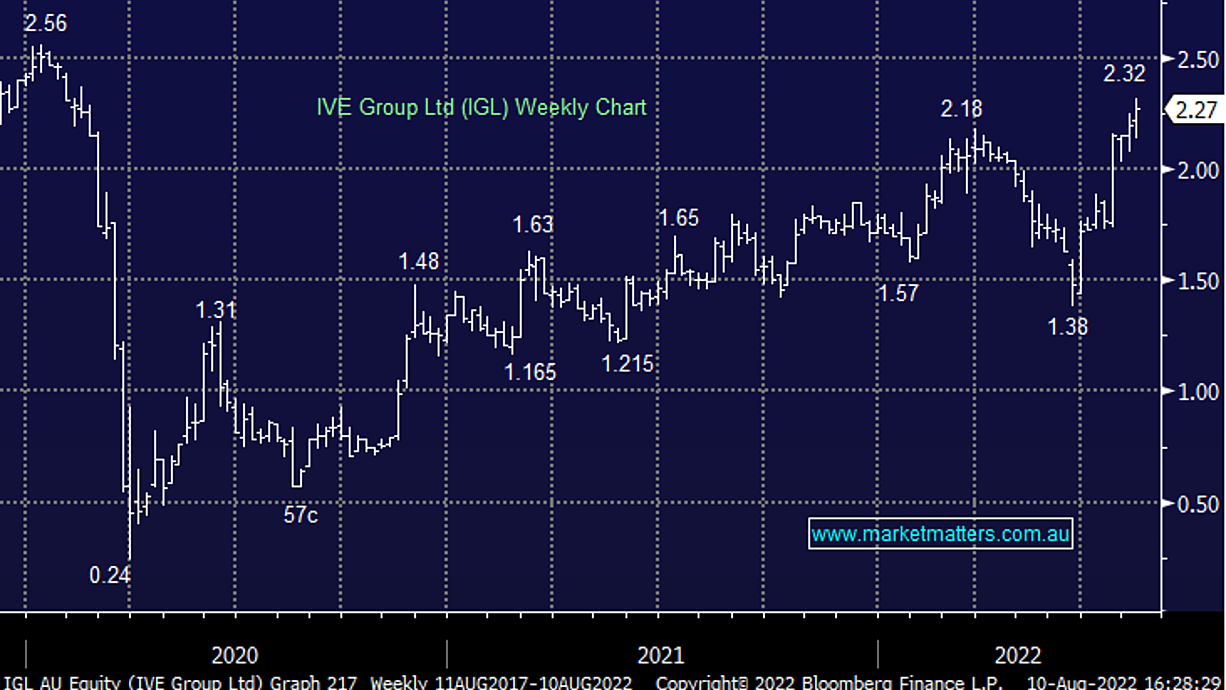 St Barbara (SBM) $1.07
SBM -11.57%: the gold company announced FY23 guidance today which saw the stock give back a chunk of recent gains. They guided gold production to 280-315koz, and all-in costs to $2050-2150/oz in the year ahead. Relative to last year, gold production is expected to be flat to 12% high, while costs are expected up 13% at the midpoint. Inflation has caused costs to climb across the sector, particularly labour and energy costs, however, St Barbara also expects lower grade ore to be produced out of Gwalia putting further pressure on margins. They also announced they have received approvals for a tailings dam to be built at their Atlantic operation in Canada to keep the miner operating. Overall it was a disappointing update, though higher costs were expected, perhaps not to the degree outlined today. They are well placed with plenty of cash while having a number of 'self-help' options available to them across all assets.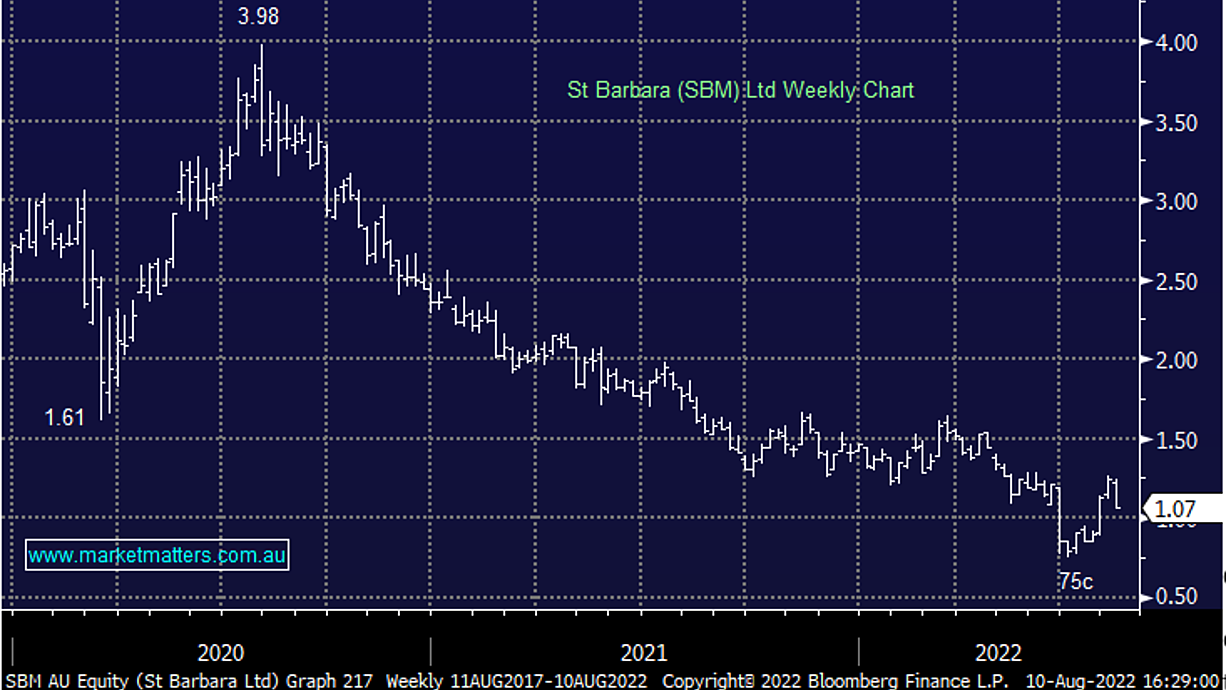 Commonwealth Bank (CBA) $101.00
CBA -0.28%: Released FY22 results this morning that were a touch stronger than expected. Cash earnings of $9.6bn were ahead of $9.4bn expected, earnings per share (EPS) of $5.57 compared favourably to the $5.40 tipped by analysts while the full year dividend of $3.85 was strong, ahead of expectations nearer $3.80 however UBS, for instance, was thinking $3.50. The second-half dividend of $2.10 was its highest since 2019 and only represented a full-year payout ratio of 68%. Capital remains strong and while net interest margins were lower (1.87%), the benefit of higher cash rates hasn't been fully realised.
Some weaker commentary saw the stock drift today, while the result did not outshine the others, so some rotation played out into the cheaper banks – however in MM's view, another quality result from a quality operator.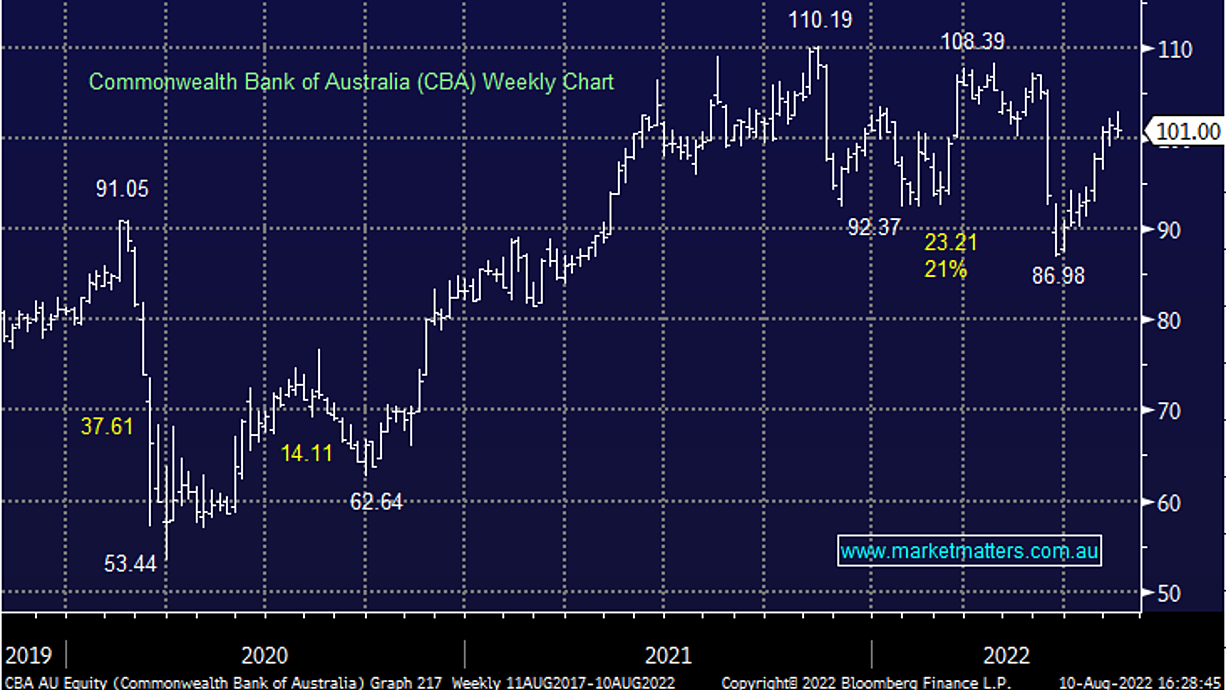 Broker Moves
Reece Raised to Neutral at Macquarie; PT A$15.80
Boral Cut to Neutral at Macquarie; PT A$3.20
GWA Group Cut to Neutral at Macquarie; PT A$2.15
Bendigo & Adelaide Cut to Underperform at Macquarie; PT A$10
City Chic Cut to Neutral at Citi; PT A$2.47
Appen Cut to Sell at Bell Potter; PT A$4.25
Major Movers Today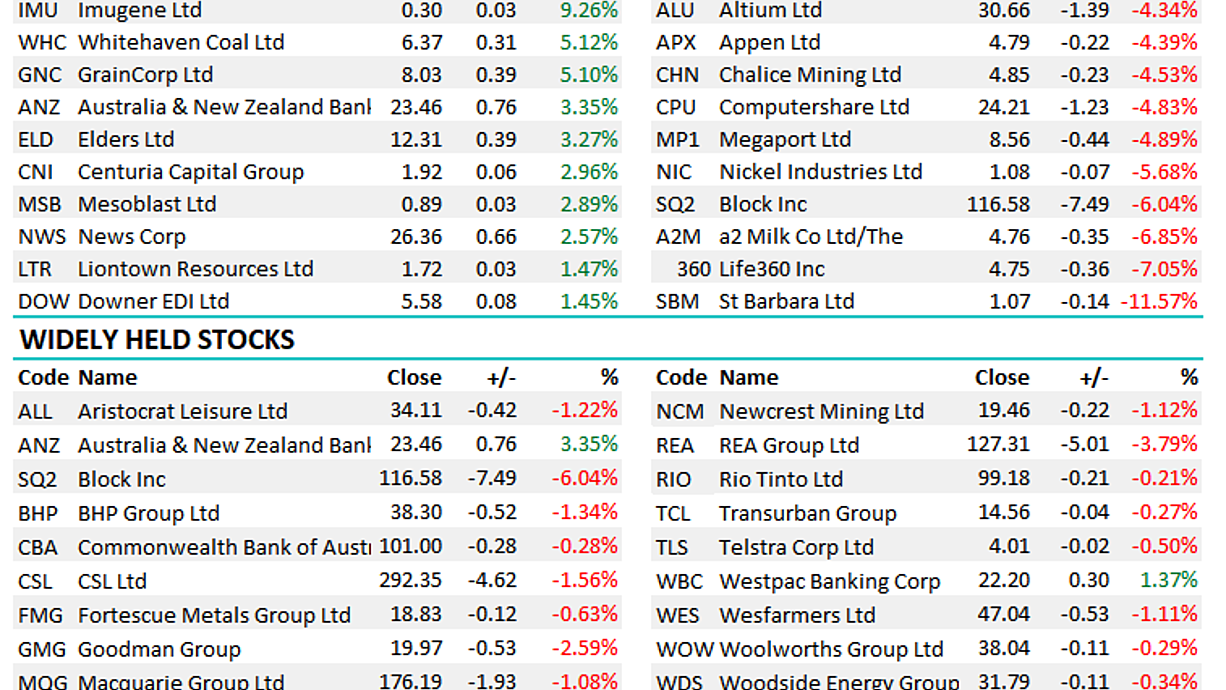 Have a great night
The Market Matters Team
---
Make informed investment decisions

At Market Matters, we write a straight-talking, concise, twice-daily note about our experiences, the stocks we like, the stocks we don't, the themes that you should be across and the risks as we see them. Click here for your free trial.
The Match Out will be available each day after the market close. Follow my profile to be notified when the latest report is live.