The Match Out: Defensive stocks buoy the market, Origin (ORG) tumbles after flagged EBITDA hit, Lithium stocks savaged
---
The local bourse was choppy in a tight range today, setting a high for the day early and falling 34pts by 1pm before a helpful 17pt jump in the close meant it finished back near the early highs. The more defensive sectors were the outperformers today as the Telcos and Financials carried the index. Utilities were smacked on more stock-specific news and tech gave back some of its recent gains. The Small-Cap index struggled as well with money moving into the 'safer' havens today, it underperformed the ASX200 by 2%.
The ASX 200 finished up +22pts/ +0.32% at 7234
The Telcos (1.88%) was best on ground but Financials & Utilities were also strong, both up +1.22% today
Utilities (-5.27%) and Tech (-1.54%) the weakest links.
Australian GDP Data out this morning at 11.30am which showed the March quarter grew at 0.8% down from the +3.6% advance in December. YoY growth was +3.3% versus 3.0% expected, so the economy still running hot.
ANZ lifted their call on interest rates as a consequence now expecting a 40bps hike instead of a 25bps rise. Bond yields ticked higher today on the back of the change.
CoreLogic was also out with housing data showing prices fell -0.3% MoM stoking the housing bears. Sydney house prices peaked in November last year.
Lithium stocks in focus today after Argentina set a low reference price + Goldmans released a very bearish view of the sector.
Metcash (MTS) -1.86% fell again today on a Jefferies downgrade from buy to hold. They say MTS will be in the firing line as we all tighten our belts.
Origin Energy (ORG) -13.72%, fell after pulling FY23 guidance as they struggle to get enough coal for their Eraring power plant.
Iron Ore was ~1.2% higher in Asia today. Gains by the bulk miners (FMG +3.23%) failed to lift the materials sector.
Gold was down -0.2%/~$US4 to settle at $US1,833 at our close.
Asian stocks were okay Hong Kong down -0.39%%, Japan +1.17% while China was up +0.21%
S&P Futures are up 0.2% while Nasdaq is currently flat.
ASX 200 Chart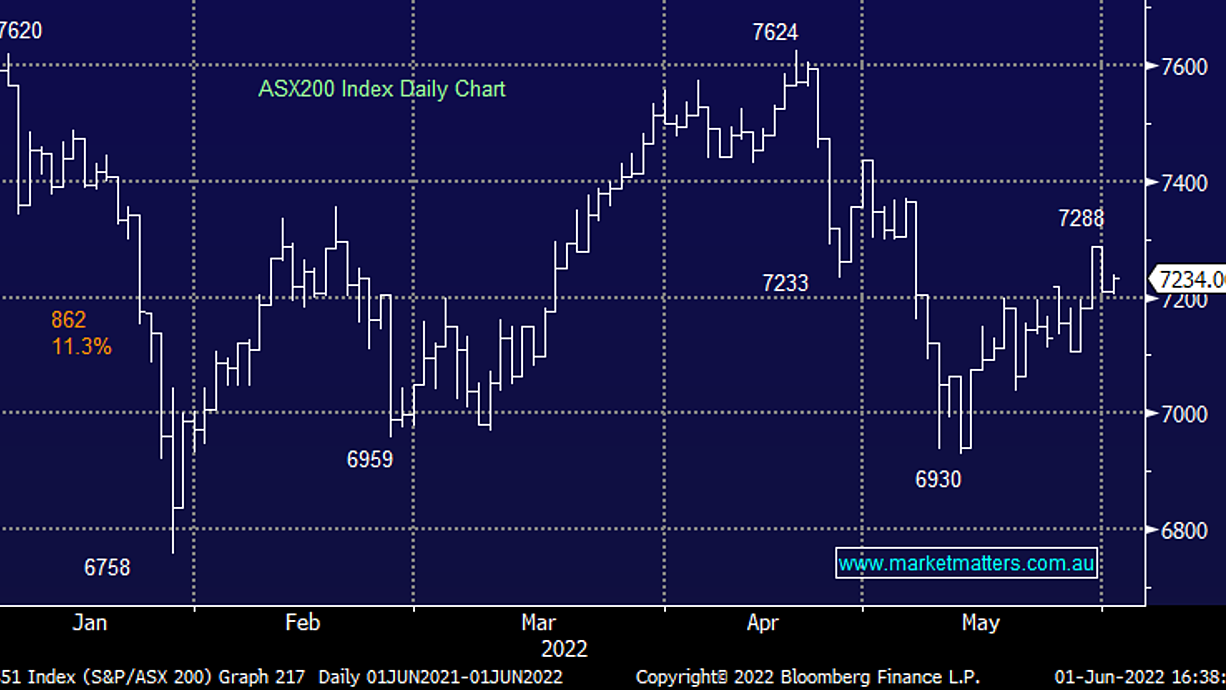 Lithium
Argentina has moved to set the Lithium Carbonate export reference price at $53/kg after irregularities were noticed, weighing on the sector. The reference price limits the ability of local producers to under invoice on exports to reduce tax costs and make up the trade on FX markets where the Government controlled price can vary significantly from the market rate. The move saw the space cop a beating today with the sellers spurred on by analyst comments in recent days that the lithium price may be near a medium-term peak as African & Chinese production comes online. Goldman Sachs lowered expected prices for the battery metal through 2025. The hardest hit was Pilbara Minerals (PLS), -22.03% today, one we like but not one we will look to pick the low in for now.
IGO Ltd (IGO)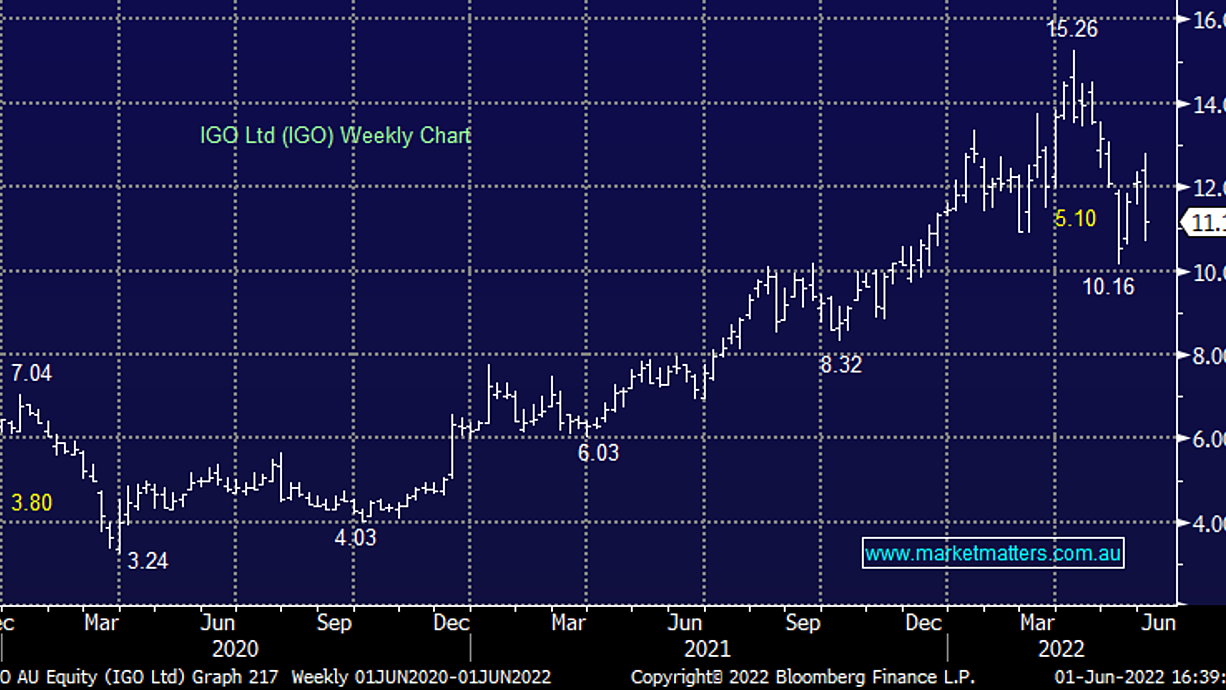 Origin Energy (ORG) $5.91
ORG -13.72%: higher energy prices have helped support Origin in recent months but today a coal shortage has forced the company to walk from FY23 guidance. The company said it was receiving less than contracted volumes of coal from Centennial to its Eraring power plant which had forced them into buying energy on the spot market at significantly higher rates than anticipated. While they maintained FY22 guidance, a larger portion of EBITDA will come from their Integrated Gas segment while Energy Markets is expected to contribute just $310-460m to EBITDA, down around 25% at the midpoint. They have also walked from premature FY23 guidance which had the Energy Markets business contributing $600-850m to EBITDA with coal supply concerns expected to continue.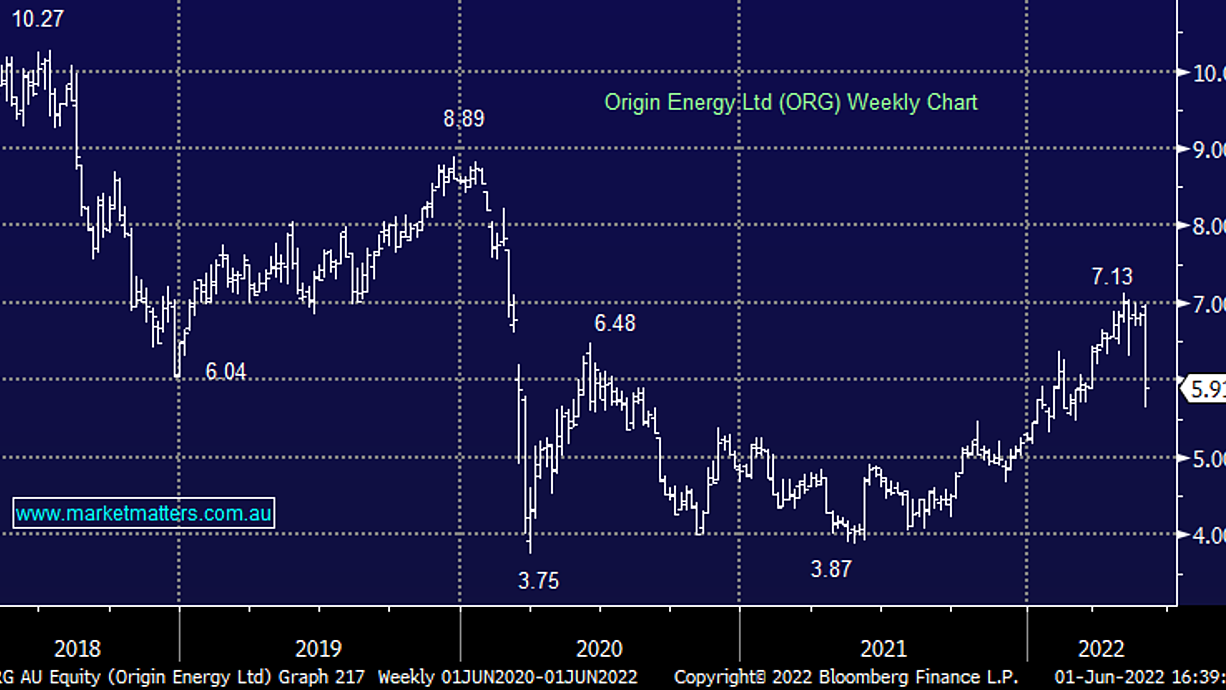 Broker Moves
Eagers Rated New Buy at Ord Minnett; PT A$13.25
Allkem Cut to Neutral at Credit Suisse; PT A$14.70
Pilbara Minerals Cut to Neutral at Credit Suisse; PT A$3
Johns Lyng Reinstated Buy at Bell Potter; PT A$7.50
Metcash Cut to Hold at Jefferies; PT A$4.50
TPG Telecom Rated New Positive at Evans & Partners Pty Ltd
Major Movers Today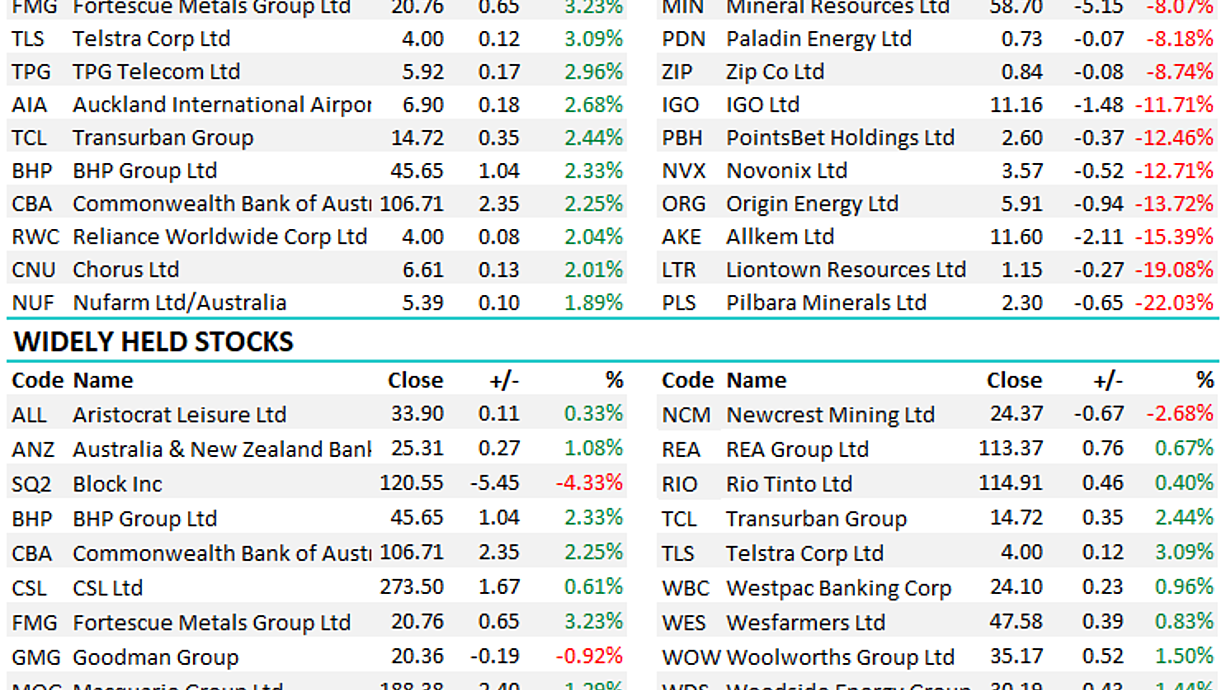 Have a great night
The Market Matters Team