The Match Out: RBA underpins ASX, Energy stocks rally 4%, Zip Co (ZIP) holds investor day
---
The ASX was down early however a more dovish speech from RBA Governor Philip Lowe got the buyers off the sidelines pushing the market higher by the close. 
Again it was the Energy stocks that led the charge – an impressive ~4% gain and the sector looks great for higher levels in the near term – we've flagged this for a while and it's been stubborn – then again so was Uranium before it popped!  

The ASX 200 finished up +12pts / +0.16% to 7437
The RBA stuck with its planned tapering of bond buying down to $4 billion per week but said it would wait until at least mid Feb before it reviews that. The decision a result of delayed economic recovery thanks to Delta although they stressed a delay rather than derailment + Lowe's comments more broadly were supportive talking to the need for greater wage growth and the like. The AUD was higher initially given they pushed through with tapering (most economists thought they would wait) but when the mkt listened to the rhetoric it was clearly supportive / easy the AUD pulled back + the market rallied.
Energy is finding it's groove and looks poised for higher levels, Santos (STO) ~5% higher looked good and is our No 1 pick in the space
Uranium stocks eased today - Paladin (PDN) down ~3% - not a patch on recent moves.
A few tech stocks also did well today, Altium (ALU) +6% on no news + Bravura (BVS) put on ~5% - we hold both.
Iron Ore is making a new low again – however, stocks are not. Stocks often bottom before the commodity does – we think Iron Ore is looking for a low.
One commodity on the opposite side of the ledger is Coal, it's more than doubled – our coal producers will only really be cashing in now given the lag between spot and contract pricing.
Coal has doubled, Uranium is up ~50%, Alumina is up ~25%, while Iron Ore has gone from ~US$220 to ~US$130 & Lumber prices are down by 2/3rds – never a dull moment in the commodity space and you need to keep your finger on the pulse when it comes to this part of the market
Brambles (BXB) -8.32% the weakest link in the 200 today as they begin a big reinvestment drive – revenue to be up +5-6% however profit growth of +1-2% underwhelming
Zip Co (Z1P) -2.70% held an investor day today starting to shape the conversation about other avenues of revenue – more on that below from Harry
InvestSmart (INV) +6.67% – a small cap competitor of MM launched a product called Fundlater, invest now, pay later is the essence. I own a few shares here just to keep interested, I think they should be worth more than their $44m mkt cap.
Gold was flat during Asian trade ~$US1792 at our close
Iron Ore Futures were down ~0.50%
In Asia, Hong Kong fell ~1.5%, China also 1.4% lower while the Nikkei, our preferred Asian index ATM edged +0.73% higher
US Futures up a touch


ASX 200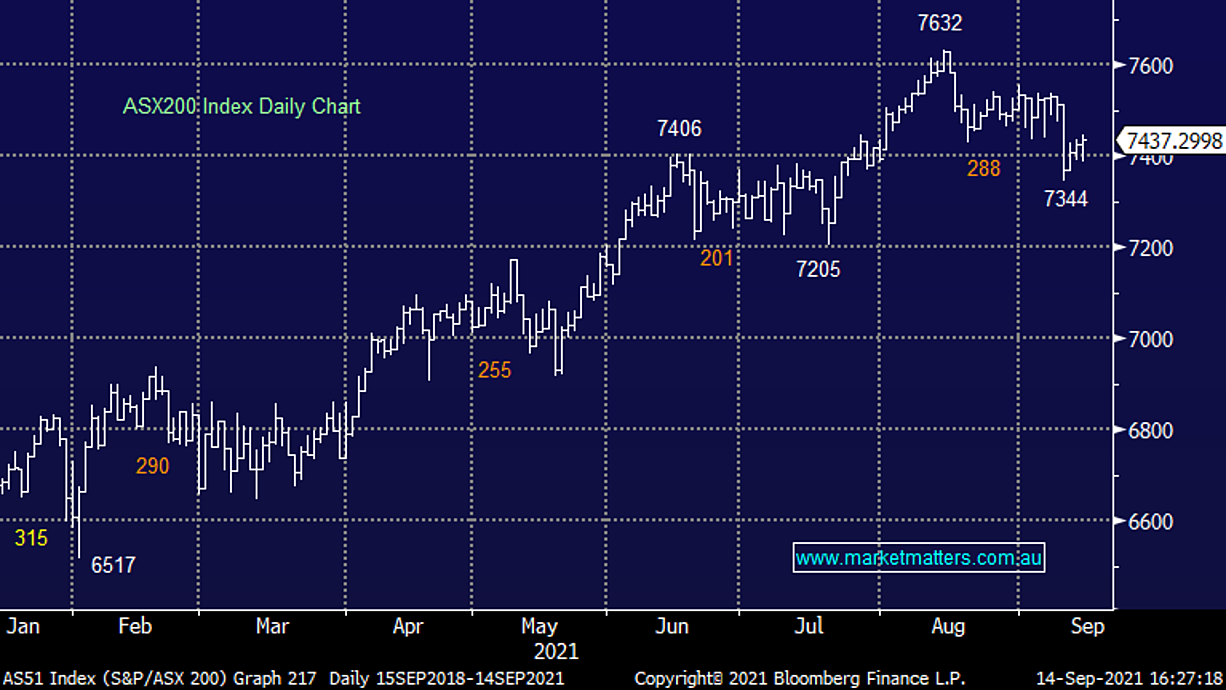 Zip Co (Z1P) $6.84
Z1P -2.7%: the BNPL company held an investor day as they start to shape the conversation about other avenues of revenues. Zip are now looking to encourage customers to do more than just one off purchases through Zip with a digital wallet style offering including taking deposits, paying bills and even investing & paying with crypto the first hurdle. It would all come with a Zip card in a more direct attack on credit cards. Shares were down for the session, perhaps the market wanting more in the way of outlook statement – not sure really, the heat has simply come out of BNPL.
MM is bullish Z1P
Zip Co (Z1P)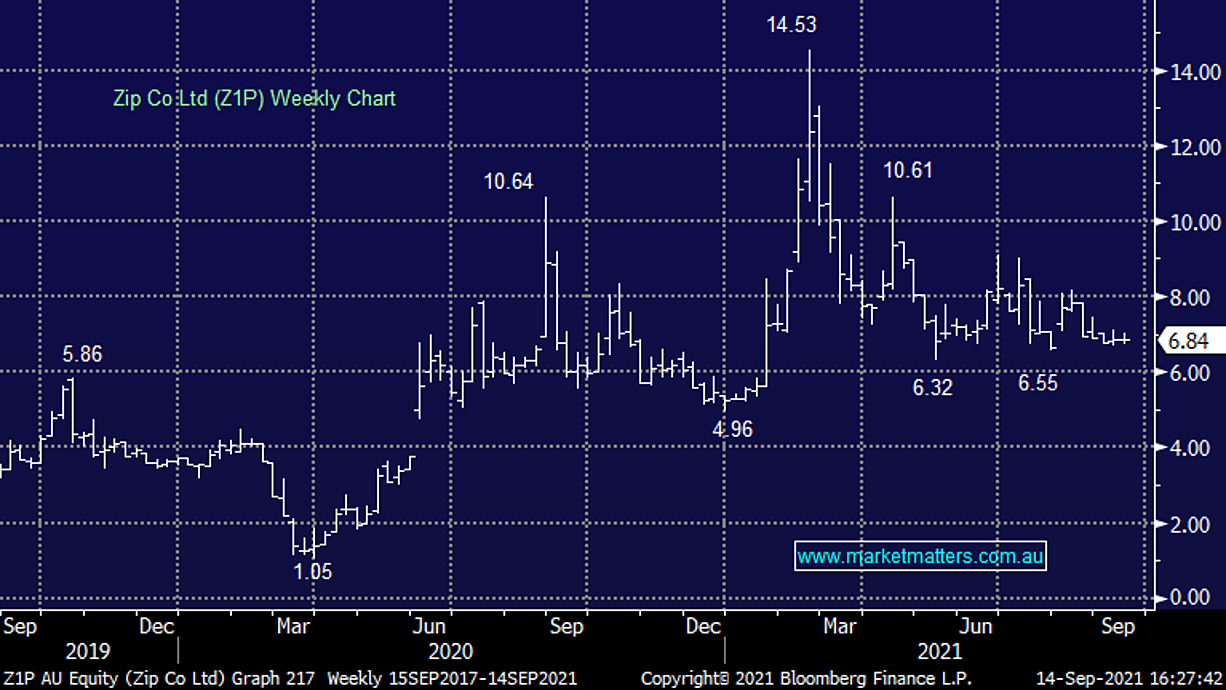 Broker Moves

Predictive Discovery (PDI): Rated New Speculative Buy at Canaccord
Tesserent (TNT): Rated New Buy at Shaw and Partners
Major Movers Today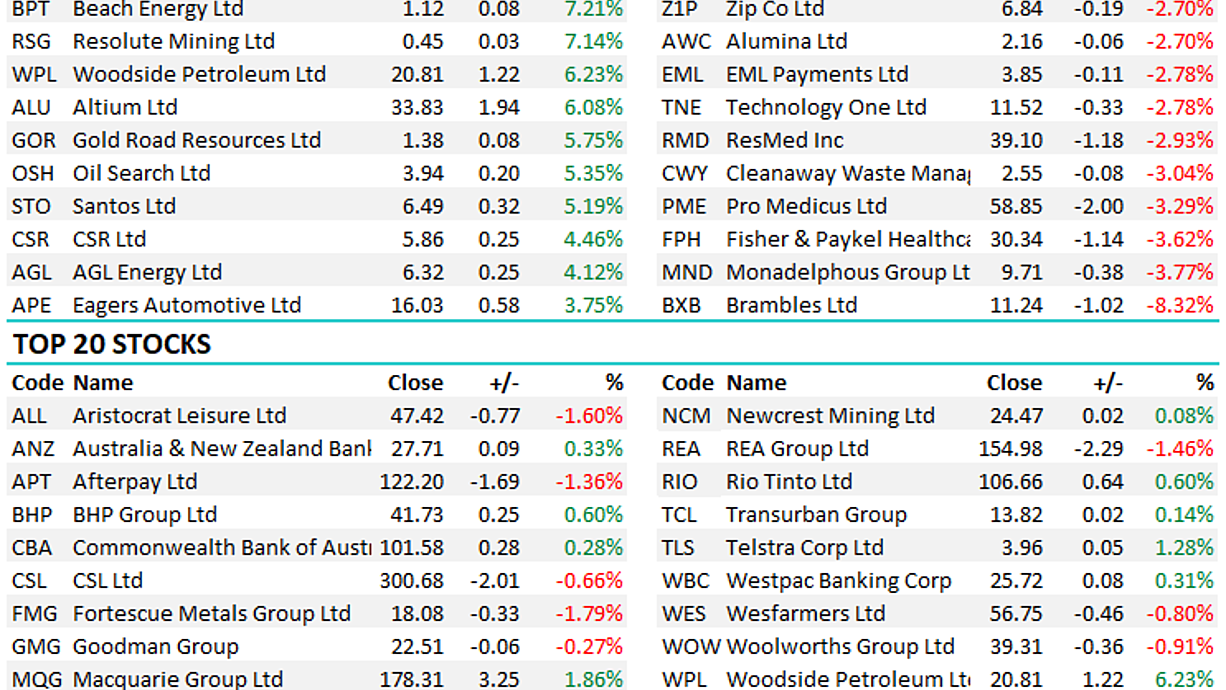 Make informed investment decisions
At Market Matters, we write a straight-talking, concise, twice daily note about our experiences, the stocks we like, the stocks we don't, the themes that you should be across and the risks as we see them. Click here for your free trial.
The Match Out will be available each day after market close, follow my profile to be notified when the latest report is live.