The Match Out: The ASX finds buyers on commodity strength, New Hope Coal (NHC) rallies. KMD Brands (KMD) benefits from strong August
---
A rally in US markets overnight and some support across commodities helped push the ASX higher today. Materials and Energy were the standouts though the rally was largely broad-based with just 2 sectors finishing in the red. Banks also enjoyed some strength today as the Big 4 all rallied more than 1%. Focus remains on big rate calls from the BOE and FOMC out later this week, volumes were light today with a lack of big bets either way from traders.


The ASX 200 finished up 86pts/ +1.29% at 6806.
The Materials sector was best on ground (+2.67%), also joined by Energy (+1.99%) as the strongest while 3 other sectors were also more than 1% higher today.
Real Estate (-0.48%) struggled today, also joined by Healthcare (-0.08%) as the two sectors in the red.
The minutes from the September RBA decision were released today with the board running the mantra of flexibility while also saying that policy was at or near "normal" settings suggesting a peak in rates, or at least a slowing rate of hikes.
IDP Education (ASX: IEL) +2.32%, announced they were buying student placement agency Intake Education for $83m. The acquisition will be funded by cash and debt and will increase their global reach.
Fortescue (ASX: FMG) -0.86%, underperformed peers on announcing they will send $6.2b by 2030 to decarbonize their iron ore production. The investment in hydrogen, renewables and batteries is expected to reduce costs by $3b over the investment period, and reduce the cost base by 'several hundred million' a year from 2030.
New Hope Coal (ASX: NHC) +8.79%, FY22 results today saw earnings soar thanks to strong coal prices. More on that below
KMD Brands (ASX: KMD)

 

+2.23%, the retailer also announced FY22 results today and the stock rallied thanks to positive FY23 momentum despite an earnings miss.
Iron Ore was trading marginally lower by -0.07% in Asia today, though the miners were largely well bid. BHP the best of them, gaining +3.62%.
Gold is marginally lower, $1672/oz, down ~$US3.
Asian stocks were mixed, Nikkei rallied 0.45% following their holiday yesterday. Hang Seng was trading +1% at the time of writing.
US Futures are all up as well, all around +0.20%.


ASX200 chart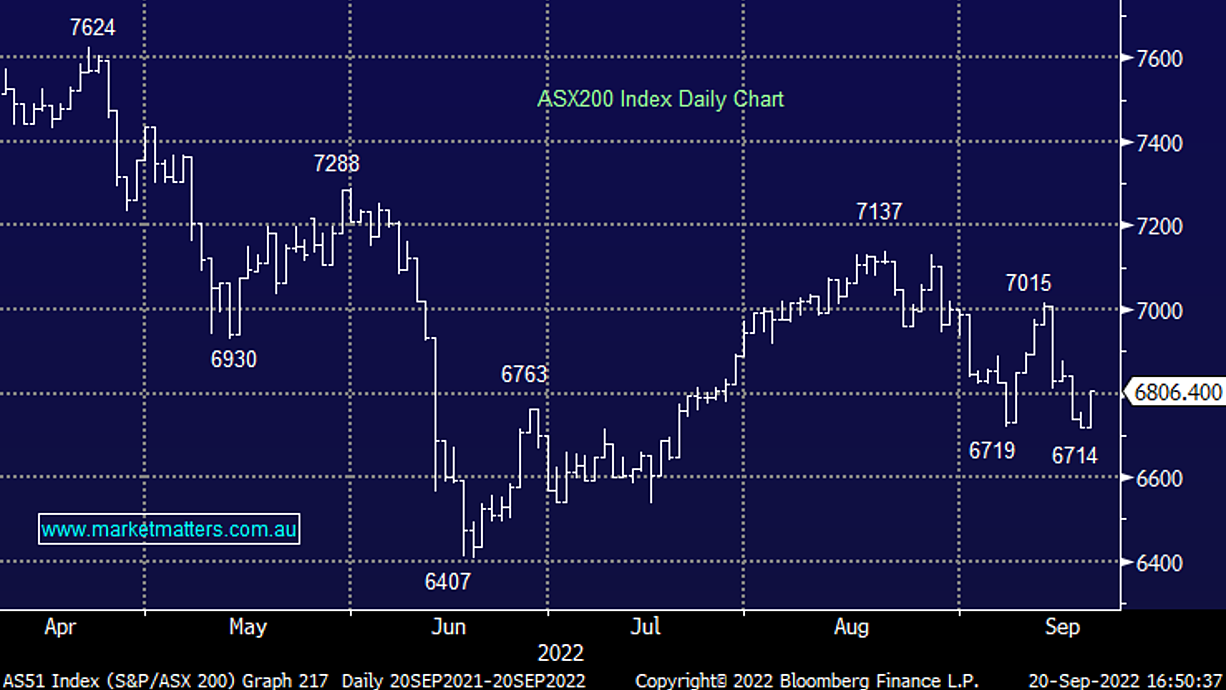 KMD Brands (ASX: KMD)
 

91.5c

KMD +2.23%: the retailer reported an FY22 miss today, however, the numbers were overshadowed by a strong August update. Revenue was up 6%, however Net Income fell 40% and was a ~5% miss to expectations. COVID disruptions weighed on the numbers. A factory shutdown in Vietnam also dragged on earnings while the company said up to 40% of orders for their footwear brand Oboz were impacted by ongoing supply chain issues. The company said momentum in the 4th quarter was strong, and sales growth had continued into August with sales +10% above pre-COVID levels, and 44% above August 2021. Supply chain issues were also easing and the outlook for 2023 is positive as travel picks up, increasing demand for Kathmandu.

KMD Brands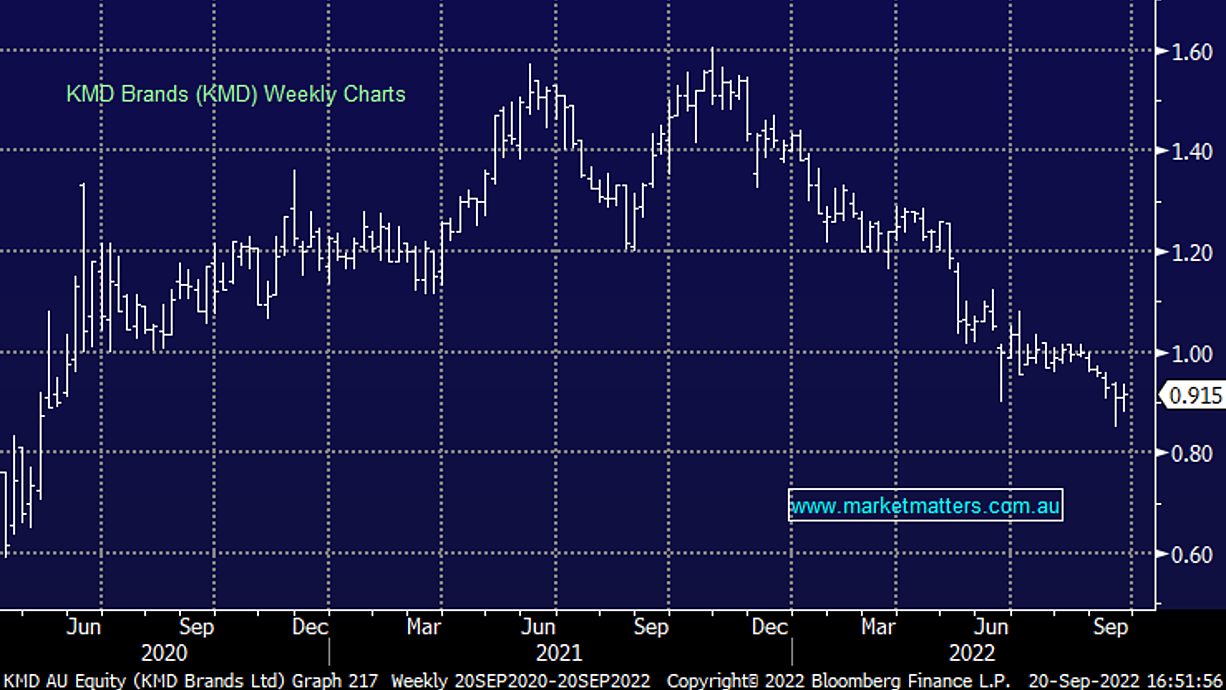 Broker Moves
Major Movers Today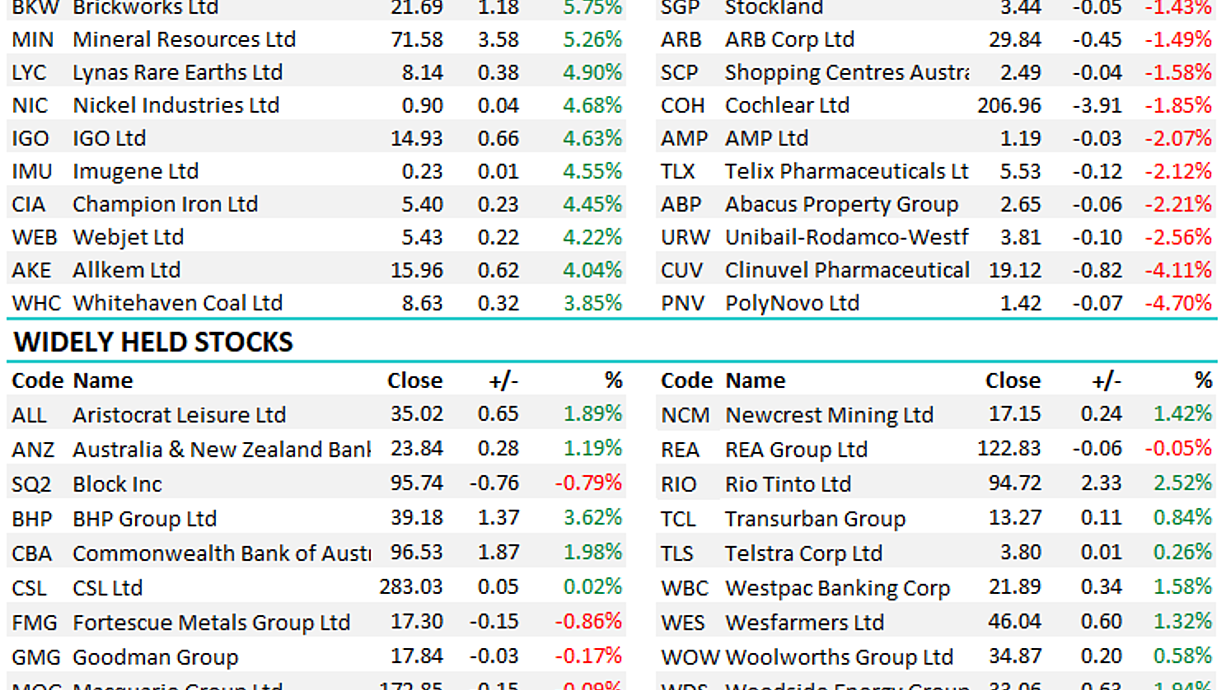 Make informed investment decisions
At Market Matters, we write a straight-talking, concise, twice daily note about our experiences, the stocks we like, the stocks we don't, the themes that you should be across and the risks as we see them. Click here for your free trial.
The Match Out will be available each day after the market close. Follow my profile to be notified when the latest report is live.