The quirky trend to add to your recession ready portfolio
---
Have you treated yourself this week? Perhaps a takeaway dinner or a new book or a new lipstick? The type of treat you and millions of others buy in particular periods of time says a lot about the times we live in. In fact, there's a whole quirky human behaviour trend in downturns called the Lipstick Effect.

Despite the name, this is not an article about how different shades of lipstick reflect how people feel about the world – although there is a whole trend at the moment towards brighter shades, are we compensating for bad news? Rather this is the story about how spending patterns reflect economic times and perhaps you can use that to your investment advantage.
What is the lipstick effect?
Originally the lipstick effect was coined to specifically refer to lipstick sales, the idea being that women buy more lipstick as a little luxury in tough times but over time, and given changes in society behaviour as a whole, the definition has expanded.
According to Adelaide Timbrell, Senior Economist at ANZ, "The lipstick effect refers to an economic trend where people have less buying power, but rather than cutting treats out completely, they increase their purchases of little treats. It's a swap between the large options with the small."
So, forget the new car, it's all about the little luxuries – the lipstick, the nice coffees from the café across the road and maybe a steak from the butcher (because you aren't going to restaurants).
This ties in with the typical categories that perform well in downturns according to Geoff Wilson AO, Chairman and Chief Investment Officer for Wilsons Asset Management. He finds that traditionally alcohol, tobacco, gambling, consumer staples, healthcare and utilities do well, whereas those companies that are tied into the economy struggle.
It's something that Dr Philipp Hofflin, Portfolio Manager/Analyst for Lazard Asset Management, has also seen. 
"Sin stocks tend to do well in downturns. One of the top performing stocks in the 1991-92 recession was W.D. & H.O. Wills Australia, now the British American Tobacco Company (NYSE: BTI)"
People also become more price sensitive, to an extent, seeking value and quality if they do need to spend more.
"Brands and goods at lower price ranges tend to benefit more than those at the top end. Middle-tier brands tend to do well because there is a lot of movement between price points."

Adelaide Timbrell
By this, she means many consumers who are used to purchases at the top price levels, may drop a tier to save costs while others used to purchasing at lower price points may decide to buy slightly more expensive products based on savings from restricting other purchases.
And how long does the lipstick effect last?
As long as a piece of string… well as long as an economic slowdown anyway. When wages start to go up, behaviour starts to change again.
What have we seen in the past?
It's worth pointing out that whether you see the lipstick effect or not is also dependent on the severity of a downturn.
According to Philipp, consumer discretionary products were the worst hit in the 1991-2 recession in Australia, falling up to 40%. It was a particularly severe downturn so treats dropped off.
"People moved to much cheaper goods, even in groceries. Home branded groceries became a much bigger portion of sales for Coles and Woolworths," says Geoff. 
He also shares that during his time working as an analyst covering food and household goods in the earlier recession in 1982, dog food company Shannons saw sales increase – and unfortunately these purchases were not made for pets.
By contrast, the Global Financial Crisis was a less severe economic shock for Australians and Adelaide notes that the cosmetics category did jump and tended to be more recession-proof than other categories.
Internationally, beauty items also did well – though nail polish was the standout. Euromonitor International found that retail sales growth of nail polish jumped significantly in the US, Germany, the UK and Italy. It also found jumps in other little luxuries. For example, confectionary sales in the UK jumped in value by 11% in 2009.
Similarly, Philipp points out that fast food in the US, in particular McDonalds, sailed through the GFC with no visible impact to revenues – it was an 'affordable' treat.
The COVID-19 era was a slightly different story though – the effect occurred initially but was less a result of changing spending power, more an outcome of decrease in consumer confidence and restricted movement.
"Groceries boomed because people were hoarding food and toilet paper, then when government support rolled in, there was an increase in consumer discretionary purchases and a movement to spending on work from home goods," said Adelaide.
Lipstick and recession in Australia
There are signs the lipstick effect is occurring in the US, but not so in Australia at this point.
"So far, we're not seeing a big slowdown in household spending. Some households will start to pull in but there are still a lot of savings to support existing spending patterns. We are likely to see a slowdown before the end of the year which will support swaps to takeaway, certain groceries and cosmetics." Adelaide Timbrell.
While the US is in a recession, Australia is not there yet and people are still spending, with international travel high on the cards. As unpleasant as it was, and we are still seeing the ongoing effects of it, COVID-19 was a game-changer to savings and may be a buffer against recession for longer yet. It increased household savings on average by $200bn compared to if it had not occurred according to the RBA.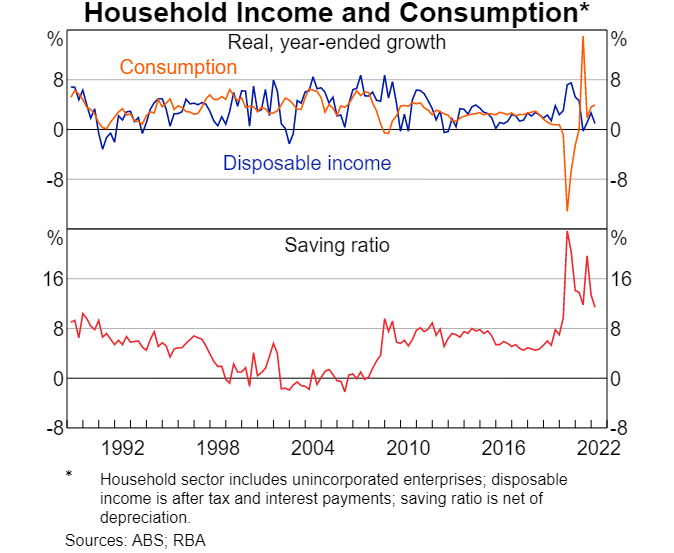 Adelaide says this comes down to three key reasons:
The cash rate dropped so people were saving on mortgages.
The fiscal policy was supportive and assisted in boosting saving be it through jobkeeper payments or infrastructure projects providing employment and industry cash inflows.
Lockdowns meant people were unable to go out and spend on leisure activities or big ticket items even if they were still spending on the smaller things.
As interest rates increase, there is the expectation that we will start to see the lipstick effect in play locally. While ANZ's position is that a recession is unlikely, at least in the near term, both Geoff and Philipp caution that the jury isn't out on a downturn and investors should always be prepared for all market conditions.
Playing the lipstick effect
Taking advantage of the lipstick effect isn't as simple as buying a heap of cosmetics and beauty stocks – remember it's about how people swap categories of treat purchases. That said, Shaw & Partners recently extended their broker coverage to include Silk Laser Australia (ASX: SLA) (Australian non-surgical aesthetics network) on the expectation that the lipstick effect may benefit the stock.
Supermarkets like Coles (ASX: COL) or Woolworths (ASX: WOW) are typically a good performer through market cycles with good reason. It's also where little luxury purchases are highly likely to come into play – that chocolate bar or maybe the steak this time as a special treat.
While McDonalds (NYSE: MCD) might not sit on the ASX, those hoping that fast food chains will benefit could look at Collins Food Ltd (ASX: CKF) which operates KFC and Taco Bell.
At the end of the day though, sometimes it's best not to target specific temporary effects, like the lipstick effect.
"What you want is a diversified portfolio because we don't know what will happen. You want stocks that can survive downturns, typically those with low levels of gearing," says Philipp.
The usual culprits in these markets that investors like to hold are consumer staples, utilities and healthcare.
Beyond these, Geoff recommends looking at the things people really can't live without. There's one key standout these days which didn't come on the radar in the past and that's mobile phones and internet coverage. For the first time, he's found himself recommending Telstra (ASX: TLS) as a stock to buy.
"Mobile use is the last thing that people will disconnect from in a recession, it's become essential."
Because you're worth it
Joking aside, that's what the lipstick effect comes down to. A behavioural quirk that could be an interesting and short-term investment approach in downturns. But your portfolio really is worth a long-term and diversified approach so keep your eye on your strategy regardless of what markets do or don't do in the coming months.
Interested in hearing more from the experts in this article? Follow Geoff Wilson AO and Dr Philipp Hofflin by selecting their profiles. 
Never miss an update
Enjoy this wire? Hit the 'like' button to let us know. Stay up to date with my current content by
following me
below and you'll be notified every time I post a wire
Welcome to Livewire, Australia's most trusted source of investment insights and analysis.
---
To continue reading this wire and get unlimited access to Livewire, join for free now and become a more informed and confident investor.
---
---
Sara is a Content Editor at Livewire Markets. She is a passionate writer and reader with more than a decade of experience specific to finance and investments. Sara's background has included working at ETF Securities, BT Financial Group and Macquarie Group. She also holds a degree in psychology which drives a continued fascination with how human behaviour drives and is driven by investments and market activity.
---
Sara is a Content Editor at Livewire Markets. She is a passionate writer and reader with more than a decade of experience specific to finance and investments. Sara's background has included working at ETF Securities, BT Financial Group and...
Sara is a Content Editor at Livewire Markets. She is a passionate writer and reader with more than a decade of experience specific to finance and investments. Sara's background has included working at ETF Securities, BT Financial Group and...