The risk of US recession in 2023 surges
---
The risk of a recession in the US in 2023 based on bond/equity market pricing and forecasts has surged as interest rates have risen and equities have slumped, with investors factoring in the risk of a Fed-driven recession to bring inflation under control. 
Coolabah Capital Investments' US recession risk forecasting models, based on bond and equity markets, now signal a material risk of recession, most likely in 2023 based on recent price action and market pricing and US economist estimates of future price movements. They had previously pointed to a heightened risk of recession.
This indicates that the market is starting to brace for the Fed to engineer a recession to rein in high inflation, something that is common in past tightening cycles.
The bond market – which provides the most reliable economic signal – now signals a much higher risk of recession in late 2023/early 2024 of over 50% based on a mix of market pricing for the short end of the yield curve and economist forecasts for the long end or about 25% based on economist forecasts of interest rates.
The stock market – which tends to give more false signals – also now points to a much higher risk of recession of about 40%, albeit in the first half of 2023, assuming that stock prices do not recover from current levels over the rest of this year.  
In this context, it is interesting that one of the macro models used by the New York Fed is now predicting a slight contraction in US output in 2023.  The model is a DSGE model, which is a variety of model that central banks sometimes use for scenario analyses given their forecasting performance is poor. With this qualification in mind, it is noteworthy that it is forecasting any risk of contraction as it is rare for a macro model to show a decline in output ahead of time.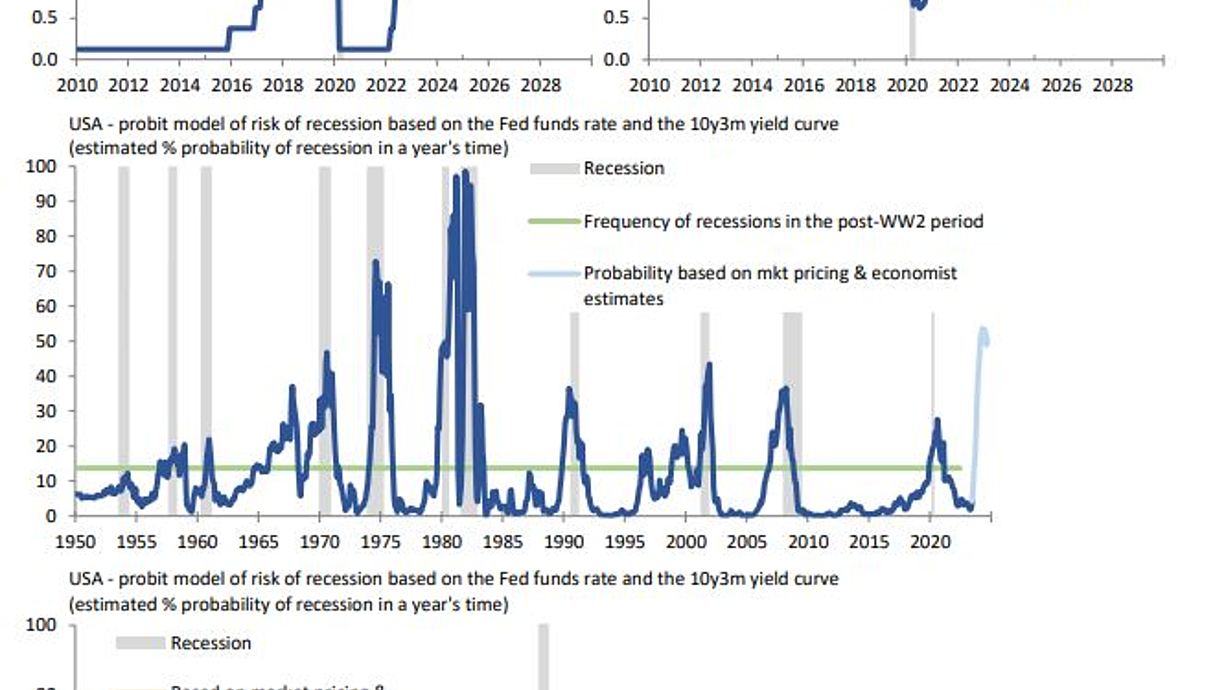 Access Coolabah's intellectual edge
With the biggest team in investment-grade Australian fixed-income and over $7 billion in FUM, Coolabah Capital Investments publishes unique insights and research on markets and macroeconomics from around the world overlaid leveraging its 14 analysts and 5 portfolio managers. Click the 'CONTACT' button below to get in touch.
........
Investment Disclaimer Past performance does not assure future returns. All investments carry risks, including that the value of investments may vary, future returns may differ from past returns, and that your capital is not guaranteed. This information has been prepared by Coolabah Capital Investments Pty Ltd (ACN 153 327 872). It is general information only and is not intended to provide you with financial advice. You should not rely on any information herein in making any investment decisions. To the extent permitted by law, no liability is accepted for any loss or damage as a result of any reliance on this information. The Product Disclosure Statement (PDS) for the funds should be considered before deciding whether to acquire or hold units in it. A PDS for these products can be obtained by visiting www.coolabahcapital.com. Neither Coolabah Capital Investments Pty Ltd, Equity Trustees Ltd (ACN 004 031 298) nor their respective shareholders, directors and associated businesses assume any liability to investors in connection with any investment in the funds, or guarantees the performance of any obligations to investors, the performance of the funds or any particular rate of return. The repayment of capital is not guaranteed. Investments in the funds are not deposits or liabilities of any of the above-mentioned parties, nor of any Authorised Deposit-taking Institution. The funds are subject to investment risks, which could include delays in repayment and/or loss of income and capital invested. Past performance is not an indicator of nor assures any future returns or risks. Coolabah Capital Investments (Retail) Pty Limited (CCIR) (ACN 153 555 867) is an authorised representative (#000414337) of Coolabah Capital Institutional Investments Pty Ltd (CCII) (AFSL 482238). Both CCIR and CCII are wholly owned subsidiaries of Coolabah Capital Investments Pty Ltd. Equity Trustees Ltd (AFSL 240975) is the Responsible Entity for these funds. Equity Trustees Ltd is a subsidiary of EQT Holdings Limited (ACN 607 797 615), a publicly listed company on the Australian Securities Exchange (ASX: EQT). Forward-Looking Disclaimer This presentation contains some forward-looking information. These statements are not guarantees of future performance and undue reliance should not be placed on them. Such forward-looking statements necessarily involve known and unknown risks and uncertainties, which may cause actual performance and financial results in future periods to differ materially from any projections of future performance or result expressed or implied by such forward-looking statements. Although forward-looking statements contained in this presentation are based upon what Coolabah Capital Investments Pty Ltd believes are reasonable assumptions, there can be no assurance that forward-looking statements will prove to be accurate, as actual results and future events could differ materially from those anticipated in such statements. Coolabah Capital Investments Pty Ltd undertakes no obligation to update forward-looking statements if circumstances or management's estimates or opinions should change except as required by applicable securities laws. The reader is cautioned not to place undue reliance on forward-looking statements.