Trade: Looking through the noise
---
There is one main reason I think trade tensions can't be ignored in 2020 and that is because the media won't let us. But issues that grab the headlines don't always tell the full story. There are a couple of other reasons why investors shouldn't get distracted by hype around trade negotiations.

#1: The trade story is bigger than the US and China.
Trade is not a one-way, or even two-way, street. It's more like a complex, multi-laned freeway system with traffic flowing in all directions.
Global trade is just that – global, and there are several major trading blocs outside these two players. Shifting focus away from the narrow US-China dynamic could open up a wealth of opportunities in terms of identifying companies that stand to benefit from a potential sea change in trade relationships.
Global trade flows reveal some surprising statistics
#2 Asia is bigger than China

The trade flows above highlight the fact that the whole of Asia is a major player – not just China. Yes, China plays a significant role, but arguably this significance is overstated. The demographics of Asia ex-China are more compelling than China alone.
Much is made of China's 1.4 billion-strong population. However, in the context of the Asian region, whose population stands at 4.5 billion, it accounts for just 30%. And population size is just one factor. Of the three billion Asians not in China, most live in countries that have a younger median age than China and faster-growing economies.
It is this broader Asia opportunity that I believe could drive the next exciting wave of growth.
I believe that companies in a variety of sectors – from consumer goods to information technology and health care – have the potential to ride the demographic tailwind from Asia, presenting some compelling investment opportunities over the medium and longer-term.  
Stay informed in 2020
Stay up to date with Capital Group latest views. Hit the FOLLOW button below to be notified by email as soon as I publish my next wire.
---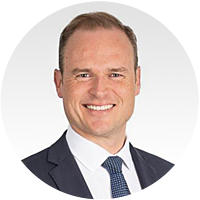 Investment Director
Capital Group
Matt Reynolds is an Investment Director at Capital Group. He has over 20 years of industry experience including head of Australian equities – core at Colonial First State Global Asset Management. He holds a bachelor's degree in Economics from The...
Expertise