US Bond Yields Rallied 13% overnight. Here's why.
---
Sharp moves in US interest rate expectations, 10 year bond yields and consequently the dollar has brought about some significant rotation within global financial markets. That initial shift in US rate expectations, likely driven by last week's Fed 'DOTs' signalling their clear intention to hike in December coupled with Yellen's comments in her speech earlier this week* and Trump's tax plan announcement yesterday, has driven 1 and 2 year US bond yields sharply higher. At the start of this month, US 2 year bonds were yielding 1.32%. Overnight those yields have reached 1.49% (FIG 1).
What has aided the sharp shift in bond prices? 
Over recent weeks, positioning had become unusually net long for US 10 year treasuries.
At the same time, there had been a net short position on the trade weighted US dollar (the first time since early 2014).
That shift in yields has then driven a sharp rotation within global markets. Gold & EM equities are lower (FIG 1a), S&P utilities are also sharply lower, while banks, DJ transports & the Russell 2000 have all moved sharply higher. All of that supports our expectation that markets will price in more rate hikes (resulting in higher yields across the curve). As such this rotation should persist.
What does the near-term look like?
In the near term, though, our SELL-off indicator (FIG 2) is close to generating a signal warning of a likely near term pullback.
This warning signal is likely to occur tomorrow. The build-up to a high level occurs during phases of excessive and persistent appetite for risk in parts of the global financial markets. Areas where we're seeing the most appetite for risk are:
Banks
Transportation stocks
The Russell 2000
A number of emerging markets
---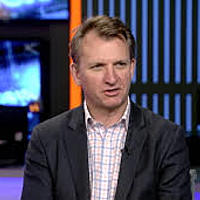 CEO & Chief Market Strategist
Longview Economics
Longview Economics, founded in 2003 by Chris Watling, is an independent research house based in London, providing three distinct yet interrelated groups of research products: Short and medium term market timing; Long term global asset allocation...
Expertise