US equities close at 4 week high as the US votes for gridlock
---
The US midterm elections delivered widely expected outcomes in terms of control of Congress. President Trump's Republican colleagues strengthened their hold in the Senate but lost the House for the first time since 2010.
In terms of the market response, the US dollar and US bond yields are up modestly; US equity markets closed at 4-week highs on Wednesday perhaps a reflection of the fact that a Republican President and split Congress has historically seen equity markets thrive.
While it's hard to read too much into the 5% rise in US equities over the last 5 sessions, there does seem to be a sense of optimism that the House and Senate may be able to work on legislation that includes infrastructure spending which is an area long favoured by Democrats and Trump.
However, deep partisan divide seems likely to ensure many proposals passed by a Democrat-controlled House are blocked by a Republican-controlled Senate before ever reaching the president's desk. Signature legislation thus faces a tough uphill battle.
So it's arguably a mixed outlook, perhaps overall implying slightly slower US growth but it surely won't be enough to stop the Fed hiking not only in Dec, but a further 3 times in 2019 according to Westpac forecasts which we updated this week.
Westpac now expects the Fed to pause the hiking cycle at a peak of 3.125% from September next year. Now, the Fed did not give an explicit signal for a December hike in the Federal Open Market Committee meeting yesterday, but that was not necessary with markets fully pricing one in.
While equity markets have been more upbeat this last week, the same cannot be said for crude oil markets. West Texas Intermediate, the US benchmark, is down 20% from the highs seen just 5 weeks ago on October 2, and it's worthy of note that we have seen some important geopolitical developments in Saudi over that period.
On October 2, journalist Jamal Khashoggi died in the Saudi consulate in Istanbul; on October 23, Saudi Energy Minister Khalid Al-Falih told a conference in Riyadh that OPEC and its allies are in a "produce as much you can mode".
Yesterday, the Dow Jones newswire ran a story suggesting that: 
"Saudi Arabia's top government-funded think tank is studying the possible effects on oil markets of a breakup of OPEC".
5 weeks ago, many were talking in the market of the possibility of $100 crude oil price – as of last night crude was down 20% from the high, meaning it technically entered a bear market.
While the prospects of lower petrol prices here in Australia were not on the RBA's mind when they met Tuesday, the mood appeared pretty upbeat. The forecast growth rates for 2018 and 2019 have been revised up from 3 ¼ per cent to 3 ½ per cent. The forecast unemployment rate by 2020 has been revised down to 4 ¾ per cent from 5 per cent.
And this more upbeat outlook appeared to help the Australian dollar these last few days, and we hit a 6 week high Thursday at 0.73 cents. Now Westpac does not expect this strength to last too much longer. We are still forecasting 0.72 by end 2018 and a further leg down to 0.68 cents by September next year.
While the Australian dollar saw strong gains this week, the New Zealand dollar was stronger still hitting a 3 month high above 0.68. The RBNZ added some weight to the move yesterday by removing the reference to the next move in the cash rate potentially being "up or down".  FX markets have been very focused on even the remotest possibility of a rate cut. The removal of the word "down" helped take the AUD/NZD cross down to 1.07, a 5 month low.
Now next week brings an important run of Australian data with NAB business confidence Tuesday; Westpac consumer sentiment and q3 wage price index on Wednesday and the October employment data Thursday which argues for more volatility in the Australian dollar next week too which we will talk about in next week's markets update.
---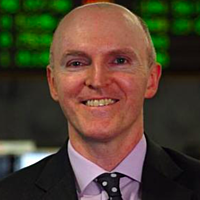 Senior Currency Strategist
Westpac Bank
Sean Callow is Westpac Bank's Senior Currency Strategist, based in Sydney. Sean focuses on the Australian dollar and other G10 and Asian currencies. He has worked in strategy and economics roles in New York, London, Singapore and Melbourne.
Expertise