Victory in a battle, not yet the war (on COVID-19)
---
A sense of optimism is re-surging around the globe, as we see a glimpse of the COVID-19 'curve flattening'. The rate of increased cases of infection in the US and in Europe is declining. Stockmarkets are enjoying the rebound. Oil producers backed off from an oil price war and came to an agreement to cut production. This is a victory of intense social distancing worldwide. We should applaud all our efforts and the sacrifice of economic cost for human lives.

However, as I write from Singapore, we have only entered the second week of the lockdown, which the government here calls a 'circuit breaker'. A month ago, Singapore was the poster child of good health crisis management, but as countries closed borders, more people returned to Singapore, and new daily infected cases spiked upwards. Initially, they comprised of 80-90% imported cases, but now have changed composition to mostly local infections, with clusters as wide-ranging as McDonald's, migrant worker dormitories, and a restaurant in Marina Bay Sands, to name but a few.
Looking at Singapore as an example, this first battle against COVID-19 may be winnable soon with social distancing, but the real war against COVID-19 is highly uncertain in its duration and how the world can re-start. The virus can spread without symptoms. Researchers in Shanghai have found that nearly a third of recovered patients had unexpectedly low level of antibodies, which casts doubts on the hope of herd immunity as a strategy.
Most governments and central banks have already responded all-in. Fiscal spending varies from 4-12% of GDP. Central banks are buying assets they have not bought before. The US Federal Reserve (Fed) is buying junk bonds that used to be investment grade before 22 March this year, a purchase operation that will last until 30 September 2020.
In effect, between now and September 2020, investors in USD corporate bonds can divest by selling to the Fed. Also, tighter credit spreads and a central bank purchase means this is a window for corporates to issue debts and rollover their maturing bonds.
Yet, this raises a few questions. First, what if economies do not just re-start within 1-2 quarters after the first opening-up of the lockdown. The world will need to change both human and economic behaviours, in order to prevent the second wave of infection. How long will it take until people can fly on the planes, take cruises or go to restaurants, without risking infection again?
If the crisis is prolonged, the debate will evolve into a difficult moral hazard. Will global central banks continue to bail out all companies, including companies with unviable business models post-COVID-19 and those that are poorly managed? So far, the financial backstop has no strings attached. Is that wise? In the past ten years, companies have been borrowing on cheap rates and buying back stocks, a behaviour that is nurtured in an ecosystem whereby little financial pain is endured by the stakeholders. The central bank put is always there.
As the world transitions out of the acute state of the crisis, it is time to map out scenarios in which the new normal will form over time. We've only won a battle, not the war. 
Strengthen your portfolio with global high-grade bonds
In times of economic stress, adding high-grade bonds to your portfolio alongside other risky assets can help offset and get the balance right between risk and return – this is absolutely crucial now as investors seek higher income. Find out more here
---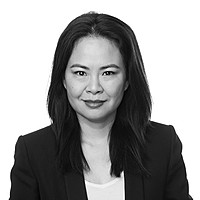 Deputy Chief Investment Officer
Jamieson Coote Bonds
Kate oversees a range of investment strategies for JCB clients and is based in Singapore. She is a career fixed income portfolio manager, and specialises in High Grade Bond portfolio management across all major global regions.
Expertise