We're long (and wrong) Whitehaven Coal
---
I hate losing money, as most do, however being prepared to put capital on the line, to take a risk, and at times come out on the wrong side is the reality of investing. At Market Matters, we invest in the portfolios we publish, we write about what and why and we do things and we address (rather than bury) our losers.
Whitehaven Coal (WHC) is a current loser, having bought at $1.78. 
Yesterday I caught up with Peter O'Connor, Shaw and Partners Resource Analyst to talk about what's gone wrong and the outlook from here.
We are bullish WHC and looking for an area to increase our exposure

We feel the elastic band between the coal price and WHC has stretched too far. But one "buy" catalyst would be a few bad days for coal, which WHC basically shrugged off. It would be a great indicator that the short-term selling had washed through.
Whitehaven Coal (WHC) versus Coal Prices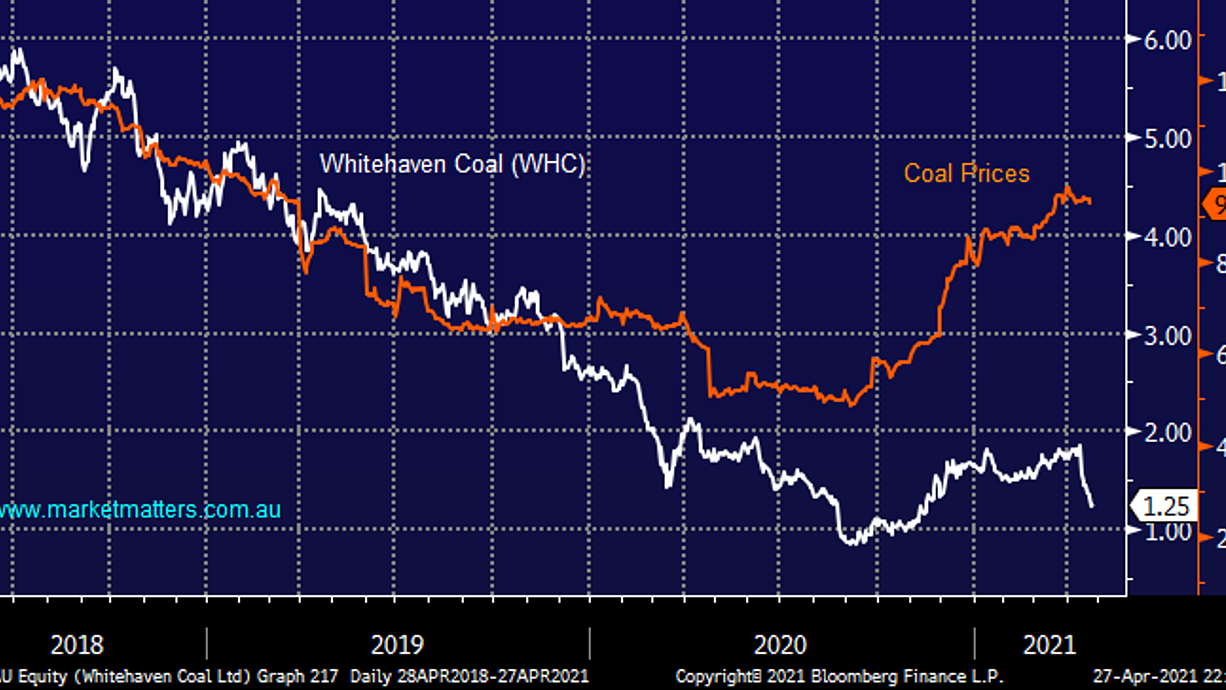 At Market Matters we have recently launched a new website with a bunch of interesting features affording subscribers greater clarity on our opinions & our actions across five portfolios. This includes our Flagship Growth Portfolio, Active Income Portfolio, Emerging Companies Portfolio, International Equities Portfolio & Global Macro ETF Portfolio. 
Click Here to Trial Market Matters Today


........
Disclosure Market Matters may hold stocks mentioned in this report. Subscribers can view a full list of holdings on the website by clicking here. Positions are updated each Friday, or after the session when positions are traded. Disclaimer All figures contained from sources believed to be accurate. All prices stated are based on the last close price at the time of writing unless otherwise noted. Market Matters does not make any representation of warranty as to the accuracy of the figures or prices and disclaims any liability resulting from any inaccuracy. Reports and other documents published on this website and email ('Reports') are authored by Market Matters and the reports represent the views of Market Matters. The Market Matters Report is based on technical analysis of companies, commodities and the market in general. Technical analysis focuses on interpreting charts and other data to determine what the market sentiment about a particular financial product is, or will be. Unlike fundamental analysis, it does not involve a detailed review of the company's financial position. The Reports contain general, as opposed to personal, advice. That means they are prepared for multiple distributions without consideration of your investment objectives, financial situation and needs ('Personal Circumstances'). Accordingly, any advice given is not a recommendation that a particular course of action is suitable for you and the advice is therefore not to be acted on as investment advice. You must assess whether or not any advice is appropriate for your Personal Circumstances before making any investment decisions. You can either make this assessment yourself, or if you require a personal recommendation, you can seek the assistance of a financial advisor. Market Matters or its author(s) accepts no responsibility for any losses or damages resulting from decisions made from or because of information within this publication. Investing and trading in financial products are always risky, so you should do your own research before buying or selling a financial product. The Reports are published by Market Matters in good faith based on the facts known to it at the time of their preparation and do not purport to contain all relevant information with respect to the financial products to which they relate. Although the Reports are based on information obtained from sources believed to be reliable, Market Matters does not make any representation or warranty that they are accurate, complete or up to date and Market Matters accepts no obligation to correct or update the information or opinions in the Reports. Market Matters may publish content sourced from external content providers. If you rely on a Report, you do so at your own risk. Past performance is not an indication of future performance. Any projections are estimates only and may not be realised in the future. Except to the extent that liability under any law cannot be excluded, Market Matters disclaims liability for all loss or damage arising as a result of any opinion, advice, recommendation, representation or information expressly or impliedly published in or in relation to this report notwithstanding any error or omission including negligence.