Welcome to Magellan Asset Management's new monthly investment podcast, 'Magellan - In The Know', dropping on the last Tuesday of every month. We will seek to bring you timely, unique and thought-provoking insights to help you make sense of today's investment landscape. From deep dives into the latest macroeconomic and geopolitical issues, to our analysis on sectors and stocks in global markets. Join myself and others at Magellan, as we connect with a myriad of experts in their field, including CEOs of stocks we hold, global leaders and consultants in finance, investing, risk and politics, and key members of our investment team and business.
In the first episode, I talk to former deputy director of the CIA Michael Morell. We discuss whether US antagonism against China is permanent and bipartisan, the two things Michael worries most about for the US election, the national security issues surrounding covid-19 to watch, and much more.
Never miss an episode of In The Know
Hit the follow button below to be the first to hear our latest podcast when it's released each month. 
---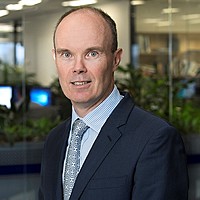 Chairman, CIO and Lead Portfolio Manager
Magellan
Hamish Douglass is Co-Founder, Chairman and Chief Investment Officer of Magellan Financial Group, and Lead Portfolio Manager of Magellan's Global Equity strategies.
Expertise