Where to find compelling long-term value
---
The rapid global spread of COVID-19 has quickly evolved to the equally rapid shutdown of economies, causing anxiety in financial markets. Whilst stopping the spread is paramount, the damage to small businesses, supply chains and the broader economy from Governments efforts to reduce infections will be large and sustained.
Financial markets have seen highly leveraged investment strategies forced to unwind, wreaking havoc on risk positions. The recent emergence and weight of capital invested in passive Exchange Traded Funds (ETFs) has triggered forced selling, indiscriminate to price, and has caused wild market fluctuations.
Central banks and governments have responded and continue to announce measures. Rates have been to cut to zero or their lower bounds by central banks and they've enacted financial asset purchasing programmes to provide liquidity to financial markets. Governments on the other hand are delivering extraordinary stimulus measures; backstopping wages and transferring risk from the corporate sector by guaranteeing business lending.
Against this backdrop, financial markets remain fearful and volatile and may do so for some time. However, Freehold's current view is that opportunities are now emerging for long term fundamental investors to purchase high quality, market leading companies at attractive discounts to fair valuation.
Winners and losers within our investment universe
Freehold are specialist real assets investors and within equities, our opportunity set lies within listed property and infrastructure securities. For some time, we've been speaking to our clients about the structural changes taking place within the Australian retail sector. These changes are now, undoubtedly, accelerating as consumer spending/saving habits are adjusting to the evolving environment. The revised outlook for destination shopping malls is reflected in current share prices, which are now trading at 50% discounts to book valuations and in line with their US counterparts.
Conversely, e-commerce is a winner and the outlook for last mile logistics appears stronger than ever. In this regard, we remain strong supporters of Goodman Group, which has a global opportunity through its internally funded development capability to access the best product and investment markets.
How we're positioning our portfolio
Freehold always seek exposure to high quality companies with income underpinned by long term contracts or rental agreements. Our investments within high quality listed infrastructure businesses such as Transurban, APA Group and Spark Infrastructure have provided downside protection for our investors.
With Sydney Airport, having trimmed our overweight position in January, we brought the position back to market weight in February, to neutralise the active risk. More recently, we have started "dipping our toes" back in at an entry price that is circa 50% cheaper. We remain confident in the airport's balance sheet and liquidity position, and see compelling long-term value in the company.
It is pleasing to report that our defensive investment bias has delivered in the current market and provided significant downside protection relative to the Index for investors. At the time of writing, Freehold's investment process added 6.3% to relative performance during March, specifically from stock selection. The introduction of listed infrastructure to our investment universe contributed a further 7.6% of relative monthly performance versus the S&P/ASX AREIT 200 Index.
The current portfolio holdings for the Freehold A-REITs & Listed Infrastructure Fund exhibits high quality recurring income, balance sheet strength and a low debt burden. In our experience, during periods of hardship, the strong market leaders can get stronger and gain market share.
We will remain prudent in our portfolio construction process, focussing on longer term operating fundamentals and valuations. 
Focus on recurring income and low volatility
Decades of diverse experience come together to provide stable and reliable returns. We are specialist providers and managers of domestic property and infrastructure with highly differentiated client service.
Click the 'FOLLOW' button below to be notified when I publish my next wire.


---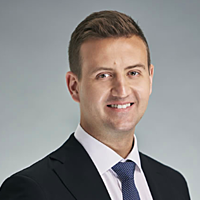 Portfolio Manager
Freehold Investment Management
As a property and infrastructure specialist, Simon's experience extends across proprietary valuation analysis, portfolio construction and trading in global equities and currency markets.
Expertise