Who's in YOUR portfolio backline this Grand Final?
---
You would never select a team without a backline. So, have you considered who's playing in the defensive half for your portfolio late in this investment cycle?
Defenders are the unsung heroes of a cohesive and successful football team. They rarely taking home the coveted Brownlow medal or receive the accolades of their teammates in the midfield or forward line. However, they are critical in the quest to lift the Premiership Cup, which helps explains why the majority of premiership coaches are defenders.
JCB have selected a team of assets in a well-balanced and diversified team.
As in modern day football, high returns within the portfolio are a challenging proposition and there may be some conjecture on certain positions (hybrids on the wing comes to mind).
But, in our opinion, talented defenders play a pivotal role as defence becomes the springboard for attack. The modern-day backline must comprise of a dynamic mix of smalls and talls with speed and strength that can counter the different challenges of opposition forwards, similar to the challenges a portfolio is faced with in generating superior defensive risk-adjusted returns.
Is it any wonder that dual Norm Smith Medallists, Ayres and Hodge were both directing traffic from the backline, in the victorious Hawthorn Grand Final teams?
JCB feel strongly that high-grade Government Bonds would slot sweetly into the centre halfback position, which requires good endurance for their size in order to compete with the elite athletic forwards. They also have robust core defensive and kicking skills which when actively managed will contribute offensively in a tactical manner.
What's your call?
---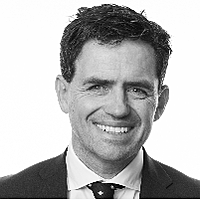 Senior Portfolio Manager
Jamieson Coote Bonds
Chris oversees a range of investment strategies for institutional and retail clients. He is a bond investment specialist with over 20 years of experience gained at Merrill Lynch, Société Générale and The Royal Bank of Canada, here and abroad.
Expertise