Will fundamentals matter anytime soon?
---
Equity markets produced outsized returns in Q2 2020, as shown in Figure 1 below. Much of the damage caused by the COVID-19 pandemic in the first quarter of 2020 was repaired in Q2. Although the equity market rebound was impressive in Q2, many of the S&P/ASX 300 sectors are still below their prepandemic levels. However, there are a few sectors that are almost back to their pre-pandemic levels. The best performing sectors for the financial year ended 30 June 2020 were Health Care, Information Technology, Consumer Staples and Discretionary. It is not surprising if investors are feeling significant relief in the recent rally.
Figure 1 - S&P/ASX 300 Index and Sector Returns for Q1, Q2 and Financial Year ending 30 June 2020

Last month, we highlighted the growing disconnect between the expectations for company earnings and prices for some securities, especially in the Information Technology sector. We have observed many parallels to the dot-com period, when speculation was high and to talk about a company's cash flow was scorned, and somehow short sighted or even small minded. The focus was on growth and the revolution that was the internet. If you issued an Initial Public Offering (IPO) that had a ".com" suffix in its name, you would likely have been assured of fresh capital. CEO's were often chastised for not spending enough on the internet. It was a speculative market environment in which the investors purchased their favorite internet names fueling share price gains, which in turn encouraged investors to buy more. Eventually it all unwound and few were able to hang onto their temporary riches

Revolving doors – Top stocks by decade 
A quick trip down memory lane in Figure 2 and Figure 3 where we look at the largest capitalised stocks by each of the last 4 decades. The companies that are in bold and red have Price to Earnings (PE) multiples greater than 20. How many of these companies were in the top 10 in the following decade? And if they were how many were trading at the same multiple? How many of the now 'market darlings' in bold and red will be in the top 10 in 2030, and how many will still be trading at the same lofty multiple? History would suggest not many.
Figure 2 - S&P 500 Index – Top 10 stocks by market capitalisation by decade 

In Australia we can observe similarities with the S&P 500 Index. In June 2000 the S&P 500 Index top 10 had a greater representation from media and the internet and by 2010 only Telstra was still in the top 10 and had been de-rated from a PE multiple of 23 to only 10. In the S&P/ASX 300 Index in 2020 we don't see as many IT names but we have observed many smaller tech companies rise to loft valuations on expectations of growth into perpetuity. The raging stock prices encourage more investors to buy in for fear of missing out.

Figure 3 - S&P/ASX 300 Index – Top 10 stocks by market capitalisation by decade

The Bottom Line

As fundamental investors, these market environments are somewhat testing. Searching out proven business models with solid financials that can generate free cash flow and are more resilient to economic shocks would appear to be out of vogue. In this environment we may take some criticism for our approach and be tested but we believe when the music stops, we will be glad we focused on the most enduring company fundamentals.
Learn more
Stay up to date with our latest thoughts by clicking follow below and you'll be notified every time we post content on Livewire. 
........
Issued by State Street Global Advisors, Australia Services Limited (AFSL Number 274900, ABN 16 108 671 441) ("SSGA, ASL"). Registered office: Level 14, 420 George Street, Sydney, NSW 2000, Australia · Telephone: +612 9240-7600 · Web: www.ssga.com. State Street Global Advisors, Australia, Limited (AFSL Number 238276, ABN 42 003 914 225) ("SSGA Australia") is the Investment Manager. Investors should read and consider the relevant Product Disclosure Statement (PDS) for a Fund carefully before making an investment decision. A copy of SSGA's Managed Fund PDSs are available at www.ssga.com.au This general information has been prepared without taking into account your individual objectives, financial situation or needs and you should consider whether it is appropriate for you. You should seek professional advice and consider the product disclosure document, available at ssga.com, before deciding whether to acquire or continue to hold units in the Funds. The views expressed in this material are the views of the SSGA Australian Active Quantitative Equity Team through the period ended 8 April 2020 and are subject to change based on market and other conditions. The information provided does not constitute investment advice and it should not be relied on as such. All material has been obtained from sources believed to be reliable, but its accuracy is not guaranteed. This document contains certain statements that may be deemed forward-looking statements. Please note that any such statements are not guarantees of any future performance and actual results or developments may differ materially from those projected. Volatility management techniques may result in periods of loss and underperformance, may limit the Fund's ability to participate in rising markets and may increase transaction costs. Actively managed funds do not seek to replicate the performance of a specified index The fund is actively managed and may underperform its benchmarks. An investment in the Fund is not appropriate for all investors and is not intended to be a complete investment program. Investing in the Fund involves risks, including the risk that investors may receive little or no return on the investment or that investors may lose part or even all of the investment. Standard & Poor's and S&P are registered trademarks of Standard & Poor's Financial Services LLC ("S&P") and Dow Jones is a registered trademark of Dow Jones Trademark Holdings LLC ("Dow Jones") and have been licensed for use by S&P Dow Jones Indices LLC and sublicensed by SSGA. The S&P/ASX 300 Index is a product of S&P Dow Jones Indices LLC, and has been licensed by SSGA. SSGA's Funds are not sponsored, endorsed, sold or promoted by S&P Dow Jones Indices LLC, Dow Jones, S&P, their respective affiliates, and none of S&P Dow Jones Indices LLC, Dow Jones, S&P, nor their respective affiliates make any representation regarding the advisability of investing in such product(s). Investing involves risk including the risk of loss of principal. Risk associated with equity investing includes stock values which may fluctuate in response to the activities of individual companies and general market and economic conditions. This material should not be considered a solicitation to apply for interests in the Funds and investors should obtain independent financial and other professional advice before making investment decisions. There is no representation or warranty as to the currency or accuracy of, nor liability for, decisions based on such information. The whole or any part of this work may not be reproduced, copied or transmitted or any of its contents disclosed to third parties without SSGA Australia's express written consent.
---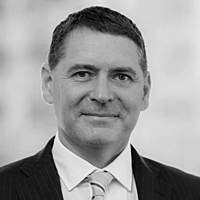 Head of Portfolio Management – Australia, Active Quantitative Equity
State Street Global Advisors
Bruce is Head of Active Quantitative Equity - Australia, for State Street Global Advisors. He has over 20 years' experience, covering Australian and global equites, long and short equities as well as global macro strategies.