A multi-billion dollar opportunity in its infancy
---
Imagine investing in the internet in its infancy, or taking a bet on a local buy-now-pay-later darling (you know the one) before it captured the country's attention. 
Well, Australia boasts a similarly compelling opportunity right now. 
In fact, it's an area of the market that is set to receive a $21 billion boost from the federal government by 2030 - and an estimated $120 billion investment (from private and public investors) over the same time period. 
Renewable energy assets - the likes of solar, wind farms and hydropower, and the battery technologies that store the power they produce - are rapidly gaining traction on the global stage. Australia, however, is just at the beginning of its journey. 
"We are blessed with so many natural resources - whether it's wind, solar, or hydro. A lot of countries really just have one of these ... But, unfortunately, or fortunately for us as well, we also have a lot of coal and gas," says Lumi Adisa, investment director of energy markets at Octopus Investments. 
"This blessing has become almost like a hindrance for us now to move into this renewable energy future." 

But now, with many of the country's coal assets coming to the end of their technical lives, Australia has to act, Adisa says. 
"We are running out of time to replace these coal generators ... And wind and solar are the cheapest renewable energy sources right now to replace these units," he says. 
As an added bonus, renewable energy investments can also provide much-needed diversification to investors' portfolios, and can generate yields of 4-9% per annum, Adisa says. They are also correlated to GDP (and thus, good investments in inflationary environments) and defensive given the Australian government has now committed to reach net-zero emissions by 2050. 
"This is such a great asset class to have in a portfolio because these technologies don't care where your bond markets or equity markets are, the sun's still going to rise in the morning and the wind's still going to blow," Adisa says. 
In this profile, Adisa reveals why he left a career in gas markets for renewable investments, as well as his thoughts on the Australian government's recently released plan to reach net zero. 
He also shares which energy assets he believes are likely to benefit from government investment over the coming years, how these assets fit into investors' portfolio mix and the returns that investors can actually expect by investing in the energy sources of the future. 
Note: This interview took place on Friday 12th of November. You can watch the video or read the editorialised profile below. 
Renewable energy's newest recruit (and biggest fan)
Adisa joined Octopus, one of the largest owners of renewable energy projects in Australia and Europe, just over three months ago, having specialised in gas for much of his career.
"I actually came to Australia about 12 years ago to study my PhD in applied mathematics. And the core of my thesis was gas modelling using nanotechnology," he explains.
"The key focus of the thesis was how can we capture gas using some of these advanced technologies and nanomaterials. But looking back now, if I had a choice when I started the degree, I probably would have done it in renewable energy instead."
After his PhD, Adisa worked with Energy Exemplar in Adelaide, before moving to Melbourne with Schneider Electric Energy & Sustainability Services. Later, he would nab a role with the Australian Energy Market Operator (AEMO), before landing a gig with Cornwall Insight Australia.
While working with AEMO, Adisa was tasked with modelling the energy and electricity market's transition to a decarbonised future over the next 20 years. It is this research that encouraged him to take "a big leap of faith into clean energy modelling and technologies."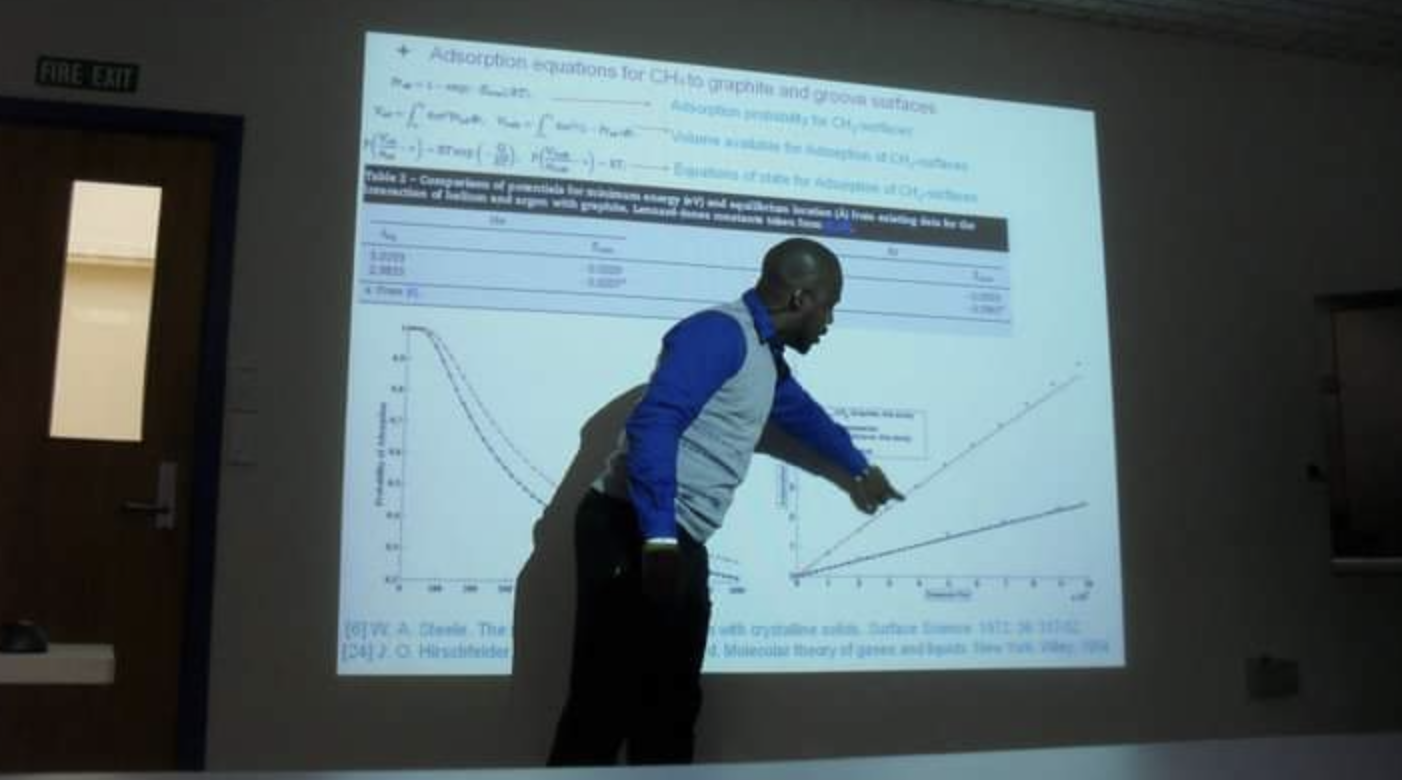 Adisa presenting his PhD. Source: Supplied. 
An expert's opinion on Australia's clean energy policy (or lack thereof)
Australia was recently ranked last for its policy response to the climate crisis out of the 60 countries in the COP26 Conference. 

That said, the Aussie government has now zeroed in on a climate response, releasing a commitment to try and reach net-zero by 2050. The plan centres on using "technology, not taxes" to drive the reduction of emissions. 
"The really interesting thing about that is that we already have those technologies," Adisa says. 
"Wind and solar are already mainstays in the energy mix in Australia. We just need more policy support to get energy storage to assist these technologies in providing this zero-carbon future for us." 
Battery technologies are paramount to the transition, helping to continue to meet energy demand when "the wind's not blowing or the sun's not shining", Adisa says. 
"With these technologies already here, even according to the federal government's plan, we should be marching a lot quicker towards this renewable energy future," he says. 
"We are blessed with so many natural resources - whether it's wind, solar, or hydro. A lot of countries really just have one - Iceland, for example, is almost fully renewable energy driven, just from wind and hydro alone. 
"But, unfortunately, or fortunately for us as well, we also have a lot of coal and gas." 
This blessing has become a curse, Adisa says, slowing our transition towards a greener future. However, if Australia is to meet its target of keeping emissions below 26-28% by 2030, and 85% by 2050, we need a stronger commitment earlier on. 
"Otherwise, you would have this big step change after 2030," he says. 
"Who knows what that would mean for Australia? Who knows if we have that much time to wait before we really take this leap of faith into the future that is already here?"
Australia's States and Territories are divided on the energy transition
Australia has been slammed by much of the world for its reliance on fossil fuels, as well as its slow response on climate change (see here). For instance, there were those now-notorious Times Square billboards, roasting Australia's climate policies, as well as similar ads across Glasgow. See below: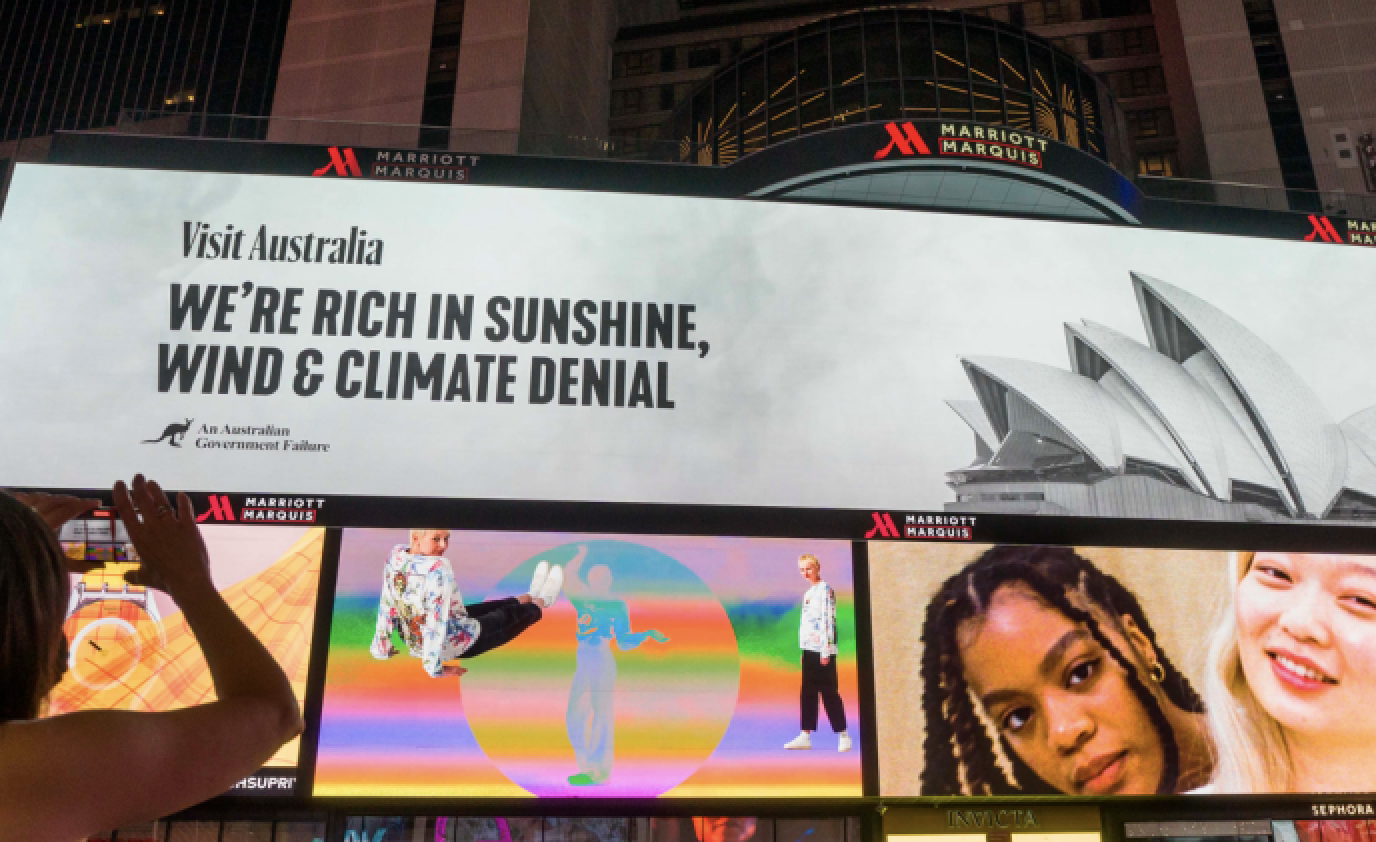 Source: Dan Ilic/JokeKeeper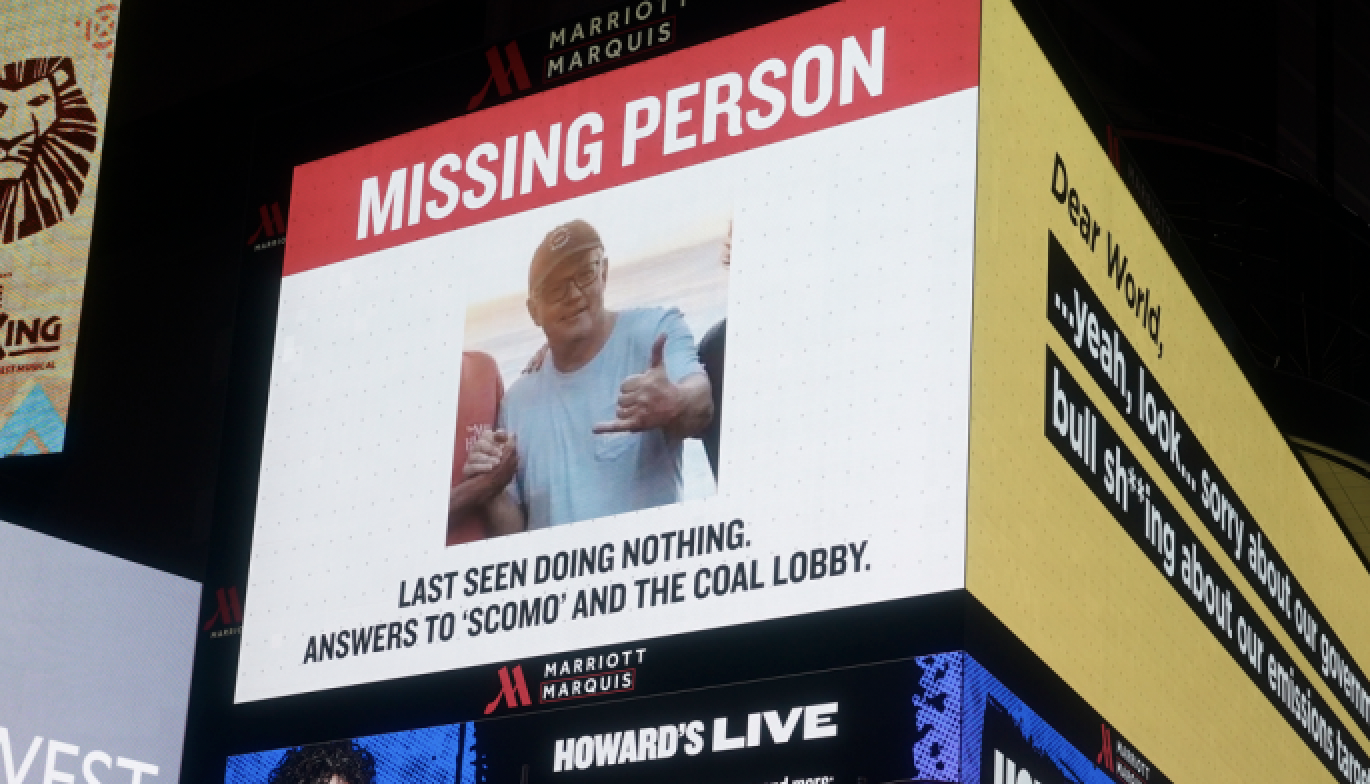 Source: Dan Ilic/JokeKeeper
While the above images may induce a slight chuckle (and a state of awe in the power of crowdfunding - comedian Dan Illic raised nearly $230,000 to buy the billboard space and ads across Glasgow), Adisa agrees that Australia is right at the beginning of its renewable energy journey.  
"If you look at how much renewables have grown over the last four years in New South Wales, again, this is a state that has this huge dependence on coal, you have seen just 4% growth in energy generation from wind and solar in the state," he says. 
"You're looking at an 11% energy mix from renewable energy sources that need to replace (coal) at 80% ... This 80% is leaving the market in the next 10 years, so it really tells you that we are not just at the infancy stage of our renewable energy story, but we need to move a lot quicker in the next 10 years if we're ever going to replace coal or be successful at replacing coal at the lowest cost to consumers."
While Adisa notes that Australia currently leads the OECD pack for the wrong reasons - he says our emissions are some of the worst in the world - there are some States that are "right at the front" of the energy transition. 
"Tasmania, for instance, generates about 100% of its energy from renewable energy sources (being water and wind), Adisa says. 
"That's the true beauty of Australia as a country. We have a lot of States (and Territories) almost at different periods in their transition. Some states are right ahead. Some states are behind, and are still trying to move the dial a bit quicker." 
South Australia, for instance, has hit the 50% mark in renewable energy generation, while the ACT, like Tasmania, has reached 100%, he says.
"It's really the coal-dominated states - Queensland, Victoria to an extent, and New South Wales - that really need to move a bit quicker. And those State governments have put in policies now to make sure that they can accelerate their transition journey," Adisa says. 
"This is, again, why I really believe whatever happens at the federal level, while it does matter, the states have already made this charge towards renewable energy."
The energy assets likely to benefit from government investment
While the Minister for Energy, Angus Taylor, recently announced the Australian government would commit $21 billion to emission-reducing technologies over the coming eight years, Adisa notes inaction would cost taxpayers a lot more. 
"In a state like New South Wales, coal currently supplies over 80% of the state's energy mix. And these are power stations that were built in the '70s. They all coming to the end of their technical lives. So even if we didn't have the urge to decarbonize, these coal assets have to be replaced," he says. 
Wind and solar are the obvious solution, considering they are the cheapest renewable energy sources that could replace these coal units, he adds. 
"From an economic perspective, this presents a significant investment opportunity in Australia," Adisa says. 
"If you have 80% of your generation mix in your largest state that needs to be replaced, and you have abundant wind and abundant solar in the country, then that's just a natural incentive to have these investments pour into the space and allow the space to grow." 
Unsurprisingly, solar, wind and storage technologies are where Adisa and his team are currently finding investment opportunities. By investing in these assets, Octopus can generate sustainable returns to investors and drive the energy transition narrative in Australia, he says.
Octopus currently manages $1 billion of wholesale and institutional capital across construction and operating assets in Australia. Unlike other infrastructure assets, Adisa is adamant that a specialist manager is particularly important when investing in renewable energy. 
"If you have an airport or a toll road, those assets don't talk to each other. So you could build an airport in Sydney and have a toll road somewhere in Sydney and they don't really have to be in conduit with each other," he explains. 
"The difference with the energy market is that wind assets or solar assets need to talk to each other because they provide energy at different times of the day. They're competing for the same demand, they meet at the same price." 
Thus, you need fund managers with a deep understanding of the energy grid - those who dissect the market with a fine-tooth comb, know the operational capabilities of these assets back to front and can understand the impact of weather on yields and returns in the future, he says. 
"We are grid experts. We're not a fund manager with Wall Street-type bankers. We are a boots-on-the-ground type of fund manager. We understand what the market's doing, what the market needs, and how we can really foster portfolio growth across all the assets we are managing," Adisa says. 
How these investments fit in a portfolio (and what returns you can expect)
Renewable energy investments, being uncorrelated to other assets like equities or bonds, can provide diversification to investors portfolios, and would typically fit within an investor's infrastructure exposure. 
Adisa believes these investments to be a defensive asset class, as "if there's anything we can guarantee in the world over the next 20-30 years, it's the fact that we're going to need more energy, less coal, and probably more renewables". 
He adds that the operating assets within Octopus' portfolio generate a 4-5% yield, while the assets under construction are likely to produce yields of 7-9% per annum. 
Mathematician by day, Afrobeats DJ by night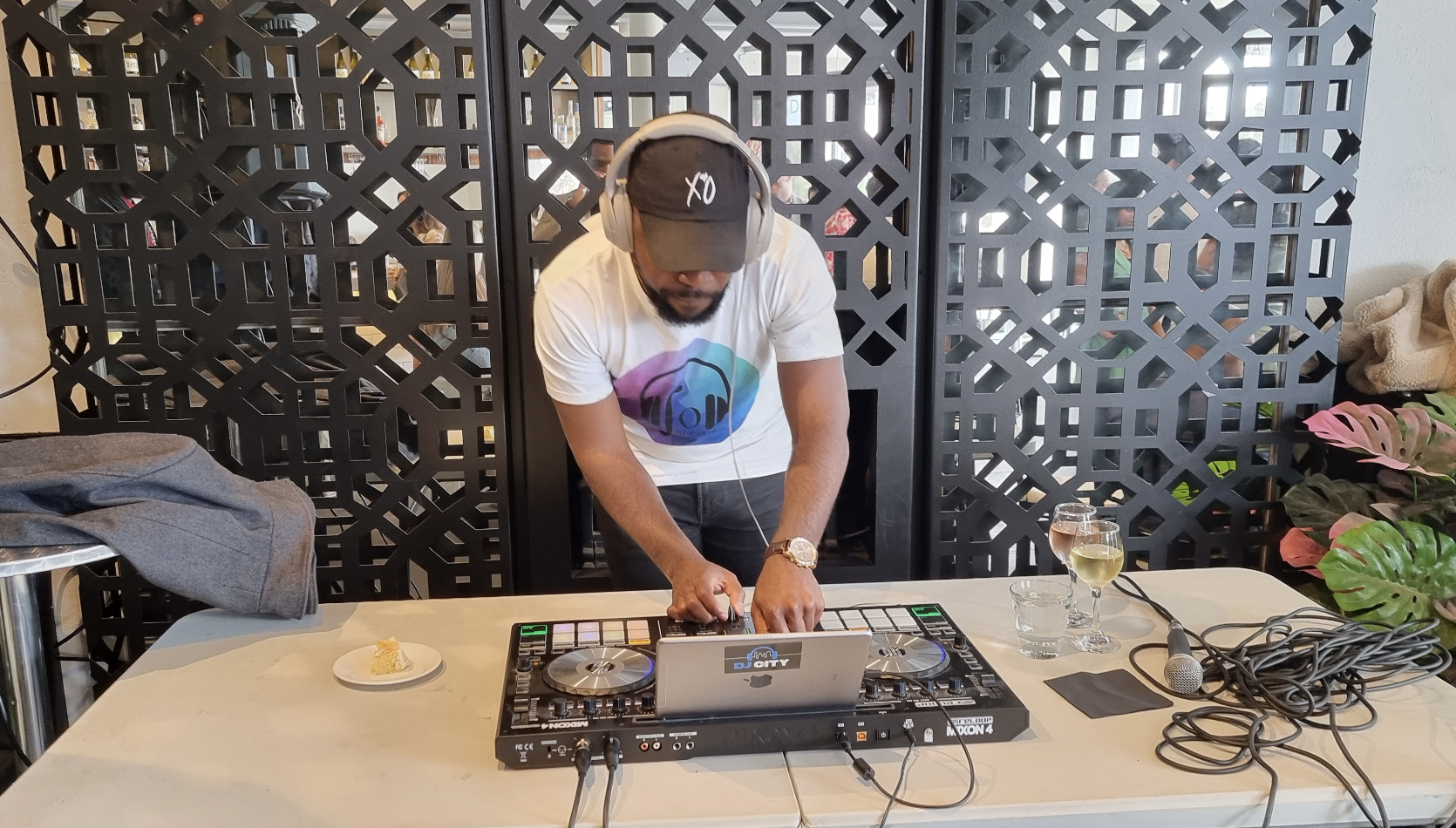 Adisa DJ-ing at a recent event. Source: supplied. 
Just like Batman's Bruce Wayne, and Superman's Clark Kent, it may surprise some to learn Octopus' investment director of energy markets transforms into an Afrobeats DJ by night. 
"I like making and mixing music and really switching off, getting into my groove, when I'm not working and letting music take control - just kicking back and not thinking about maths or analysing markets or modelling or any of those really nerdy things that I enjoy," Adisa says. 
Interestingly, Adisa believes that the worlds of mathematics and music are actually quite in tune with one another. 
"There's a strong correlation between the creativity that you need to solve equations and the creativity that you need to make beats because, at the end of the day, it's really frequency," he says. 
"You're matching frequencies of two different types of music or two different genres of music. And when you're solving a maths problem, sometimes, the solution to that equation might be stuck somewhere you probably would not have seen if you did not open your mind or creative thinking." 
In this way, Adisa allows his creativity to flow while analysing energy markets and investments, and while making music. 
"When I switch off, I still get the brain ticking by trying to make music and doing stuff to make sure that you're not killing people's vibe, essentially," he says. 
If only the Australian government was this committed to killing the fossil fuel industry. Either way, investors and the States and Territories themselves are well on their way to transitioning to a greener future.
Managed Fund
Octopus Renewable Energy Opportunities Fund (OREO)
Alternative Assets
Leading Australia's drive towards a cleaner future
Octopus invests directly into the Australian renewable energy sector, helping to provide the innovative solutions it needs during its transition to a clean energy future. Visit their website for more information.
---
Never miss an update
Enjoy this wire? Hit the 'like' button to let us know. Stay up to date with my content by hitting the 'follow' button below and you'll be notified every time I post a wire.

Not already a Livewire member? Sign up today to get free access to investment ideas and strategies from Australia's leading investors.
........
Livewire gives readers access to information and educational content provided by financial services professionals and companies ("Livewire Contributors"). Livewire does not operate under an Australian financial services licence and relies on the exemption available under section 911A(2)(eb) of the Corporations Act 2001 (Cth) in respect of any advice given. Any advice on this site is general in nature and does not take into consideration your objectives, financial situation or needs. Before making a decision please consider these and any relevant Product Disclosure Statement. Livewire has commercial relationships with some Livewire Contributors.
---
Content Editor
Livewire Markets
Ally Selby is a content editor at Livewire Markets, joining the team at the end of 2020. She loves all things investing, financial literacy and content creation, having previously worked for the likes of Financial Standard, Pedestrian Group, Your...
Expertise