A recap of the bids made for Infigen Energy
---
Our readers know we like the Infigen Energy (ASX:IFN) equity story; IFN is a renewable electricity generator and it offers a way to play the green theme here in Australia. We shared our investment thesis in an article posted in early February, a lot has happened since then. Here's why we have sold and moved on.
IFN and COVID-19
IFN provided its COVID impact update to the market on 1 May, the Government mandated economic lockdown had the effect of lowering demand on the National Electricity Market (NEM) and with it the wholesale price of Electricity. IFN is exposed to this weaker short-term price environment for the uncontracted portion of it's electricity generation that it sells into the market on a daily basis, which is roughly 30 per cent of its generation. IFN's tactical response is to push back its growth plans, deferring the development and contracting of more generation capacity until economic conditions became clearer. In our view this response makes sense as it preserves IFN's ability to grow when the conditions are better suited to support that and avoids IFN locking in the current weak pricing environment for longer than necessary.
3/6/20 Take-over offer 1 – UAC 80c cash
On 3 June UAC announced that it had accumulated a 12.8 per cent stake in IFN and that it would make a take-over offer at 80c, a 33 per cent premium to the undisturbed price. The offer includes FIRB (Foreign Investment Review Board) approval condition and is not subject to a minimum acceptance level.
UAC describes itself as a power generation developer, it has a small number of projects here in Australia that are in the development phase, none appear to be operational. It's not clear from the company website if these projects have attained funding or have attracted counter-parties willing to contract for supply, offering some questions on the credibility of the UAC take-over scenario. UAC's takeover announcement states that UAC is 75 per cent owned by Ayala Corporation, a Philippines listed company with a market cap of approximately A$14 billion.
17/6/20 Take-over offer 2 – Iberdrola 86c
On 17 June Iberdrola announced it had launched a bid for IFN offering 86c a share, this time with IFN's board approval and a deal with IFN's largest shareholder, TCI (33 per cent ownership) to sell a 20 per cent shareholding to Iberdrola. The board support, and the 20 per cent share sale by TCI are subject to a no superior offer condition, Iberdrola's bid is subject to some conditions including FIRB, which we think are likely to be met.
Iberdrola is huge, it is one of the largest listed electricity utilities globally, it's the world's largest generator of wind power, it holds over Euro 120 billion of assets and made over Euro 10 billion in EBITDA last year and is an existing operator here in Australia. Iberdrola ticks the credibility box and then some.
Time to move on and find the next one
We don't think UAC is going to be able to compete with Iberdrola, it doesn't appear to have the same financial firepower, industry capability and portfolio exposure here in Australia with which to extract maximum value from IFN's asset base. There could be other bidders emerge, but it's a tough ask to take on one of the world's largest utilities, well funded, with domain expertise and renewable generation specialists. Iberdrola have done a deal with a very long term 33 per cent shareholder and the board whom presumably have a very strong idea as to value attainable, implying that an appropriate and likely value threshold has been approached if perhaps not reached.
We've got what we came for, IFN's under-valuation has been discovered. We'd have preferred to see the fruits of IFN's growth strategy get delivered as it likely creates greater value over time, but sometimes it doesn't play out that way. Rather than wait to discover if there is an incremental price bump in a bidding scenario and run the risk of the share price falling back to bid level or lower, we have sold and move on to find the next one.
Get investment ideas from industry insiders
Liked this wire? Hit the follow button below to get notified every time I post a wire. Not a Livewire Member? Sign up for free today to get inside access to investment ideas and strategies from Australia's leading investors.
---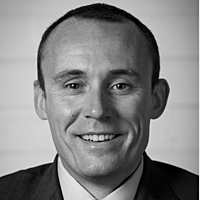 Portfolio Manager
Montgomery
Gary is the Portfolio Manager of the Montgomery Small Companies Fund – a small-cap Australian equity fund investing in 30 to 50 high quality, undervalued small and emerging companies with strong growth potential. The fund invests outside the ASX100.
Expertise