Buy Hold Sell: 5 long-term compounders with dividends for days
---
There are some topics that irrefutably divide the nation. The State of Origin, Vegemite, hipsters, for instance, or the existence of Australia's most dangerous marsupial, the drop bear.
One thing we can all agree on, however, is our love of dividends and earnings growth. 
In fact, the best performing episodes of Buy Hold Sell have covered these very topics, albeit separately. So, in a time where we can't enjoy the pleasures of life other than those within the walls of our homes, we here at Livewire are giving the people what they want. 
In this episode, Livewire's Ally Selby is once again joined by Plato's Dr Don Hamson and Merlon Capital's Neil Margolis for a look at five long-term compounders with annual dividend yields ranging from around 2-6%. 
And while our fundies certainly don't agree on everything, there is one stock, in particular, that holds a safe place in both of their back pockets. 
Note: This episode was filmed using Zoom on the 4th of August 2021. You can watch or read an edited transcript below.

Edited Transcript 
Ally Selby: Hello and welcome to Livewire's Buy Hold Sell. I'm Ally Selby, and today we truly have an episode for everyone. We'll be talking about five long-term compounders with annual yields ranging from 2% to 6%. And to do that, we're joined by two income experts. We've got Don Hamson from Plato and Neil Margolis from Merlon Capital. Thanks for joining me, gents. 
First up, we have none other than Macquarie Group. Its share price has lifted more than 29% over the past year and 110% over the past five years. Neil, I'll start on you. Is it a buy, hold, or sell?
Macquarie Group (ASX:MQG) 
Neil Margolis (SELL): It's a sell for us. We don't think it is really a dividend stock. They don't even pretend to be. They have recently reduced their payout ratio. Over the last two years, they've raised $2 billion each year, and they've paid out about $2 billion in dividends, so net/net there's no underlying dividend. Obviously, it's a fantastic company, lots of smart people and a great growing funds management business. So you could get good capital growth, but they need to raise capital to keep paying dividends.
Ally Selby: That's the sell case. Don, over to you. Is it a buy, hold, or sell?
Don Hamson (HOLD): We love Macquarie and have been a long-term owner of it. It has had fantastic performance as you say, over the last five years and even the last 12 months, but we think it's just too expensive at the moment. So it's a hold for us. We wouldn't be buying it at these levels, but we do think it's a great company. A lot of smart people there that are very incentivized. And it hasn't been such a bad yielder, although it's not fully franked because of its overseas earnings. But at this price, I'll hold.
NIB Insurance (ASX:NHF) 
Ally Selby: Next up, we have NIB Insurance, ticker code NHF. Its share price is up around 59% over the past year, private health insurance obviously looking a bit more attractive in the middle of a pandemic. Don, I'll stay on you. Is it a buy, hold, or sell?
Don Hamson (HOLD): For us, it's a hold. It has had very strong performance but it's looking pretty expensive. And yes, there are some short-term tailwinds in terms of lower claims and things, because funnily, we don't seem to be as sick as we normally are, and obviously, elective surgery is not happening. So in this funny pandemic, it's strange that it happens, but we think these are somewhat temporary, and at this price, it's a hold from us.
Ally Selby: It has an annual yield of around 2% and is set to report on the 23rd of August. Neil, over to you, is it a buy, hold, or sell?
Neil Margolis (BUY): It's a buy for us. It's been one of our bigger positions. Its revenue growth leading into COVID was about 8% a year, which might surprise people for a sleepy health insurance stock. They've got a younger cohort of members and they've been gaining market share. We also view health insurance quite differently from other insurance. It's very low risk. Whatever the claims are, they're allowed to pass on at an industry level in premiums. So it's more like an infrastructure stock and it's very cheap relative to infrastructure stocks. So we think it's got potential to rerate on that basis. They still have some small loss-making travel insurance and student insurance businesses, which will eventually contribute to profits again. And as Don said, they've got a bit of a windfall during COVID, so we quite like it and think it's much less risky and higher growth than people perceive.
Wesfarmers (ASX:WES)
Ally Selby: Next up, we have Wesfarmers. Who doesn't like Kmart and Bunnings? Its share price has returned around 35% over the past year. Neil, staying on you, is it a buy, hold, or sell?
Neil Margolis (SELL): It's a sell for us. It's a fantastic business. Bunnings is about 60% of earnings. It's on about 30 times earnings, which is pretty ritzy, and earnings are up 30% year on year, which also means they're a little bit inflated. Bunnings is a brilliant business, but it's priced as having zero cyclical risks. Kmart was showing some signs of fatigue leading into COVID, and Officeworks is good, but a bit smaller. So we think it's just too expensive. And I don't think you'll get much capital growth out of it in the next couple of years.
Ally Selby: Don, it yields around 3% per annum and is well and truly on the M&A train. Is it a buy, hold, or sell?
Don Hamson (HOLD): Again, a hold from us. It looks expensive. It has had a great run and it's a great business, but again, we wouldn't be adding to it here. But we do hold it, so it's a hold from us. They have got some growth opportunities in that it looks like they are going to do some M&A into the pharmacy area with API, and so maybe they're going to do to pharmacies what they've done to Officeworks and home building supplies. So watch that space, I suppose, but it does look pretty expensive. So hold.
JB Hi-Fi (ASX:JBH) 
Ally Selby: Next up we have a place where I've spent way too much money during lockdowns, JB Hi-Fi. Its share price is up around 11% over the past 12 months, and it has an annual yield of around 5.5%. Don, I'll stay on you. Is it a buy, hold, or sell?
Don Hamson (BUY): It's a buy from us. It's a great business. It's done fantastically well, solid dividend yield there. And people say it's benefited from the pandemic, but it's been one of the stocks that has done well in the online space. Everyone thought it was going to get smashed by Amazon, but it's continued to keep on keeping on. So it's a buy from us, although it's a little bit expensive, it's still a great business
Ally Selby: Neil, a new CEO is about to take over the reins of the business at the end of this month. And it's recently reported that its earnings were up nearly 54% over the past financial year. Is that enough to turn your head? Is it a buy, hold, or sell?
Neil Margolis (SELL): It's a sell. It's actually a former CEO of JB Hi-Fi and he's very well-regarded. I agree Amazon was overhyped, and we said that when they arrived in 2016, but I actually think in the background Amazon is making steady progress. They've opened a 200,000 square metre distribution centre, and Apple is going live this week. So people have become too complacent about Amazon from being too worried about Amazon. JB Hi-Fi is partly discounting its high earnings because it's not on a very high multiple, but their earnings have gone up a lot. There might be a bit of a hangover trying to clear that very high base of earnings and revenue.
Super Retail Group (ASX:SUL)
Ally Selby: Last up we have Super Retail Group, which is the home of brands such as Rebel and Super Cheap Auto, and many others as well. Its share price is up around 54% over the past financial year. Neil, staying on you, is it a buy, hold, or sell?
Neil Margolis (BUY): That one is a buy for us. Their earnings are also a bit inflated like JB Hi-Fi, but it does offer more value and more protection. We also think the categories it's in are more defensive. Auto parts retailing and sports retailing is almost like a staple these days - when your kids need new gear, they need new gear! So the categories are less risky than the ones JB Hi-Fi operates in. They're less prone to Amazon risk. And the stock is a bit cheaper. It's always carried too much debt, but now they've managed to repay that debt. So we're actually even expecting to see some decent dividends come out of them as well.
Ally Selby: Don, it yields around 4% per annum, and it's about to report on August 18th. What do you think investors should expect? Is it a buy, hold, or sell?
Don Hamson (BUY): It's a buy from us. I think it will be a pretty good result. They have benefited from COVID with sport, home equipment, and Boating Camping Fishing, which is another one of their brands. They've done very well there. So it's a buy from us because they still look relatively cheap and they've been very good operators. They're one of our top retailers.
Ally Selby: We hope you enjoyed this episode of Buy Hold Sell. If you did, remember to give it a like. And subscribe to our YouTube channel. We're adding new content every week.
Tell us what you are backing
While our fundies don't agree on everything, they both are backing Super Retail Group over the months ahead. So tell us what you think. What stocks with both growth and dividends are you liking at the moment? Let us know in the comments section below. 
Can't get enough of Buy Hold Sell?
Give this wire a like if you've enjoyed the discussion and hit follow to be notified when new episodes are released.
If you're not an existing Livewire subscriber you can sign up to get free access to investment ideas and strategies from Australia's leading investors.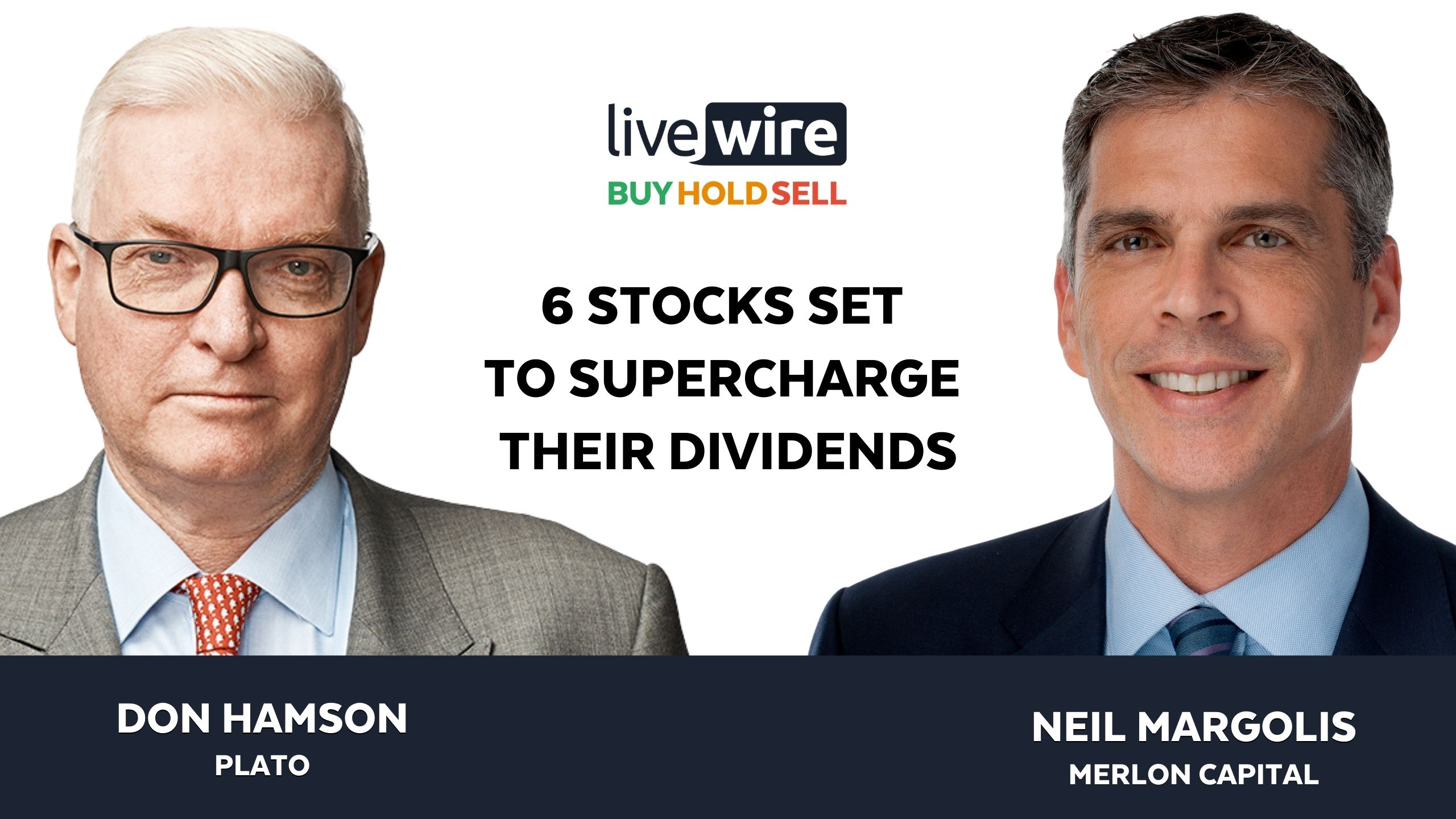 Equities
Buy Hold Sell: 6 stocks set to supercharge their dividends
........
Livewire gives readers access to information and educational content provided by financial services professionals and companies ("Livewire Contributors"). Livewire does not operate under an Australian financial services licence and relies on the exemption available under section 911A(2)(eb) of the Corporations Act 2001 (Cth) in respect of any advice given. Any advice on this site is general in nature and does not take into consideration your objectives, financial situation or needs. Before making a decision please consider these and any relevant Product Disclosure Statement. Livewire has commercial relationships with some Livewire Contributors.