Chart of the day: Aussie jobs market stabilising
---
"It is our job above all in politics to tackle the big issues and to explain them, and have the honesty to say to people, 'There are no easy solutions here.'", Malcolm Turnbull
Against expectations for further demise, the latest Australian Bureau of Statistics (ABS) payrolls data (a new, more accurate and timelier source of data on Australian employment) showed little further loss of jobs over the two weeks to 2 May. Yesterday's data revealed virtually no change (-0.2% for the national payroll) in the second half of April, compared with the carnage in the five weeks to mid-April when jobs fell around 7%, and a cumulative 900,000 Aussies lost their jobs. The worst net job losses have been, not surprisingly, in accommodation and food (-27%) and arts and entertainment (-19%).
Of course, no job losses in H2 April compare poorly with the economy's typical 2% annual jobs growth (and roughly 20,000 jobs created per month). But these are not typical times, and key to the shape of Australia's (and indeed the world's) recovery from this virus-induced recession is identifying turning points where things begin to become 'less bad'. A modest recovery in wage growth by 1.4% after a fall of 8% in the prior five weeks—likely helped by JobKeeper—is also mildly positive. Easing lockdown restrictions will hopefully reduce the need for JobKeeper when it ends in late September.
With the more lagged jobs survey for April (taken early in that month) showing only 600,000 jobs lost and unemployment rising 1% to 6.2%, yesterday's data suggests further historic job losses (circa 300,000) lie ahead for May…but that is less bad than 600,000 and the more up-to-date payrolls data suggest that we are seeing the worst now. Moreover, while the unemployment rate has further to rise, expectations that it would rocket to 10% in the next month or so are being delayed. UBS now believes 10.5% unemployment may only be reached (more gradually) in late 2020, not June 2020. CBA expects unemployment to rise by less—to only 9%.
ABS payroll data – little net job losses over H2 April
Source: ABS, UBS, Annotated by Crestone.
Be the first to know
I'll be sharing Crestone Wealth Management's views as new developments unfold. Click the 'FOLLOW' button below to be the first to hear from us.
........
General advice notice: Unless otherwise indicated, any financial product advice in this email is general advice and does not take into account your objectives, financial situation or needs. You should consider the appropriateness of the advice in light of these matters, and read the Product Disclosure Statement for each financial product to which the advice relates, before taking any action. © Crestone Wealth Management Limited ABN 50 005 311 937 AFS Licence No. 231127. This email (including attachments) is for the named person's use only and may contain information which is confidential, proprietary or subject to legal or other professional privilege. If you have received this email in error, confidentiality and privilege are not waived and you must not use, disclose, distribute, print or copy any of the information in it. Please immediately delete this email (including attachments) and all copies from your system and notify the sender. We may intercept and monitor all email communications through our networks, where legally permitted
---

Follow Scott Haslem's wires
---
---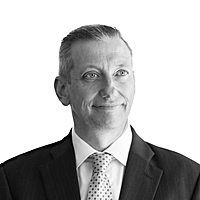 Chief Investment Officer
LGT Crestone
Scott has more than 20 years' experience in global financial markets and investment banking, providing extensive economics research and investment strategy across equity and fixed income markets.
Expertise