Chart of the day: China's manufacturing surprises
---
Yesterday's jump in China's NBS manufacturing purchasing managers index (PMI) was a surprise to many, lifting from 35.7 (its lowest on record) to 52.0. The non-manufacturing PMI (now an increasing share of China's economy) also jumped from 29.6 to 52.3. But for anyone monitoring the daily data, it was clear that China had been returning to work since late February, when new COVID-19 cases had slowed to a daily rate of a few hundred. As March drew to a close, according to UBS, daily data revealed that major company coal consumption was back to 80% to 90% of normal, property sales in the top 30 cities was at 70% of normal and local traffic congestion was also getting close to normal.
This is good news. Mostly because of what it shows can happen when a country gets the pandemic under control, as China has done. South Korea also has slowed daily new cases to less than a couple of hundred. It also sheds light on why economists expect a sharp recovery in activity when the virus' spread globally is curtailed. Most supply-related shocks (in this case, the shutdown of a vast array human activities) rebound rapidly when the factor causing the shutdown passes. Japan's sharp rebound in growth and industrial production post the Tsunami in 2012 is a good example.
Of course, without trying to rain on my own parade, tempering this positive news is the fact that when production has ramped back to close to normal, and unfilled orders and delayed shipments have been 'shipped', China is likely to be facing a sharp weakening of external demand through mid-2020 as the rest of the world continues to be in lockdown as it now deals with the pandemic. Roughly speaking, China took a couple of weeks to reach peak disease (and a couple more weeks to collapse daily new cases). Globally, it's now a month and the trend in new disease spread, while showing tentative signs of peaking, has been moving higher for a month.
Keep an eye out for China's Q1 GDP on 17 April that is likely to show a 10% quarterly decline, with the annual pace slowing from 6.0% to just 1.5%. That type of weak data is likely reserved for Q2 for the rest of the globe, including Australia. Consistent with that, tonight's US manufacturing ISM for March is expected to portray a weak start to US growth in Q2 falling from 50.1 to around 45.
China's NBS manufacturing PMI
Source: Tradingeconomics.com, National Bureau of Statistics of China.
Be the first to know
I'll be sharing Crestone Wealth Management's views as new developments unfold. Click the 'FOLLOW' button below to be the first to hear from us.
........
General advice notice: Unless otherwise indicated, any financial product advice in this email is general advice and does not take into account your objectives, financial situation or needs. You should consider the appropriateness of the advice in light of these matters, and read the Product Disclosure Statement for each financial product to which the advice relates, before taking any action. © Crestone Wealth Management Limited ABN 50 005 311 937 AFS Licence No. 231127. This email (including attachments) is for the named person's use only and may contain information which is confidential, proprietary or subject to legal or other professional privilege. If you have received this email in error, confidentiality and privilege are not waived and you must not use, disclose, distribute, print or copy any of the information in it. Please immediately delete this email (including attachments) and all copies from your system and notify the sender. We may intercept and monitor all email communications through our networks, where legally permitted
---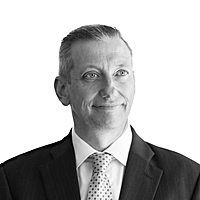 Chief Investment Officer
Crestone
Scott has more than 20 years' experience in global financial markets and investment banking, providing extensive economics research and investment strategy across equity and fixed income markets.
Expertise