China's 20th National Congress
---
On 16 October 2022, the Communist Party of China (CCP) will commence its 20th National Congress. Given China's global importance, the event will be closely monitored by both domestic and global audiences looking for, among other things, clarity on leadership changes, the CCP's view on the current domestic and international economic environment, COVID management, global tensions (including Russia's invasion of Ukraine), and long-term CCP policy direction.
In this blog, we outline what we expect from the Congress and, importantly, how it could influence existing and new infrastructure projects in China. 
What is the National Congress?
The National Congress is an assembly held by the CCP every five years. The meeting draws together close to 2,300 selected CCP delegates representing the Party's estimated 90 million members. The delegates include incumbent top CCP leaders, cabinet ministers, senior military generals and so-called 'grassroots' representatives (such as workers, scientists, entrepreneurs and farmers). Attendees are required to elect candidates to senior party positions, consider the General Secretary's report (a report on the execution of policies since the last Congress, and an outline of party priorities for the next five years) and decide on potential amendments to the CCP's constitution. While there is no concrete timeframe, the meeting typically lasts about a week.
Key agenda items for the 20
th 

Congress

Critical party positions decided

The Party's general secretary, premier and military commission appointees are all decided during the Congress. Additionally, delegates will elect members to the Central Committee, a body composed of the top decision-makers in the Party, state, and society. The Committee is then tasked with appointing members to the 25-member Politburo, the top leadership body of the CCP. The Politburo then decides on membership of the seven-member Politburo Standing Committee (PSC), the Party apex, which is mandated to conduct policy discussions and make decisions on major issues when not in session.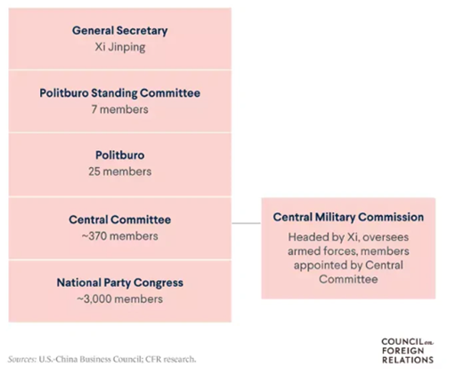 Chinese leader, President Xi Jinping, to face re-election
Mr Xi is looking for an unprecedented third term as leader, and is widely expected to be re-elected. As he is 69 years old, a third term would break the unwritten 'seven up, eight down' rule; those aged 67 or younger are eligible for another term, while those 68 and above are expected to step down. A further provisional rule stipulates officials should stay no longer than two five-year terms in a single position; however, this does not apply to the position of president.
Speculation is also high as to who will be appointed to China's other top governing roles, as thirteen members of the Politburo (including four within the PSC) will be aged 68 and over at the opening of the Congress. This should provide some crucial insight into Mr Xi's ultimate successor. 
COVID policy to be reviewed
China has maintained the world's most draconian COVID containment measures – a clear outlier as the rest of the world shifts from pandemic to endemic. While China has one of the lowest virus-related death tolls globally, its commitment to its 'Zero-COVID' policy has hindered the domestic economy and caused significant global supply chain disruptions.
COVID strategy dynamics will be watched closely at the Congress, as the easing of restrictions represents a major catalyst for global markets and, importantly for us, listed infrastructure names. While we do not anticipate the Zero-COVID policy to be abandoned during the Congress, we will be looking for signposts that may stipulate a more pragmatic COVID management strategy going forward. These could either be direct, such as reducing mandatory quarantine times, or indirect, through the CCP's approach to vaccination distribution and other treatment methods, addressing low vaccination rates among the elderly population, improving public health infrastructure or shifting its stance on city lockdowns.
Chinese economy to be reviewed
At the start of this year, officials had set an ambitious target of 'around 5.5%' GDP growth. For the first half of the year, the economy grew just 2.5%, having navigated headwinds in the form of COVID, droughts, a deteriorating property market and global economic pressures. The Central Government responded by employing targeted policy tools to stimulate the economy and support vulnerable businesses and people. In May, Bloomberg estimated that China's total pledged stimulus for 2022 had amounted to RMB35.5 trillion (US$5.3 trillion). Similar measures saw China maintain positive GDP growth in both 2020 and 2021 of 2.3% and 8.1% respectively. However, in July, officials abandoned the growth target, saying instead it would 'strive to achieve the best results possible'.
The Congress will thoroughly examine the current international and domestic situation, and formulate action plans and fundamental policies to rejuvenate economic growth. This should see more aggressive stimulus, and initiatives to streamline investment and promote consumption.
Benefits for infrastructure development
Throughout the year, a series of stimulus measures have been announced in an attempt to mitigate domestic and global challenges. While measures vary, the mainstays have been fiscal policies boosting infrastructure investment and initiatives, enabling a less obstructed/accelerated path, from planning through to procurement.
The Central Government has announced more than CNY1.1 trillion (US$140 billion) of financial support to boost infrastructure investment this year. According to the National Bureau of Statistics (NBS), China's infrastructure investment increased by 8.3% year-on-year from January to August. Along with policy incentives, strong financial support and sufficient project reserves, the growth rate is forecast to accelerate further and grow by 10% to 15% for the full year of 2022. Given infrastructure investment typically accounts for about 15% of China's GDP, economists anticipate infrastructure investment could drive 1.5%-2% of real GDP growth.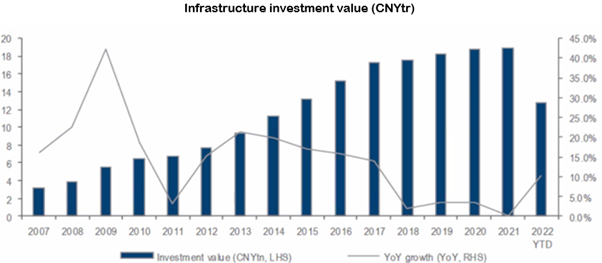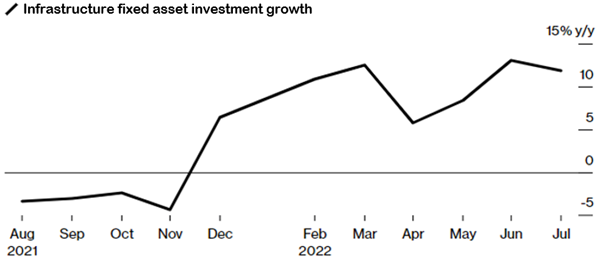 We view stimulus and policies supporting infrastructure investment as tailwinds for the listed sector. These will provide new development opportunities, accelerate the planning/construction of existing projects and facilitate access to lower-cost funding. There are also other indirect benefits, such as stronger network integration and improved logistics chains supporting efficiencies. While the immediate focus of the infrastructure investment push is to provide short-term support to the economy, over the longer term the investment contributes towards China's ambition of becoming a more urbanised, high-income economy. This, in turn, is expected to boost consumption and fuel more significant investment in infrastructure.
Conclusion
The upcoming 20th National Congress meeting will see the formulation of action plans and fundamental policies. We don't anticipate any significant shift in policy dynamics, but view policy direction as critical for setting the tone for economic recovery and guiding market expectations. Any key policy decisions made likely won't be formalised until the 'Two Sessions' annual parliamentary meeting that typically takes place in early March, the year after the Congress. However, confirmation of personnel, including the likely re-election of President Xi Jinping, should lead to some clarity, better policy coordination and more efficient implementation.
We expect support for infrastructure will be reiterated as both a near-term stimulus measure and a long-term structural thematic. Investments in transportation, logistics, communications, utility systems and public facilities play a vital role in improving living standards and stimulating domestic demand. We continue to see this as an exciting investment opportunity. 
Never miss an update
Enjoy this wire? Hit the 'like' button to let us know. Stay up to date with my current content by
following me
below and you'll be notified every time I post a wire
Welcome to Livewire, Australia's most trusted source of investment insights and analysis.
---
To continue reading this wire and get unlimited access to Livewire, join for free now and become a more informed and confident investor.
Sarah has almost 30 years of experience across financial services, including 20 years focused on global listed infrastructure. She is an experienced portfolio manager, having successfully launched and managed several listed infrastructure funds including being involved in the build-out of two start-up listed infrastructure capabilities.
........
The content contained in this wire represents the opinions of the authors. The authors may hold either long or short positions in securities of various companies discussed in the article. This commentary in no way constitutes a solicitation of business or investment advice. It is intended solely as an avenue for the authors to express their personal views on investing and for the entertainment of the reader. This information is issued by Bennelong Funds Management Ltd (ABN 39 111 214 085, AFSL 296806) (BFML) in relation to the 4D Global Infrastructure Fund (AUD Hedged), the 4D Global Infrastructure Fund (Unhedged) and the 4D Emerging Markets Infrastructure Fund. The Funds are managed by 4D Infrastructure, a Bennelong boutique. This is general information only, and does not constitute financial, tax or legal advice or an offer or solicitation to subscribe for units in any fund of which BFML is the Trustee or Responsible Entity (Bennelong Fund). This information has been prepared without taking account of your objectives, financial situation or needs. Before acting on the information or deciding whether to acquire or hold a product, you should consider the appropriateness of the information based on your own objectives, financial situation or needs or consult a professional adviser. You should also consider the relevant Information Memorandum (IM) and or Product Disclosure Statement (PDS) which is available on the BFML website, bennelongfunds.com, or by phoning 1800 895 388 (AU) or 0800 442 304 (NZ). Information about the Target Market Determinations (TMDs) for the Bennelong Funds is available on the BFML website. BFML may receive management and or performance fees from the Bennelong Funds, details of which are also set out in the current IM and or PDS. BFML and the Bennelong Funds, their affiliates and associates accept no liability for any inaccurate, incomplete or omitted information of any kind or any losses caused by using this information. All investments carry risks. There can be no assurance that any Bennelong Fund will achieve its targeted rate of return and no guarantee against loss resulting from an investment in any Bennelong Fund. Past fund performance is not indicative of future performance. Information is current as at the date of this article. 4D Infrastructure Pty Ltd (ABN 26 604 979 259) is a Corporate Authorised Representative of BFML
---

Never miss an update
Get the latest insights from me in your inbox when they're published.
---
---
---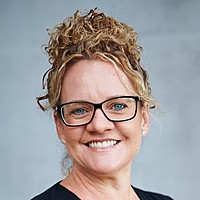 Global Portfolio Manager and Chief Investment Officer
4D Infrastructure
Sarah has almost 30 years of experience across financial services, including 20 years focused on global listed infrastructure. She is an experienced portfolio manager, having successfully launched and managed several listed infrastructure funds...
Expertise