Commonwealth budget tracking better than the government's forecast profile
---
Authored by Kieran Davies, Coolabah Capital Investments.

In this new report, we review our real-time tracking of the Commonwealth budget. Treasurer Frydenberg is expected to publish a budget update this week, with the Mid-year Economic and Fiscal Outlook (MYEFO) reportedly due on Thursday. Treasury's strong preference would be to publish no change to the outlook given the full budget was released in October, but we think it will trim its forecast for an underlying cash deficit in 2020-21, revising it by about $11bn from $214bn to around $203bn (or from 11.0 to about 10.4% of GDP), with an additional windfall in 2021-22 if iron ore prices stay high.
The anticipated revision reflects the net of:
While mindful that some of the underspend in early 2020-21 could reflect timing issues given the sheer scale of the government's fiscal stimulus, CCI's tracking and seasonal adjustment of the monthly budget data suggests there is a risk that the deficit turns out better than the expected MYEFO revision, barring a setback on the health front. On the downside, Australia's trade relationship with China continues to deteriorate and creates additional uncertainty around the outlook for trade and the broader economy. Once the MYEFO is published, the Australian Office of Financial Management should update its funding task for 2020-21, where it previously estimated Treasury bond issuance of around $240bn.
Download the full report here.
........
Investment Disclaimer Past performance does not assure future returns. All investments carry risks, including that the value of investments may vary, future returns may differ from past returns, and that your capital is not guaranteed. This information has been prepared by Coolabah Capital Investments Pty Ltd (ACN 153 327 872). It is general information only and is not intended to provide you with financial advice. You should not rely on any information herein in making any investment decisions. To the extent permitted by law, no liability is accepted for any loss or damage as a result of any reliance on this information. The Product Disclosure Statement (PDS) for the funds should be considered before deciding whether to acquire or hold units in it. A PDS for these products can be obtained by visiting www.coolabahcapital.com. Neither Coolabah Capital Investments Pty Ltd, EQT Responsible Entity Services Ltd (ACN 101 103 011), Equity Trustees Ltd (ACN 004 031 298) nor their respective shareholders, directors and associated businesses assume any liability to investors in connection with any investment in the funds, or guarantees the performance of any obligations to investors, the performance of the funds or any particular rate of return. The repayment of capital is not guaranteed. Investments in the funds are not deposits or liabilities of any of the above-mentioned parties, nor of any Authorised Deposit-taking Institution. The funds are subject to investment risks, which could include delays in repayment and/or loss of income and capital invested. Past performance is not an indicator of nor assures any future returns or risks. Coolabah Capital Institutional Investments Pty Ltd holds Australian Financial Services Licence No. 482238 and is an authorised representative #001277030 of EQT Responsible Entity Services Ltd that holds Australian Financial Services Licence No. 223271. Equity Trustees Ltd that holds Australian Financial Services Licence No. 240975. Forward-Looking Disclaimer This presentation contains some forward-looking information. These statements are not guarantees of future performance and undue reliance should not be placed on them. Such forward-looking statements necessarily involve known and unknown risks and uncertainties, which may cause actual performance and financial results in future periods to differ materially from any projections of future performance or result expressed or implied by such forward-looking statements. Although forward-looking statements contained in this presentation are based upon what Coolabah Capital Investments Pty Ltd believes are reasonable assumptions, there can be no assurance that forward-looking statements will prove to be accurate, as actual results and future events could differ materially from those anticipated in such statements. Coolabah Capital Investments Pty Ltd undertakes no obligation to update forward-looking statements if circumstances or management's estimates or opinions should change except as required by applicable securities laws. The reader is cautioned not to place undue reliance on forward-looking statements.
---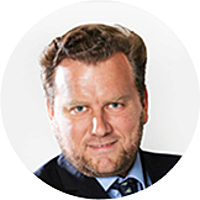 Portfolio Manager & Chief Investment Officer
Coolabah Capital
Chris co-founded Coolabah in 2011, which today runs $7 billion with a team of 33 executives focussed on generating credit alpha from mispricings across fixed-income markets. In 2019, Chris was selected as one of FE fundinfo's Top 10 "Alpha...