Growing Understanding of Commercial Opportunity - Cardinal Resources (ASX: CDV)
---
[big.chart - CDV.gif]Namdini Project Update
Cardinal Resources has endured both the ups and downs of the exploration sector over the past few months. There's no doubt that its Namdini project in Ghana hosts a gold deposit of significant size. The issue now is fully evaluating the metallurgical characteristics of the deposit in order to provide a clear picture of overall potential project economics.
Cardinal has managed to identify consistently wide zones of gold mineralization at Namdini, with the key feature being that the mineralization starts right from surface. This has important potential benefits from a mining and project commerciality perspective.
The Namdini deposit is vast in size – it has been intersected by drilling over a strike length of 1,000 metres, averaging between 200 and 300 metres in width, whilst also being traced to more than 350 metres vertical depth over the majority of its strike length. Significantly, it simultaneously continues to remain open at depth and along strike to the south.
Large Maiden JORC Resource
Consequently, the company during late 2016 announced a maiden JORC Resource estimate comprising  an impressive 110Mt @ 1.2g/t Au for 4.1Moz (0.4g/t Au lower cut-off). The Namdini maiden resource and the initial metallurgical results represent a major milestone for Cardinal and highlight the outstanding potential of the Namdini deposit, which remains open at depth and along strike. The company has four drill rigs onsite operating 24/7 to increase the size and confidence within the current resource.
The geometry of Namdini also appears favourable and can be expected to translate to a low strip-ratio open-pit mining opportunity with <2.5:1 strip ratio.
Metallurgical Results
Whilst the maiden Resource was impressive in terms of at least matching market expectations, the gloss was unfortunately taken off due to initially underwhelming metallurgical results.
The key findings from the initial test-work suggest that Namdini is amenable to beneficiation by flotation, with ~95% of the gold reporting to concentrate from a 2-3% mass pull. However, since a vast portion of the gold is associated with or hosted by sulphides (pyrite), it is partially refractory during cyanide leaching.
The preferred process flow-sheet back in January only achieve overall gold recoveries of <80%, which was well below expectations.
Getting things into perspective however is the fact that initial metallurgical results were generated from just one hole within the +1km long deposit complex - and as such might not be representative of the overall deposit. This has been reinforced by Cardinal's latest metallurgical results, which show that a number of conventional gold recovery improvement techniques have been identified to target overall gold recoveries >80% using a grind‐flotation‐regrind‐CIL flow-sheet, whilst oxide gold recovery is now >90%.
Results from the geometallurgical scan sampling program, based on approximately 9,300 metres of diamond drill-core covering the entire Namdini deposit, are being reviewed. The first set of data, tested on whole rock samples, has confirmed that the proposed conventional grind‐float‐regrind‐cyanidation flowsheet for Namdini is suitable for the entire deposit.
Technical Significance
This recent test-work has demonstrated very significant improvements from the first round of test-work results, which was based on a single drill-hole. The company remains confident that further significant improvements are achievable amd metallurgical optimisation will continue as Cardinal moves the maiden 4Moz Namdini Resource towards development status.
Representative metallurgical sample selection is underway for the entire deposit as part of the next phase of test-work. The resulting report and data due during Q2 2017, will be of a level sufficient to complete a feasibility study. Sensibly, the company should have undertaken this more representative evaluation before releasing any metallurgical results.
lts  is therefore in the process of completing a metallurgical scan over the entire deposit, with the aim of producing a multi-element model with cyanide leaching attributes that will be used to guide the next round of testwork.
Summary
We initiated coverage of Cardinal Resources during June 2016 around $0.29.
The recent release of the maiden resource estimate was a major milestone for the company. Importantly, the large and shallow mineralised system remains open and Cardinal has an extensional drilling program underway to further expand and improve resource confidence, which is largely Inferred (93%). We understand that Cardinal could be in a position to upgrade the resource during Q1 – Q2 2017.
The key issue however from a market perspective will remain improvements in metallurgical recoveries, with the market looking for a substantial improvement on the current level of less than 80%. This recent test-work has demonstrated very significant improvements from the first round of test-work results - and we (along with the rest of the market) keenly await further details.
---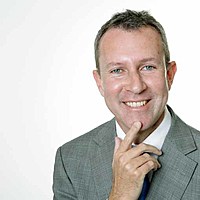 Founding Director
MineLife
Gavin has been a senior resources analyst following the mining and energy sectors for the past 25 years, working with Intersuisse and Fat Prophets. He is also the Executive Director, Mining & Metals with Independent Investment Research (IIR).
Expertise