How to get first access to the #1 stock picks for 2022
---
Each year we invite Livewire readers to participate in our 'Predictions and Top Picks'. It's a survey with a difference in which you get to test your views against the professional investors participating in our annual Outlook series, starting soon, and more of which below. 
We want to know your opinions on big-picture issues such as the outlook for interest rates, which asset classes are set to dominate the year ahead, as well as your top Aussie and Global stock picks for 2022. We would also love to get your input on how Livewire can help you become a more successful investor in 2022. The survey is meant to be a bit of fun and get you thinking.
And to show our appreciation, survey participants get first access to the #1 stock picks as well as a series of special reports to be released in early January. (See below.) And it's access worth getting. Over the past five years, our fundies have enjoyed remarkable success with their picks. And we're pretty confident in this year's group.

For this series, now in its sixth year, we've marshalled 18 of the best fundies from Sydney and (for the first time ever) Melbourne. They're a diverse bunch representing different investment styles and market expertise, from Aussie small caps to global leaders.
Before we introduce them, we thought it'd be fun to show you what they're up against by reviewing the performance of all their picks since the first Outlook Series in 2016.
Spoiler alert: our fundies know what they're talking about. Then, we'll tell you how you can get first access to them.
Five fine years of fundie favourites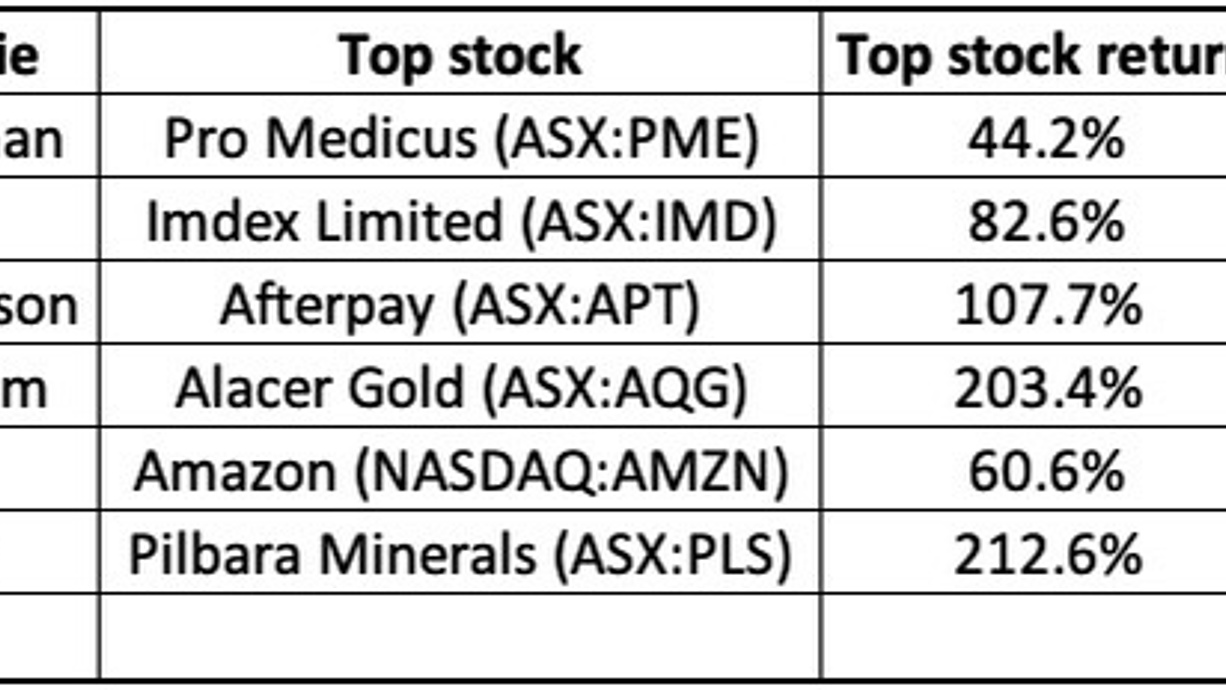 2016

Matthew Kidman singled out Pro Medicus, and boy was that a prescient call. 
"[It's] a little radiology company taking the world by storm, winning contracts, I think it can do very well in 2016," Kidman said at the time.
"Very well" puts it mildly, and it's not so little anymore.
When Kidman tipped them it was sitting at about $3.35. It's now trading at almost $60. That translates to a total return of 285.89% per annum from 2015 until now or $178,398 off an initial $10,000 investment.
Macquarie Group, championed by Ben Clark, has grown into a leading blue-chip stock. Traditionally known as an investment bank, it's now making waves in asset management as well as the mortgage space. It's provided a total return of 32.43% per annum since the beginning of 2016. But that doesn't do justice to its recent performance – over 55% in this year alone.
2017
Chris Stott romped it home with mining technology company Imdex.  
"They've de-levered the balance sheet and the capital structure has been cleaned up," Stott said at the time.
It returned a whopping 82.61% back in 2017, and it's still going great guns. In fact, Cooper Rogers from Wilson Asset Management recently stated that Imdex is a hold because it's so expensive. But they still like it.
Ben Clark has consistently picked winners in the years he's been involved in the Outlook Series. And 2017 was no exception. He went with small-cap software company Altium.
"Great management, structural growth in their industry, and they're growing faster and taking market share."
2018
2018 was a truly awful year for markets. The All Ordinaries and MSCI World Index returned -7.42% and -8.2% respectively.
Someone forgot to tell Richard 'Coppo' Coppleson, though, who picked soon-to-be market darling Afterpay. It ended up doubling in 2018 with a total return of 107.71%.
Coppo is alone at the peak of an otherwise barren wilderness. Every other stock pick finished the year in negative territory, and by quite a margin. With the exception of Aristocrat Leisure (-5.08%) and Emeco Holdings (-18.80%), all other stock picks finished the year around 40% in the red.
2019
2019 was the standout year. The picks collectively outperformed the Australian market by over 40%, thanks in large part to Alacer Gold (202.37% return) and Xero (90.39%). Well done to Dave Allingham from Eley Griffiths Group and Ben Clark from TMS Capital.
Only one stock out of five finished in the red – Murray River Group (-36.71%).
2020
Ben Clark's pick Amazon delivered a lot more than just packages in 2020. Its shareholders received a total return of 60% courtesy of the lockdown sugar hit the lockdown provided e-commerce.
The other big gainers also enjoyed direct exposure to the e-commerce boom.
Andrew Mitchell tipped City Chic Collective, a multi-channel retailer, and it returned 61.26%. Similarly, David Allingham from Eley Griffiths Group picked consumer payments platform Wisr, which returned 24.20%.
2021
Lithium plays ruled the roost in 2021. Two lithium miners, Pilbara Minerals and Galaxy Resources (which merged part way through the year with Orocobre) returned 210.34% and 136.77% respectively.
And Julia Weng picked both of them.
Interestingly, Pilbara is the best performing stock in the ASX 200 for 2021.

Overall, the 2021 picks delivered an average total return of 45.14%, when viewed as an equal-weighted portfolio. This is quite a feat when you consider that the S&P/ASX All Ordinaries and the MSCI World Index have returned roughly 11.47% and 16.65% respectively year to date.
Meantime, on the global front, Chris Demasi showed exceptional form with his two nominations for 2021. He went with two big investment powerhouses. Blackstone Group (NYSE:BX), which returned 120.66% for the year, and Carlyle Group (NYSE:CG) with an impressive return of 87.07%.
Equally-weighted ETF
One way to measure the performance of each year's picks is to give them the ETF treatment. In other words, treat each year's picks as a basket of equally-weighted stocks.
The "Livewire Outlook Fund", as we'll call it, eclipsed the Australian index every year except one – 2018, when it basically matched it.
Had you bought Livewire's Outlook Fund each year and held it for the full year, you'd get an average total return of 25.67% - spectacular performance in anyone's book. It beats the All Ords almost four times over and clears the MSCI Global index by roughly 7%. (It's also worth noting that most of the fundies picked domestic Aussie equities, so a comparison to the Aussie market rather than global market makes more sense.)
Another way to gauge the picks is by hit rate - the percentage of stock picks that finished the year in the black. Five of six years saw the hit rate above 50%. In fact, only one year saw the fundies shoot wide of the mark with a hit rate of 17% - 2018.
Taken together, our fundies achieved an average hit rate of 68%, or almost seven in ten picks.
Despite the leap of faith made by the fundies, their picks have proven to be a treasure trove of good ideas.
The line-up of fund managers for next year's picks is a special one. Their collective wealth of expertise is something you won't want to miss out on. 
Sydney
Melbourne
First access to the #1 stock tips for 2022
To get first access to  #1 stock picks for 2022, please complete the 2022 Reader Predictions and Top Picks Survey here 

---
Never miss an update

Enjoy this wire? 
Hit the 'like' button to let us know. Stay up to date with my content by hitting the 'follow' button below and you'll be notified every time I post a wire. 
---

Follow David Thornton's wires
---
---
28 contributors mentioned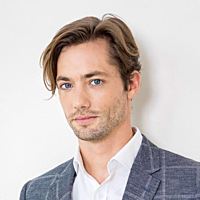 Content Editor
Livewire Markets
David is a content editor at Livewire Markets. He currently hosts The Rules of Investing, a half hour podcast where he sits down with leading experts across equities, fixed income and macro.
Expertise