Media Worth Consuming – October 2021
---
Top 5 Articles
How Evergrande's financial problems could spill over into banks, insurers and the Chinese stock market.
Tesla has the same market capitalisation as the ten largest car makers combined but only a 1.2% market share.
The RBA's credibility has been shredded by bond vigilantes.
Cutting methane emissions is arguably more important and easier than cutting carbon emissions in reducing global warming.
At sporting events across America, fans are "apparently" chanting "Let's go Brandon" in support of Nascar driver Brandon Brown.
Charts of the month
The two charts below highlight the substantial change in appetite for the junkiest debt over the last 18 months. Firstly, spreads over treasuries on American CCC rated high yield bonds went from around 10% pre-pandemic to a peak of close to 20% in March 2020 and are now at 6.48%.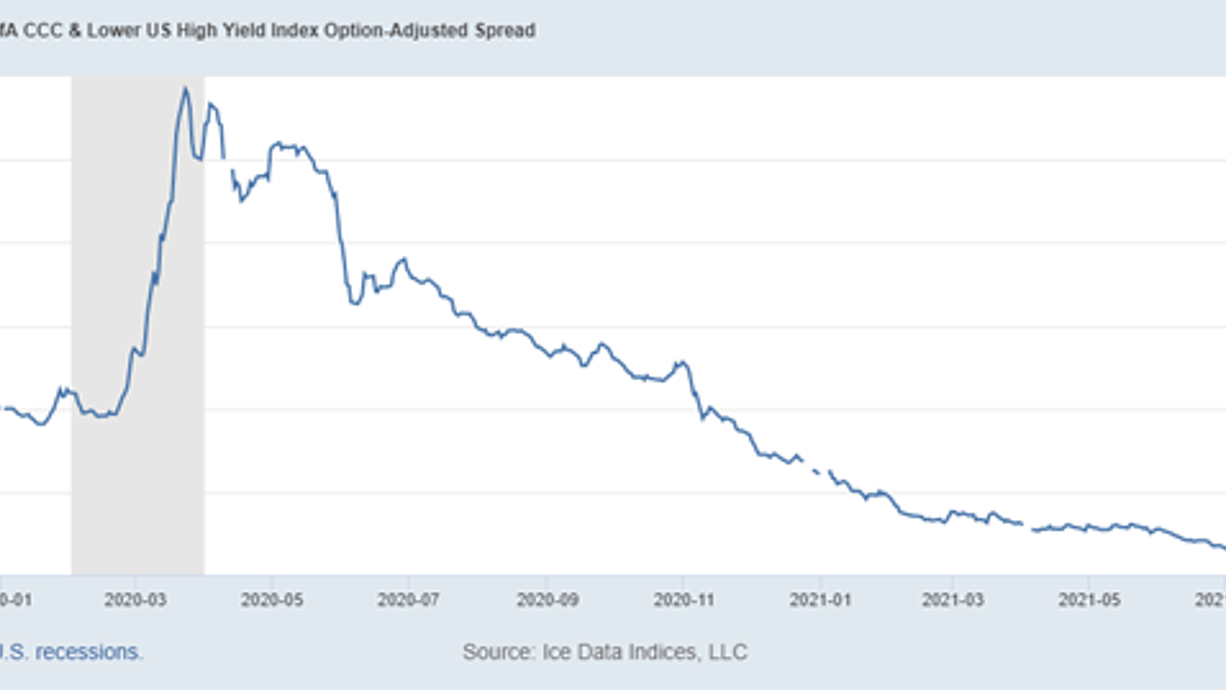 Second, global CCC rated debt issuance is having a record smashing year. It's already well above last year with two months of issuance still to go. The number of first time issuers is also at a record high.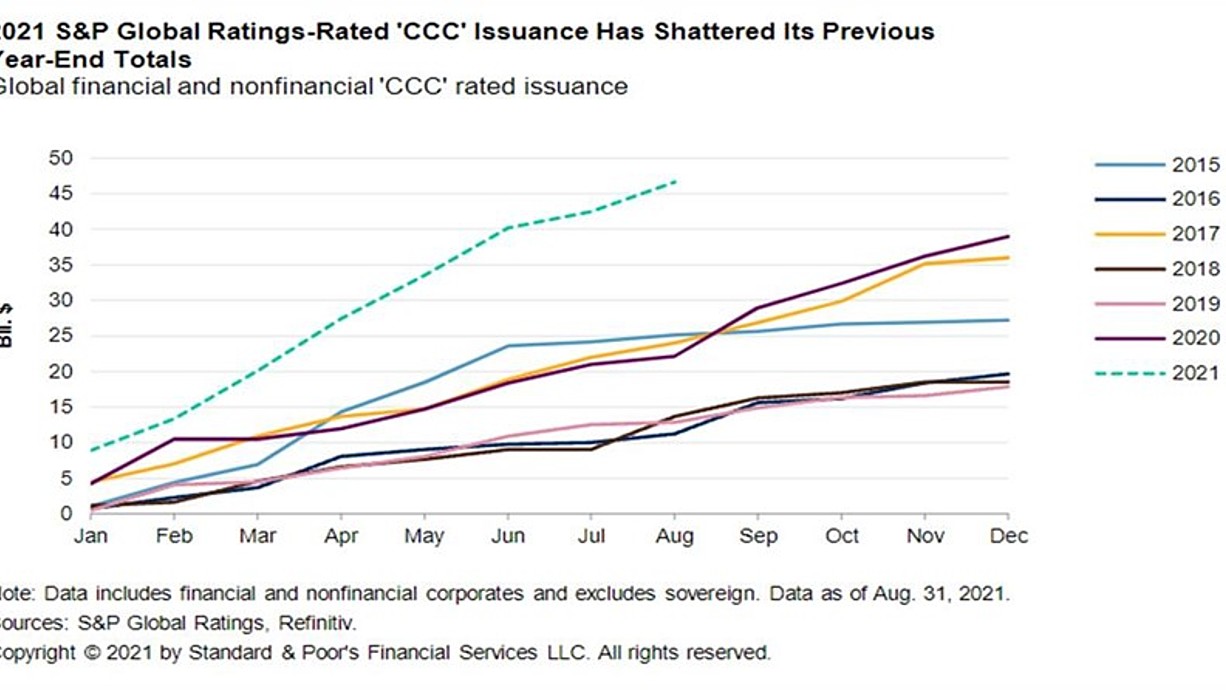 What these charts don't show is the rise in covenant light and PIK toggle features, making the debt riskier whilst typically still having the same headline credit rating. These all point to the market's risk appetite being elevated with limited margin to cover any potential increase in default rates from the current below average levels.
Here's the long list of the most interesting and under the radar articles I came across this month.
Finance
The US stock market is seeing a record amount of speculative trading but also record investment in index funds. More than 60% of growth stocks in the Russell 3000 don't make a profit, but this group has recorded fantastic gains in recent years. The FTSE 100 index has barely increased since 1999. US executives purchasing shares in their own companies outperform the market by 5% over the next 12 months.
The CTFC has paid out $200 million to a whistleblower for information on Deutsche Bank's Libor manipulation. Credit Suisse will pay $475 million in fines for the tuna bonds scandal and has been criticised for spying on seven former employees. A digital media company seeking an investment from Goldman Sachs faked a meeting with a YouTube executive to bolster its claims of huge subscriber numbers. Zillow's algorithm for buying homes to flip has frequently overpaid leaving the company with a backlog of homes to repair.
Evergrande's problems are spilling over with Chinese sub-investment grade debt issuance down 90%. The Chinese government is working to ring fence Evergrande, not save it, pointing to offshore bondholders being at the back of the line. Jim Chanos thinks China's best days are behind it, but others see the Evergrande situation as contained. Chinese home sales have slumped with prices falling. Five wider lessons from Evergrande's collapse.
46% of global US dollar distressed debt is from Chinese property developers. It's only when Chinese companies default that their "off balance sheet" private debt becomes known. The murky world of keepwell deeds for Chinese borrowers. China's hidden local government debt is estimated to be more than half the country's GDP.
Nobody seems to know where Tether's $69 billion of assets are, with claims some of it was invested in Evergrande debt. Unsurprisingly, it has been fined $41 million for lying about its reserves. After a botched upgrade, a DeFi platform paid out $90 million to users and is now begging and threatening them to get it back. Bhutan is planning to test a digital currency, which could prove ideal for the sparsely populated nation. Investing in shares is similar to NFTs, except shares deliver cashflows.
Politics & Culture
The Australian government squandered almost $40 billion on job support payments to employers who didn't meet the criteria. Joe Biden's claim that the $3.5 trillion infrastructure plan will cost zero ignores basic maths and economics. Democrats claim they can find rich people cheating on their taxes by snooping on poor people. The US Navy is threatening to fire unvaccinated Navy Seals and make them repay the cost of their training. A US marine has been locked up after calling for accountability over the disastrous Afghanistan withdrawal. The US has 750 international bases housing 173,000 troops. American states are restricting travel and commerce based on spurious reasons.
A Texas law that makes it illegal for social media companies to remove users based on their political views is likely to fail on free speech grounds. McKinsey has failed to provide evidence to back its claims that diversity in workplaces makes companies more profitable. Antifa is a violent organisation, with the journalist who documents its activities having the personal injuries to prove it.
Foreigners travelling to China run the risk of being jailed for arbitrary reasons and used as diplomatic hostages. The Chinese government has blocked Boston Celtics games from being streamed in China after one of the players called President Xi a "brutal dictator" and demanded freedom for Tibet. Afghanistan is running out of cash and food.
Economics & Work
American inflation is proving far more persistent than generally expected with American consumers now expecting high and persistent inflation. Dollar Tree has given up fighting inflation and will now sell products costing more than $1. Why is the Federal Reserve still implementing aggressive monetary policies when inflation is way above target? The US has defaulted on its debts four times, providing good reason to be sceptical that it won't do it again. Every time the US faces a debt limit standoff, people start talking about minting a trillion dollar coin. The BOJ's QE program ended in early 2021 with the debt held falling slightly since then.
Job openings and the quit rate in the US are at record highs, pointing to strong wage growth ahead. The Bank of Sweden Prize in Economic Sciences has been awarded to three American economists for their work on natural experiments. However, the widely referenced minimum wage study two of them are famous for has been debunked. A Californian local government raised minimum wages and then saw a wave of restaurant closures with those remaining opening eliminating table service.
America is hugely prosperous and people claiming that "capitalism needs to be fixed" ignore the obvious abundance around them and relative poverty elsewhere. Free markets have made society richer, with countries that pursue small government and freer markets doing best. In the long run, economies need higher interest rates to prosper.
Much of the blame for supply shortages and inflation lies with poor government policies. Supply chains have struggled to accommodate the increase in demand for goods as consumers reduced their services spending in the pandemic. Increasing inventories raise the possibility that the global semiconductor shortage could turn into a glut.
Sweden pays for its higher levels of social spending by taxing the poor. Few Americans are listed in the Pandora papers due to lower US tax rates and less corruption. After Trump cut the US corporate tax rate from 35% to 21%, the amount of tax collected barely fell. 65% of Swiss voters said no to a tax increase on dividends, capital gains and rents. Taxing unrealised capital gains is hugely problematic. For every $1 of increased taxes, the US economy is estimated to shrink by $2.18-2.96.
Miscellaneous
In the lead up to the climate change summit, major economies are ramping up their purchases of fossil fuels in part due to the failure of wind generation and policies that shut down nuclear power. China is responsible for 27% of greenhouse gas emissions but President Xi won't be attending this year's climate conference. Climate promises are cheap, emissions reduction is expensive. Trump said he would make coal great again, but under Biden it is actually happening as the global energy shortage pushes countries to grab whatever power source they can.
Provinces representing 66% of China's GDP are rationing electricity with rolling blackouts expected across China in the months ahead. The demand and supply changes that have led to China's energy crisis. Recycled lithium batteries can be as good or better than new batteries. The graphic that shows how much of each metal is mined each year.
There's a wave of Chinese soccer teams shutting down or failing to pay player salaries. Amazon copied products and rigged search results to favour its own products in India and the company is also alleged to have committed systemic wage theft from its poorest employees in the US.
Hospitals should hire people who have recovered from Covid, not fire them for not getting a vaccine. Despite vaping being far less dangerous than smoking cigarettes governments keep trying to ban it. New studies point to diet soda increasing people's appetite for high calorie food. If you want to have an opinion, try knowing the other side's argument better than they do.
Two geniuses have paid less than $200 per year to eat two meals a day at the Six Flags amusement park. A Chinese woman brought 23 members of her family on a date to "test her date's generosity" but got caught out when the man was only willing to pay for his own meal. A short review of the Korean hit show "Squid Game".
A €1 million literary prize was won by a woman who turned out to be three men writing under a pseudonym. A Danish artist scammed a museum out of $84,000 with a rubbish piece of work titled "take the money and run". A Victorian gardener has set a new record by grafting 10 stone fruits into one tree. The world record for a ride on lawn mower has just been set at 230 kilometres per hour. 
........
This article has been prepared for educational purposes and is in no way meant to be a substitute for professional and tailored financial advice. It contains information derived and sourced from a broad list of third parties and has been prepared on the basis that this third party information is accurate. This article expresses the views of the author at a point in time, and such views may change in the future with no obligation on Narrow Road Capital or the author to publicly update these views. Narrow Road Capital advises on and invests in a wide range of securities, including securities linked to the performance of various companies and financial institutions.
---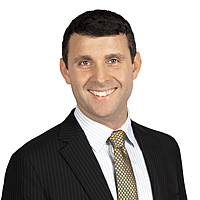 Portfolio Manager
Narrow Road Capital
Narrow Road Capital is a credit manager with a track record of higher returns and lower fees on Australian credit investments. Clients include institutions, not for profits and family offices.
Expertise