Monash switches to offence as green shoots emerge on the ASX
---
There's been a lot of gloom and doom this year – but reports handed down this August were far from disappointing. Several companies returned record profits and revenues, even if margins were tighter in the August reporting season. There's also some indication we may have passed the peak in oil prices, and monthly rate hikes of 50 basis points may be a thing of the past.
In a webinar for investors on Tuesday, Simon Shields, Portfolio Manager for Monash Investors, pointed to a few promising surprises for investors in the latest reporting season and for the coming year.
Consumers are still spending
One of the biggest surprises this year has been consumer spending. Between rising inflation and rising interest rates, most critics expected discretionary spending to take a nose-dive. According to Shields, it has held up.
"In fact, household spending remained relatively constant, only lagging travel and entertainment spending. Whether consumer spending continues to hold up is an open question though."
This has been supported by the latest RBA figures showing that discretionary spending increased by 19.8%, largely driven by spending in recreation and culture, along with clothing and footwear. Despite rising inflation driving price hikes, Australians have a large savings buffer which has allowed them to continue to spend.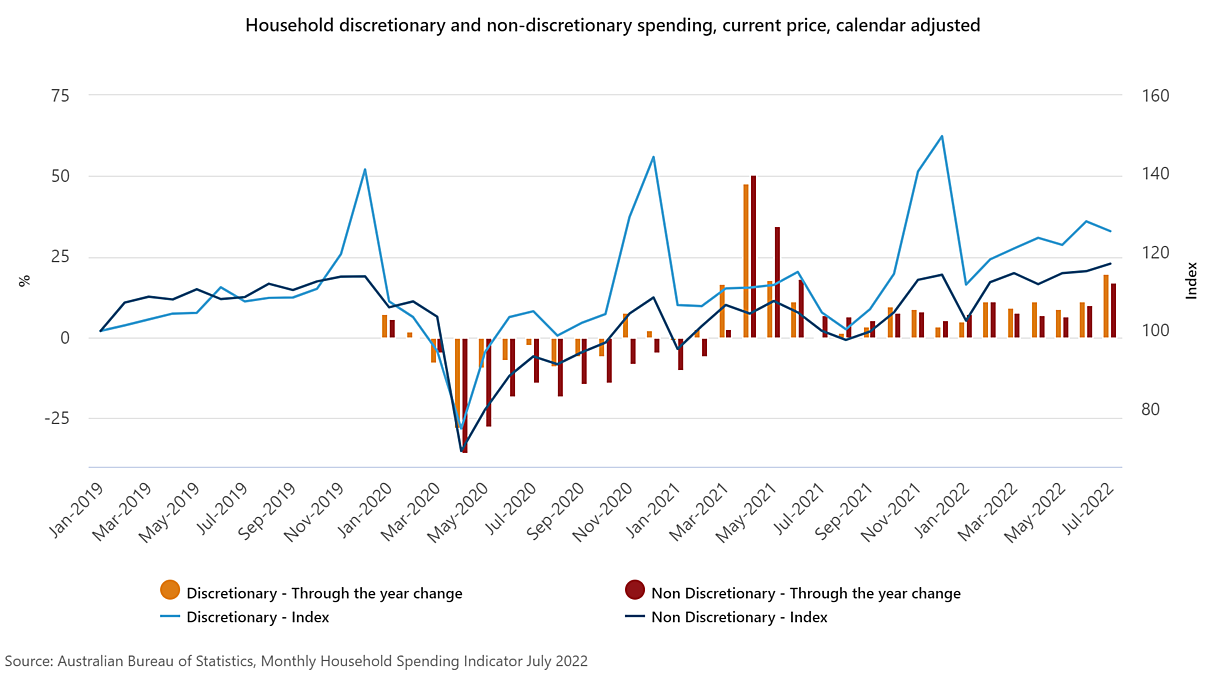 As a result, the same companies that commentators expected to suffer this year – and were accordingly punished in their share prices – offered revenue rises and profits.
One example of this has been Lovisa (ASX: LOV), a runaway hit for Monash this year. You can read more about Lovisa's full year report in this article by my colleague David Thornton. Lovisa sells cheap jewellery, with a rapid inventory turnover. Shields calls it the "Zara of jewellery". It has also been in a process of rapid store expansion across Australia.
Simon notes that the market often misprices companies in the process of large-scale store rollouts like Lovisa. Past examples of this have been Harvey Norman (ASX: HVN), JB HiFi (ASX: JBH) and Flight Centre (ASX: FLT), all which saw share price jumps as the market started to process the returns on the store rollouts.
"There's a payback of about one year on every new store that Lovisa opens. It's already opened 22 new stores this financial year. We expect the store growth to pick up and share prices to reach $40."
Finding opportunities in market fears
Another consumer-driven stock previously punished by the market was homewares e-retailer Temple & Webster (ASX: TPW) which offered bumper returns. Monash Investors actually took the opportunity to add this stock to the portfolio this year, viewing it as undervalued for a best-in-class company. This was one of five positions added to their portfolios this year. Other positions added included: IDP Education (ASX: IEL), Johns Lyng (ASX: JLG), James Hardie (ASX: JHX) and REA Group (ASX: REA).
Monash Investors noted that prices for these companies didn't match the underlying fundamentals. It was yet another case of market fears playing out, this time due to interest rate hikes.
"The change in market expectations at the start of the year was sharp and sudden, which meant we were able to pick up some great companies cheaply."
The time may have moved already for investors hoping for more bargains. Shields suggests interest rate moves will be less dramatic going forward. We may even see the US Federal Reserve pause rates towards the end of the year and see inflation normalise to around 4%. Don't get excited about rate drops yet though, we're far from that at this stage. Shields cautions that we were in unprecedented times previously and cash rates near zero wouldn't otherwise be considered normal (or desirable). Rate hikes were always going to be a necessity.
Have we passed the oil price peak?
One of the other major themes of the year has been energy prices and the good news is that Shields believes we've passed the peak in oil prices. They are unlikely to fall too much but should stabilise.
"Normally when oil prices rise, supply then rises over about four years. The ESG streak has discouraged new builds, expansion of supply and exploration so it will take longer than four years for supply to meet demand."
The US has been selling around 1 million barrels a day from its strategic reserve which has helped manage supply issues and pricing of late.
The underlying conditions mean that oil prices will remain strong so Monash Investors have maintained exposure to the oil and gas sectors in their portfolios through companies like Woodside Petroleum (ASX: WDS) and Santos (ASX: STO).
Positioning for the coming year
Monash Investors are positive on the overall opportunities in the coming year – their portfolio is high conviction with 63% of the portfolio concentrated in 14 stocks.
As a long-short manager, they do have the ability to move exposures to buffer against market activity but predominantly have long exposure at the moment (net exposure is 81% at 31 August 2022). This is quite a contrast to six months ago. In March this year, they shorted 11 companies resulting in a net exposure of only around 44%. In this period, the ASX actually fell 11.9%. The decision to short was largely protective for Monash's portfolios.
Find out more about Monash's investment approach by visiting either of the fund profiles below:

ETF
Monash Absolute Active Trust (Hedge Fund)
Australian Shares

Managed Fund
Monash Absolute Investment Fund
Australian Shares