So far, the new reign of political populism has been embraced by markets with risk assets rallying sharply in the wake of unexpected upsets like 'Brexit', Trump and the Italian Referendum. The outcome of the latter barely registered as a blip on the bulls' radar, despite being touted as one of major possible left-tail event risks in the lead-up to the vote. This underscores the idea that markets may be incorrectly pricing downside political risks as they seemingly embrace the unknown.
This was also exemplified by the reaction to one of the major market-moving events during January. This was not a comment from Yellen, or what has traditionally been the most important piece of economic data, US Non-Farm Payrolls. Rather, it was the 'Hard Brexit' speech delivered by the recently-inducted British PM Theresa May. After an initial drop, the GBP/USD's ensuing recovery was the largest intraday percentage change in any major currency pair for the month (3.1%).
Looking ahead, there is a plethora of political risk on the horizon. Already, during its first month in office the Trump Administration's decisions have proven as controversial as its election campaign. In Europe, Brexit concerns are poised to flare as promises become reality. At the same time, anti-EU sentiment and populism are a growing threat as Germany and France head to the polls.
For better or worse, it appears Trump and a colourful cast of European election candidates are likely to continue dominating dinner table talk as Yellen's latest punctuation change falls off the conversation menu. The switch marks an even more uncertain and unpredictable investment landscape, one in which complacency over downside risks may prove costly.
Read more about this shift in market psychology, as well as how China's trade "cheating" helped Trump to victory in my latest newsletter:  (VIEW LINK)
---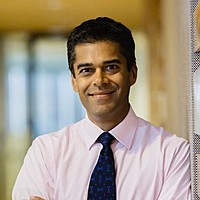 Head of Income & Fixed Interest
Pendal Group
Appointed Head of Income & Fixed Interest in June 2010, Vimal is responsible for setting strategy, processes and risk management. He oversees $16.4 billion invested across Income, Composite, Pure Alpha, Global and Australian Government strategies.
Expertise