Should Warren Buffett Buy the Banks?
---
In The AFR I offer Warren Buffett gratis advice on whether he should buy into the major banks, comparing them to his existing bank portfolio (incl. Wells Fargo, U.S. Bancorp, Goldmans, Bank of America, and BNY Mellon). Buffet loves banks with strong returns on assets (RoAs) that command a valuation premium on a price-to-book basis. The problem is the major's RoAs of 0.9% are well below their two closest comparables, Wells Fargo and U.S. Bancorp. And yet the majors are significantly more expensive on a price-to-book basis. So what gives? I show that it's due to the majors carrying 65%-75% more leverage than Buffett's US banks, which allows them to punch out substantially higher returns on equity. After demonstrating the majors true leverage is actually about 27 times I find the big four are short about $40-45 billion in common equity tier one capital based on looming regulatory changes. Even assuming some repricing of deposits and loans, I expect a 2 percentage point decline in RoEs as leverage declines, which implies the majors are about 18.5% overvalued. (VIEW LINK)
---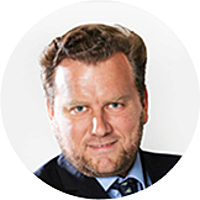 Portfolio Manager & Chief Investment Officer
Coolabah Capital
Chris co-founded Coolabah in 2011, which today runs $7 billion with a team of 33 executives focussed on generating credit alpha from mispricings across fixed-income markets. In 2019, Chris was selected as one of FE fundinfo's Top 10 "Alpha...