The Match Out: ASX down, although small caps fire, Pinnacle (PNI) reports & rallies
---
While large-cap Australian shares fell today, the small caps took over the performance mantle with some big moves playing out across the growthier parts of the market, the small ords added +0.83% versus the ASX 200 which fell by 0.32% although the selling was very tepid. Putting that variance in real terms, that saw our emerging companies portfolio add around ~3.70% versus the large-cap growth portfolio which fell by around ~0.10% - some performance catch up after a fairly brutal time in the smaller part of the market + it's a sign that some risk appetite is now returning to the fold after the ASX has rallied ~9% from the recent lows.
The S&P/ASX 200 fell -22 points / -0.32% to close at 6975.
IT (+2.18%) & Materials (+0.35%) the clear standouts on the upside – all other sectors fell.
Consumer Discretionary (-1.23%) and Staples (-0.92%) the weakest links.
Bond proxies like APA Group (ASX: APA) –1.66% fell after US yields stormed higher overnight, the 10-year up 17bps was a big move as Fed members guided the market to more rate hikes (even though bonds are saying we should expect less aggressive ones).
Pinnacle Investment Management (ASX: PNI) +12.21% stormed higher on their FY22 results, we own and cover below.
Genworth (ASX: GMA) +2.08% out with 1H numbers, the stock hit early and recovered late, a notoriously difficult result to decipher easily, capital remains very strong for GMA.
Lithium stocks edged higher after Pilbara (ASX: PLS) scored a good price at an auction of their cargo.
Aussie Broadband (ASX: ABB) +4.98% bounced back after a tough 2 days following their quarterly – while it wasn't great in terms of connection volumes, the ability for management to protect earnings was positive – we still like it.
Orica (ASX: ORI) Halted pending the outcome of a $650m capital raise as they spend $260m upfront to buy Axis Mining Technology, a company that uses geospatial technology to help miners find ore bodies before doing expensive drilling.
Lynas (ASX: LYC) +7.55% was strong after announcing a $500m expansion of the Mt Weld mine - this is a demand-driven expansion which is what we want to see!
Reporting Season is now underway, pdf is attached for the Market Matters Reporting Calendar.
Iron ore futures were marginally higher in Asia, up less than 1%.
Gold was up after a softer session overnight, trading US$1768/oz at our close.
Asian markets were mixed, the Nikkei in Japan added +0.25%, while Hong Kong rose +0.70% and China fell -0.65%.
US Futures are all higher, but not by a lot.
Keep an eye out for a strong move in PayPal (NASDAQ: PYPL US) after a strong update after market yesterday.
ASX 200 Chart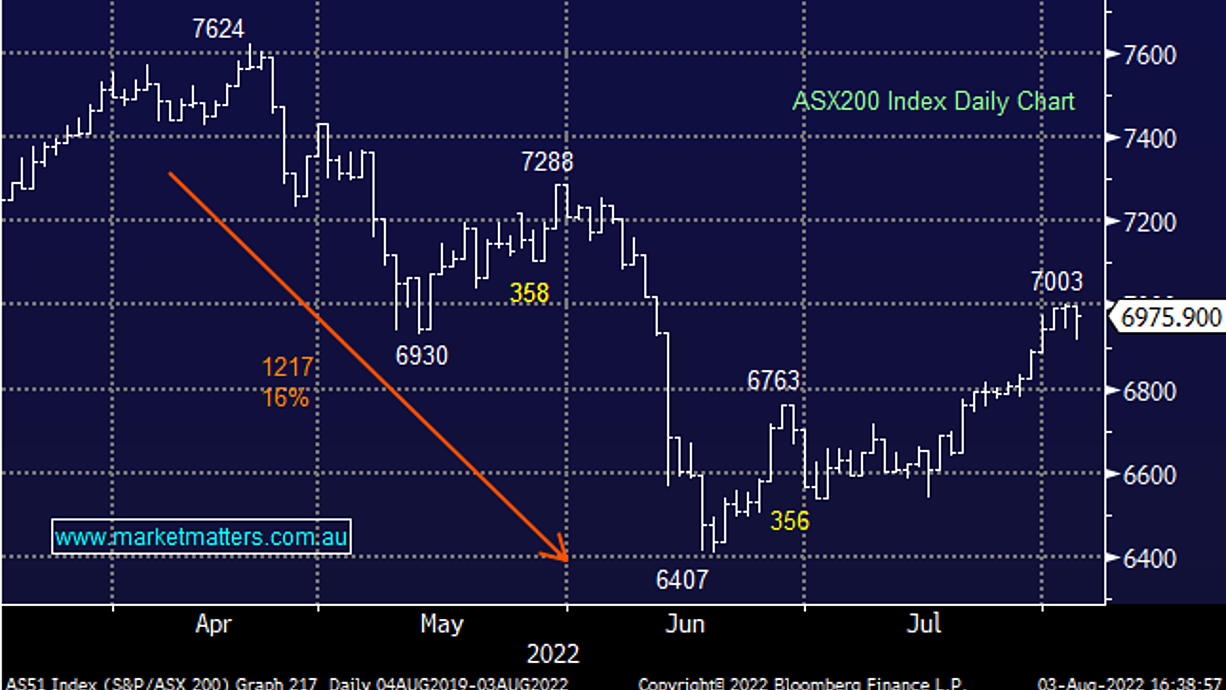 Earnings Calendar
Market Matters has compiled a calendar of upcoming earnings dates for FY22. Some dates will invariably change from company's however it serves as a guide, with August 24 & 25 being particularly big days. As always, Market Matters will bring subscribers all our Analysis + Opinions + Actions on the stocks that we own, or are looking to buy or sell
Market Matters Earnings Calendar Attached
Pinnacle Investment Management (PNI) $11.30
PNI +12.21%:Released FY22 earnings today were a whisker below consensus expectations at the profit line, printing $76.4m versus $77.4m expected while the 17.5c dividend was a touch above. They talked to a strong 1H in terms of flows and a weak 2H which is understandable, with Funds Under Management (FUM) down overall for the year, the first time since FY12. The fall in FUM came from market weakness and the mix of FUM inflows actually helped margins given a skew towards retail money. Additionally, Pinnacle managed their cost base well, showing flexibility in volatile markets while still driving investment inflows which led to profit growth of 14% in the year despite the fall in FUM. The company still has around $120m of investible dry powder to continue to expand their footprint while the market only had very tepid growth penciled in for FY23 – so upgrades here are likely.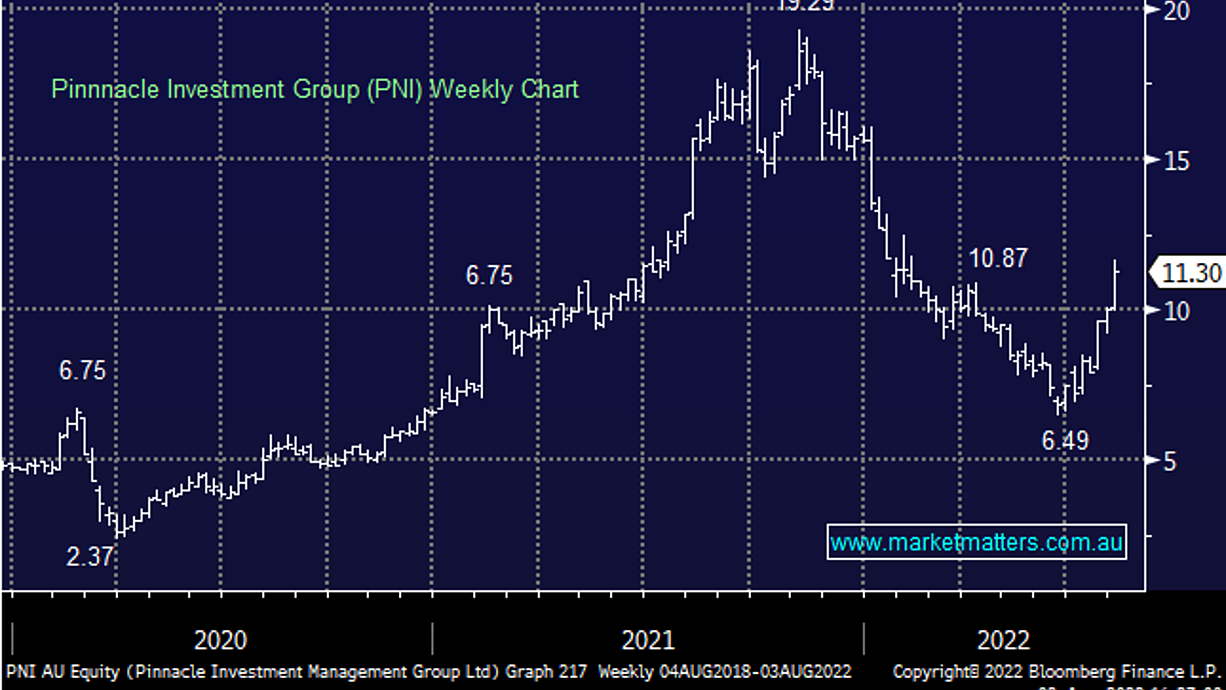 Pilbara Minerals (PLS) $2.80
PLS 2.19%: The Lithium miner started off a process of auctioning small parcels of spodumene concentrate (~5.5% lithium content) via the Battery Metals Exchange (BMX) platform in July 2021 to provide a read on market pricing and improve transparency. Since then, they have completed a total of 8 auctions including one yesterday. The latest price achieved was up on the last one, but a shade below all-time highs. There was strong interest and bidding by a broad range of qualified buyers with a total of 67 bids received online during the 30-minute auction window. Outside of this auction, prices have moved higher as measured by three of the key price reporting agencies – Benchmark Mineral Intelligence, Fastmarkets (MB) and Asian Metals, however, there is an interesting recent disconnect between commodity prices and stocks, with the stocks significantly trailing the price of the commodity. We all know that doesn't work for long, so either stocks rally or commodity prices come down – or the more likely scenario is a bit of both plays out.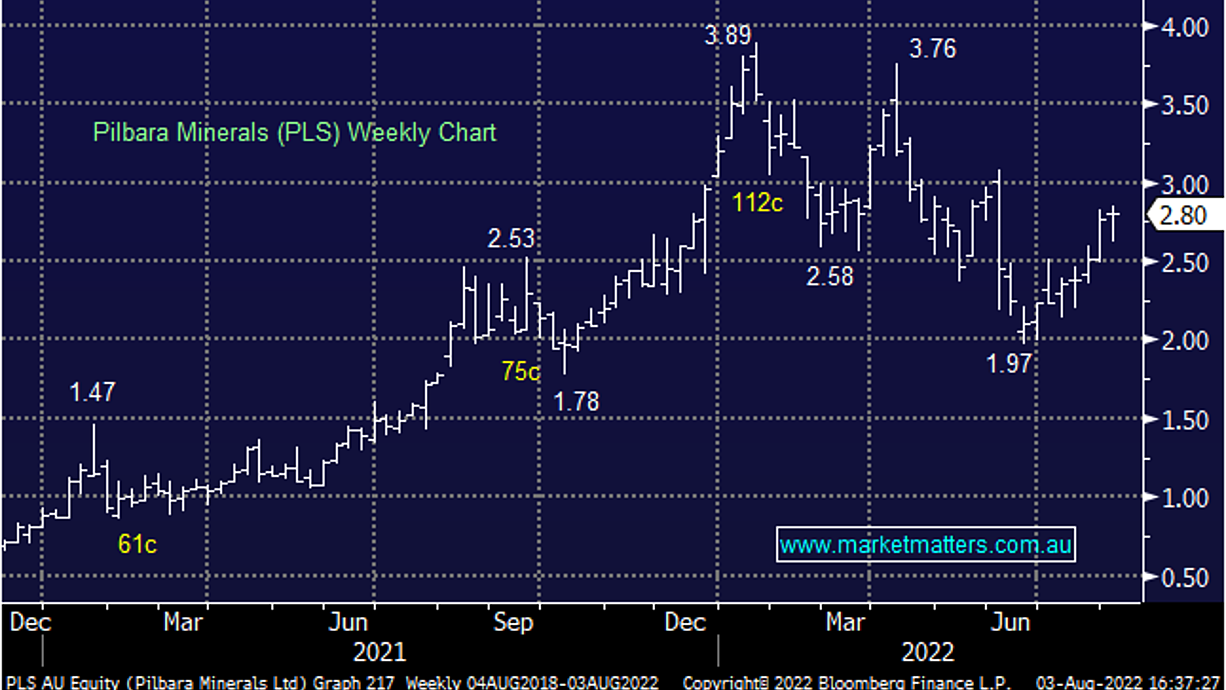 Broker Moves
Virgin Money UK GDRs Raised to Outperform at Macquarie
Appen Cut to Underperform at Macquarie; PT A$3.50
United Malt Cut to Market-Weight at Wilsons; PT A$3.01
Major Movers Today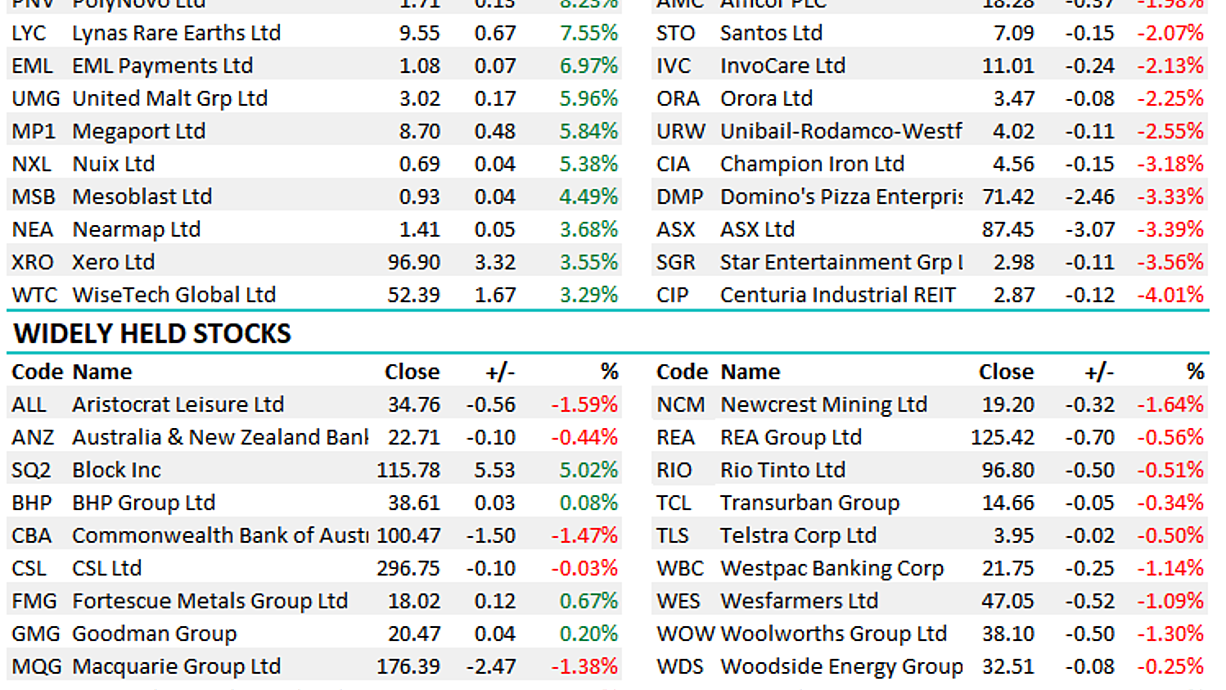 Enjoy your night
The Market Matters Team
---
Make informed investment decisions
At Market Matters, we write a straight-talking, concise, twice-daily note about our experiences, the stocks we like, the stocks we don't, the themes that you should be across and the risks as we see them. Click here for your free trial.
The Match Out will be available each day after the market close. Follow my profile to be notified when the latest report is live.