The Match Out: ASX down, Inghams (ING) call out staffing issues, ARB Corp (ARP) downgraded
---
A weak session for Aussie stocks today underperforming most Asian markets while US Futures were also fairly muted throughout our session. Weakness was widespread with only the Material stocks closing a few ticks into the green. Supply chain issues are starting to hurt and this is evident amongst the supermarkets and the companies that supply them, Inghams (ASX:ING) the latest to flag production problems.
The ASX 200 fell ~57points / -0.76% to 7390.
Materials (+0.03%) the only sector up while Consumer Staples led the line on the downside off by 2.13%.
On the economic front today, data showed the Australian Trade Balance was a touch light on v expectations, Retail Sales though were strong +7.3% v +3.6% expected MoM.
ARB Corb (ASX:ARB) -12.31% was hit on the back of a broker downgrade, Credit Suisse cutting to sell equivalent and $38 price target. The stock closed at $46.32 today. Consensus PT for ARB is $44.49.
Polynovo (ASX:PNV) +25.17% rallied hard after reporting record US sales in December of $3.4bn, up 76% on the same time last year.
Inghams (ING) -5.95% fell on production issues, they're finding it hard to get enough staff.
Pointsbet (ASX:PBH) +3.35% rallied on a good announcement, Harry covers off below – this has been a very weak holding for our Emerging Companies Portfolio.
A few of the recent dogs continued to rally – AGL Energy (ASX:AGL) +2.05% hitting a $7 high, Magellan (ASX:MFG) up +2.72% as the recovery trickles away.
Alumina (ASX:AWC) +3.88% also caught our eye today with the stock looking bullish after a tough period – certainly one we would buy if we did not already own it.
Iron Ore was up 2% in Asia today.
Gold was also higher trading at US$1807 at our close.
Asian markets a mixed bunch, Nikkei in Japan lower (-0.91%) while Hong Kong was up +0.28%, China fell (-0.70%).
US Futures are mostly flat.
ASX 200 Chart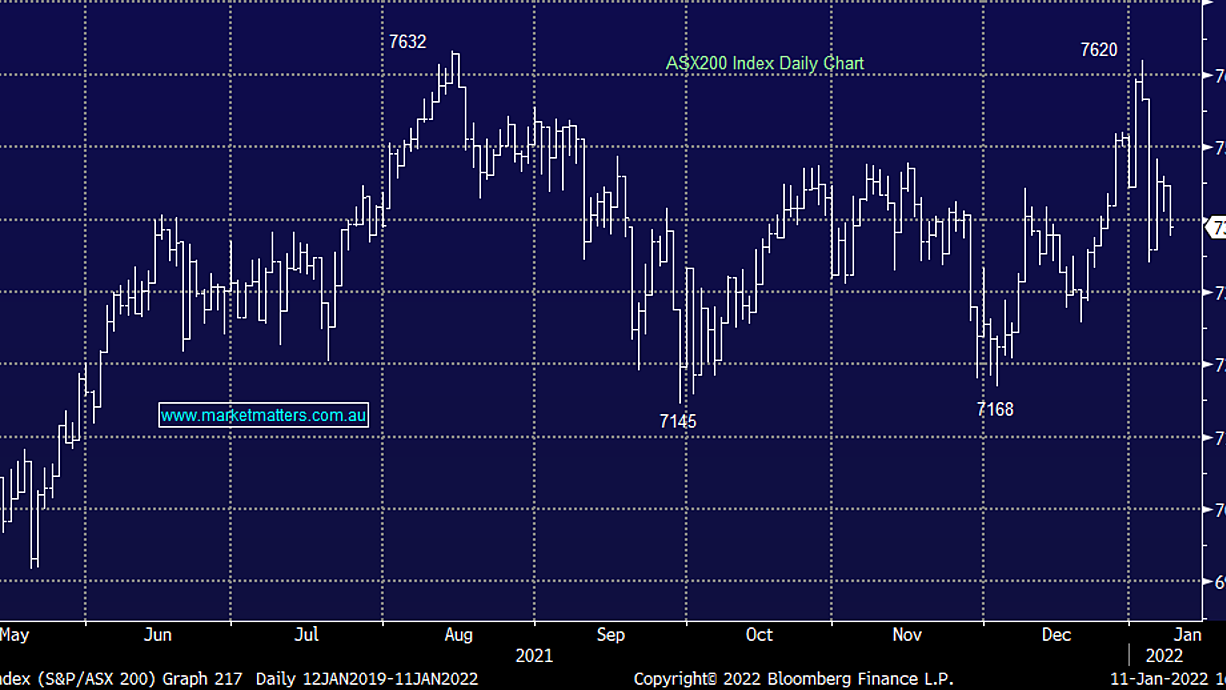 Inghams Group $3.32
ING 5.95%: The chicken producer was out today with an update on the impacts of Omicron on their operations, and while it's premature to draw any conclusions on the overall financial hit, we suspect there are many businesses across the country experiencing similar issues. In terms of ING, and this is why finding chicken in the supermarket will be tough for a while, they say isolation rules have disrupted production and distribution capability and impacted sales. While their sites are operational they have significantly lower levels of staff availability and that prompted them to change their production schedules. The stock was down sharply as a result although the market collectively remains bullish with 6 buys, 5 holds and 0 sells with a consensus price target of $4.16, about 25% above current levels.

MM likes ING into current weakness as a high yield defensive stock.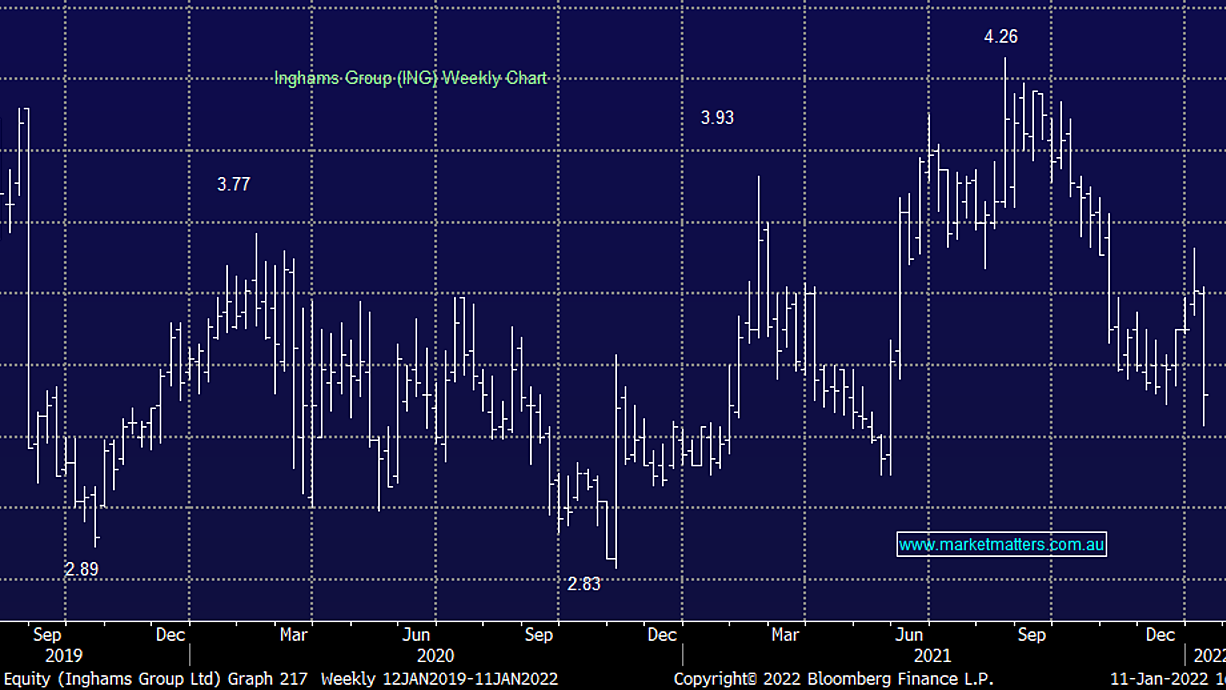 PointsBet $6.43
PBH +3.54%: the sports wagering business bounced today after announcing pre-registrations had opened in New York ahead of the final approvals from the New York State Gaming Commission. While the launch isn't expected until the end of the month, PointsBet have been authorised to get the ball rolling. They also announced a deal with the NHL Alumni Association, the largest membership group of retired NHL players in Canada. The partnership will promote safe wagering working in tandem with PointsBet's agreement in the NHL. While it's been a very tough period for PBH in terms of share price, and the position is our weakest of the Emerging Companies portfolio, we do remain positive that the business has got operational momentum in a large, albeit competitive market.
MM remains optimistic on PBH.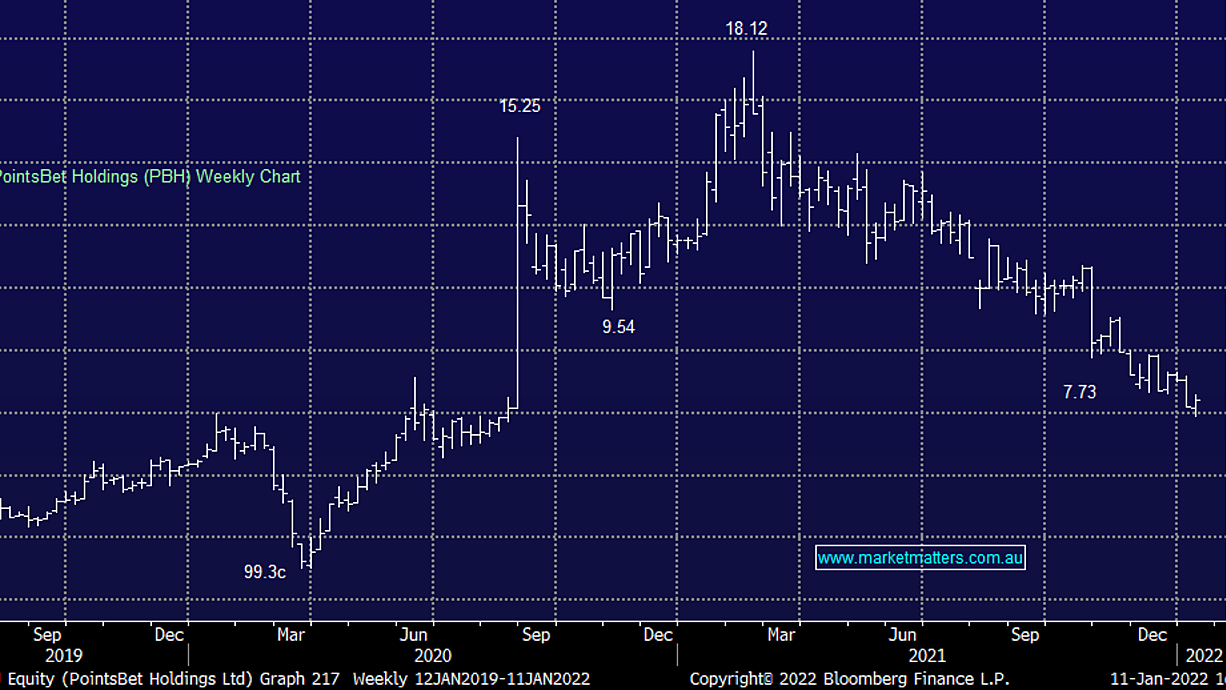 Broker Moves
ARB Cut to Underperform at Credit Suisse; PT A$38
Major Movers Today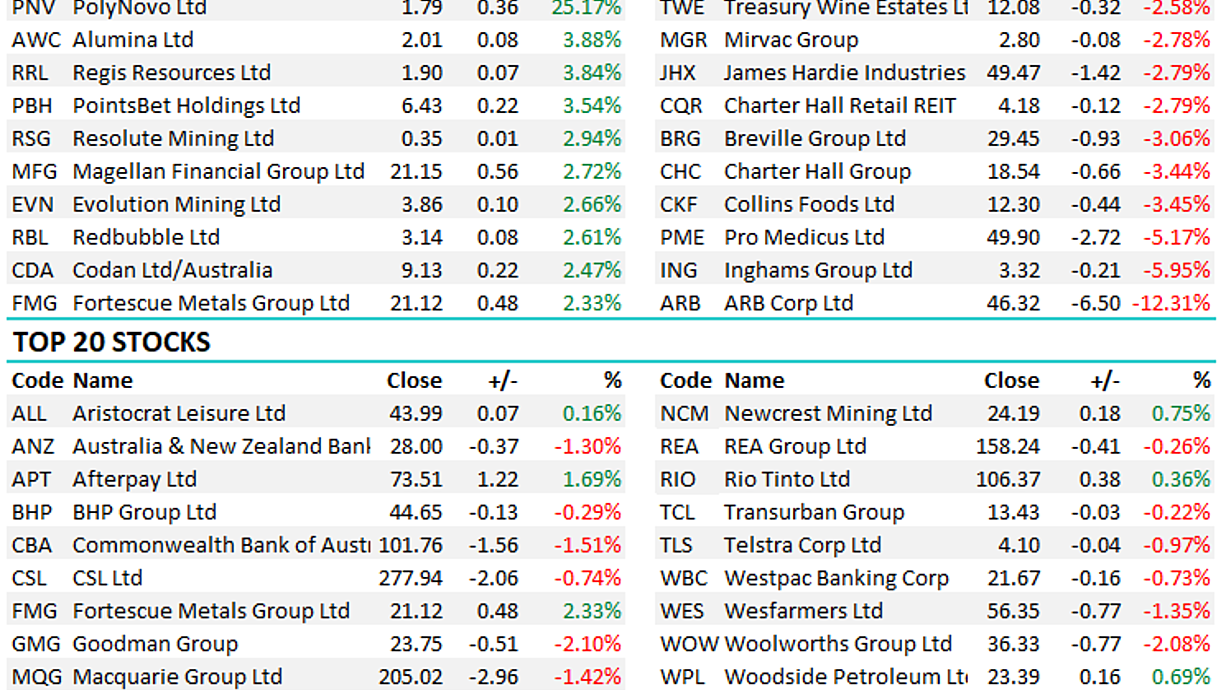 Enjoy your night
The Market Matters Team.
Make informed investment decisions
At Market Matters, we write a straight-talking, concise, twice daily note about our experiences, the stocks we like, the stocks we don't, the themes that you should be across and the risks as we see them. Click here for your free trial.
The Match Out will be available each day after the market close. Follow my profile to be notified when the latest report is live.