The Match Out: ASX is now up 6% from the low, IT stocks underpin buying
---
Another positive session for the ASX with the market now up ~400pts/6.2% from the low set at lunchtime on Monday when half the country was enjoying a long weekend. As is so often the case, the market made a new marginal low (6411) as stops were triggered before reversing aggressively staging an impressive 2.5-day rally to kick off the new quarter. Interest rates are clearly the main game in town and with some softening of economic data, the window is now open for central banks to ease off the gas, although the CPI print in the US on the 13th of August will dictate whether or not this view has legs…i.e.US CPY YoY below 8.1% & markets will likely rally, persistence above this level and all bets are probably off…
Daily Podcasts – Market Matters now publishes two podcasts daily, What Matters Today in Markets (generally with James Gerrish or Shawn Hickman) before 9am & Markets @ Midday (generally with Harry Watt)…Subscribers can listen via the website or subscribe free via SoundCloud.
What Matters Today in Markets – Listen Here
Markets @ Midday – Listen Here

The ASX 200 finished up +116pts/ +1.74% at 6815.
The IT sector was best on ground (+3.85%) while Consumer Discretionary (+2.72%) & Financials (+2.33%) were also strong.
Consumer Staples (-0.04%) the weakest link and only sector to close down on the session.
The market opened well and simply ground higher through the session even with US Futures pulling back 0.5% - the market is clearly caught short and we're seeing the first move to cover.
Lead Portfolio Manager James Gerrish was on Ausbiz this morning, discussing current market views & positioning – Watch Here
We made some tweaks to MM Portfolios today to ensure we hold the right composition of stocks in each portfolio to reflect our views into Christmas – Read Here
Some big moves playing out particularly in technology today – a few MM positions did particularly well with HUB24 (ASX: HUB) +9.71% & recent purchase REA Group (ASX: REA) +7.45%.
Relative performance today of +0.94% highlights how a recent move towards technology is starting to work in our Flagship Growth Portfolio.
We had a discussion about a number of stocks on the desk today – potentially switching from Lovisa (ASX: LOV) +5.84% to Premier Investments (ASX: PMV) -0.08% on relative value grounds, however, we continue to see more upside in the Lovisa model than in Premiers…
We also pondered our exposure to Copper, and ultimately made a 'tweak' with respect to this for both our Flagship Growth & Emerging Companies Portfolios.
Dye and Durham made a fresh proposal to buy some parts of Link (ASX: LNK) +6.69% but not the whole – the saga continues.
Tesco (TSCO LN) reports results tonight in the UK – we own in our International Equities Portfolio and we are looking for a reason to cut the position – we think FY23 will continue to be challenging.
Iron Ore was largely flat in Asia today- Fortescue (ASX: FMG) +2.38% & RIO (ASX: RIO) +1.96% edged higher – we're more cautious on the Iron Ore trade relative to other commodities.
Gold was up overnight to ~US$1726 before tracking down -US$6 in Asian trade today, settled $US1720 at our close.
Asian stocks were mostly higher today, big moves in Hong Kong with the index +6% after resuming from a holiday break, Japan +0.74% while China was down -0.55%
US Futures are all down, around -0.40% across the board. 
ASX200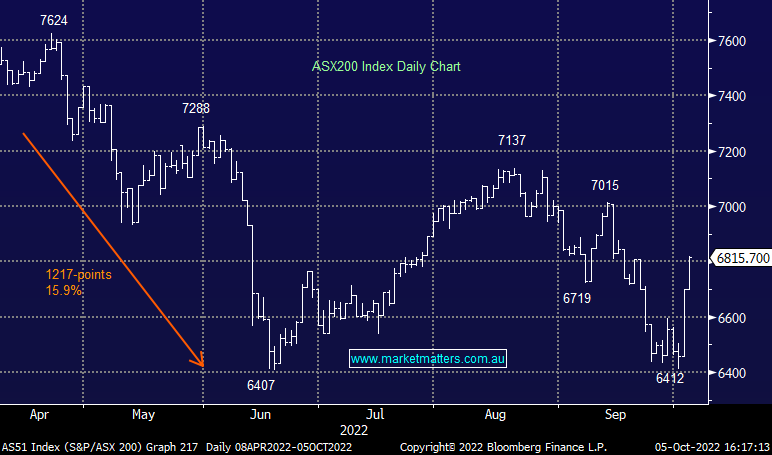 Broker Moves
Major Movers Today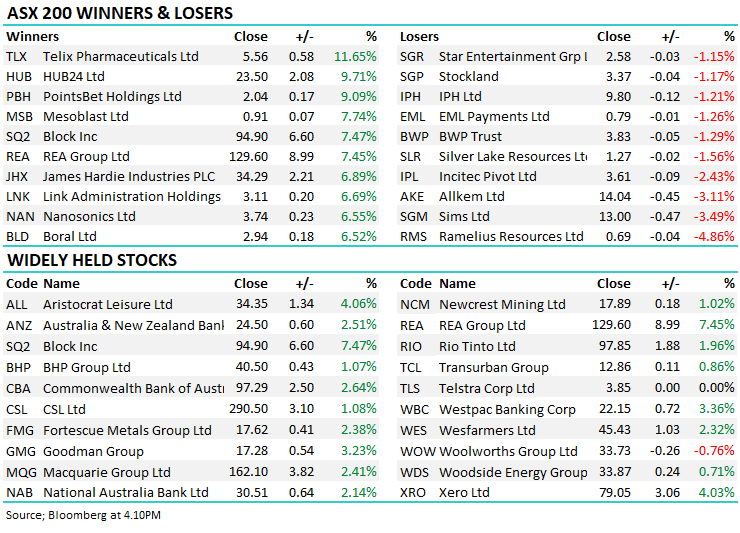 Make informed investment decisions
At Market Matters, we write a straight-talking, concise, twice daily note about our experiences, the stocks we like, the stocks we don't, the themes that you should be across and the risks as we see them. Click here for your free trial.
The Match Out will be available each day after the market close. Follow my profile to be notified when the latest report is live.