The Match Out: Market falls as RBA kicks off a new reality
---
The ASX pulled back today weighed by weakness amongst the resources while the property stocks factored in higher interest rates, and fell. The RBA the main game this afternoon, increasing rates for the first time in nearly 12 years upping the cash rate by 25bps to 0.35%, the market fell because the increase was a tad more than expected (15bps) however it should come as no surprise to investors, 2 year Aussie bond yields are at 2.75% while the 10 year is at 3.4%.
The ASX 200 finished down -30pts/ -0.42% at 7316
The IT sector was best on ground (+0.90%) while Healthcare (+0.38%) & Industrials (+0.10%) were also decent.
Real-Estate (-1.33%) and Materials (-1.04%) the weakest links.
The AUD put on +0.77% to trade back up through 71c post release.
The RBA hikes rates today by 25bps, the headlines reading a surprise however that's more about the quantum of hike. Consensus was for 15bps however many thought (MM included) that they should have done 40bps.
Aussie Broadband (ABB) -1% to $3.96 having opened strongly on a 'clarifying' announcement relating to yesterday's update which caused a 28% decline. Our Analyst Jono Higgins saying….
ABB is now on only 10.5x EV/EBITDA, growing 30% p.a. (organically), with 35% accretion to EPS from OTW in FY23. Having lost $400m in market cap having guided to EBITDA being ~$1m lower (driven by temporary CVC/network outage) and connections -5k on guidance (3Q-22 was a record) as Federal Election is in swing, the market has completely overreacted in our view.
Woolies (WOW) +0.37% posted a solid quarterly update, Australia doing well, NZ a slight drag.
Corporate Travel (CTD) -3.26% down after presenting at the Macquarie conference – their guidance implies a slight miss to current consensus.
Bapcor (BAP) -4.90% was also lower despite maintaining guidance, the market concerned here that the new CEO will find something untoward in the closet.
ANZ -0.15% down a touch ahead of their results tomorrow – WBC and ANZ outperformed CBA & NAB today with money flowing into the recent laggards.
Magellan (MFG) +5.03% rallied, although it was up ~10% at one stage, not really sure why, maybe talk of Hamish Douglas returning to the fold in more of a strategists role.
AGL Energy (AGL) -3.13% fell after Cannon-Brookes bought an ~11% stake – we've existed our position given looming uncertainty.
TPG Telecom (TPG) -2.75% off despite talking up their prospects at the AGM this afternoon.
Inghams (ING) -4.33% dropped after saying feed costs were continuing to hurt.
Iron Ore was up ~2.5% higher in Asia.
Gold remains soggy, trading ~US$1859 in Asia.
Asian stocks were higher, Hong Kong +0.25%, Japan +0.26% while China was up +2.41%
US Futures are all up, around +0.20%
ASX 200 Chart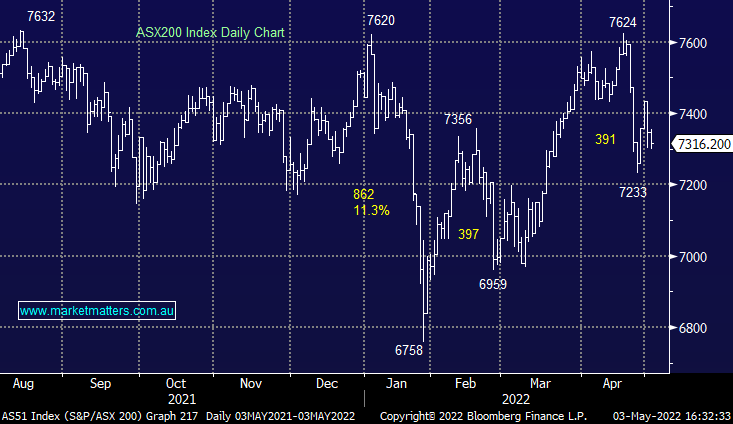 Woolworths (WOW) $38.44
WOW +0.37%: Released a 3Q22 sales update today that was broadly positive with their important Aussie Supermarkets enjoying like for like (LFL) sales growth of +4.4% which was above market consensus of +2.4%. They now have 9.9% online penetration which is strong while they highlighted food inflation which is running at 2.7%. Trading momentum in Q4 remained solid particularly in Australia while there was some Covid related disruptions in New Zealand, and that seems to be the reason why the stock was subdued today.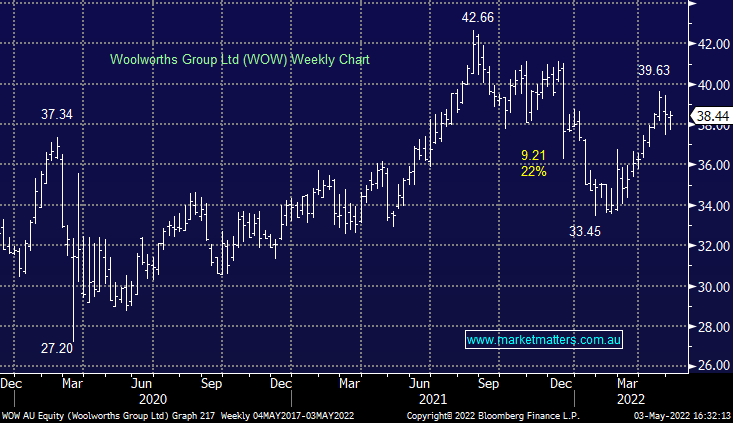 Corporate Travel (CTD) $24.96
CTD -3.26%: one of a few companies to present at the Macquarie Investor Conference today, Corporate Travel was weaker on the back of their update. The corporate travel industry is recovering and CTD expects to hit pre-COVID revenues in the 4th quarter this year, though this does include the acquisition of Helloworld's corporate business which was wrapped up at the start of last month. They talked to a long term EBITDA target of $265m which is slightly behind consensus estimates. They've also noted wage inflation coming through the system would impact earnings, though they're looking to offset that with improved technology.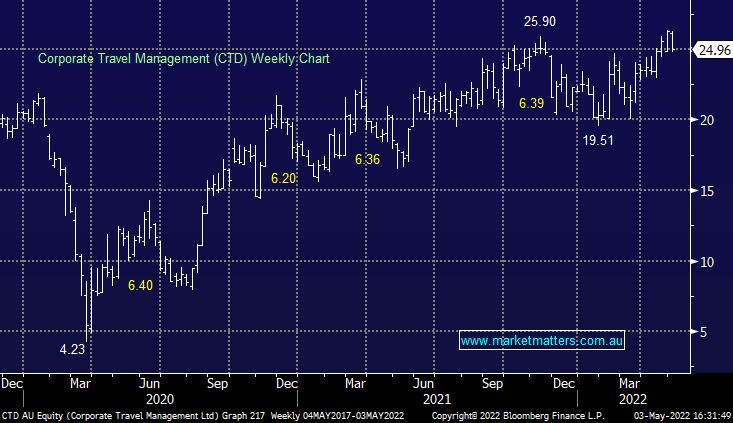 Broker Moves
Pacific Smiles Rated New Neutral at Evans & Partners Pty Ltd
Crown Resorts Cut to Neutral at JPMorgan; PT A$13.10
Seven West Cut to Hold at Jefferies; PT 70 Australian cents
Ramsay Health Cut to Neutral at Evans & Partners Pty Ltd
Mosaic Brands Cut to Market-Weight at Wilsons
Major Movers Today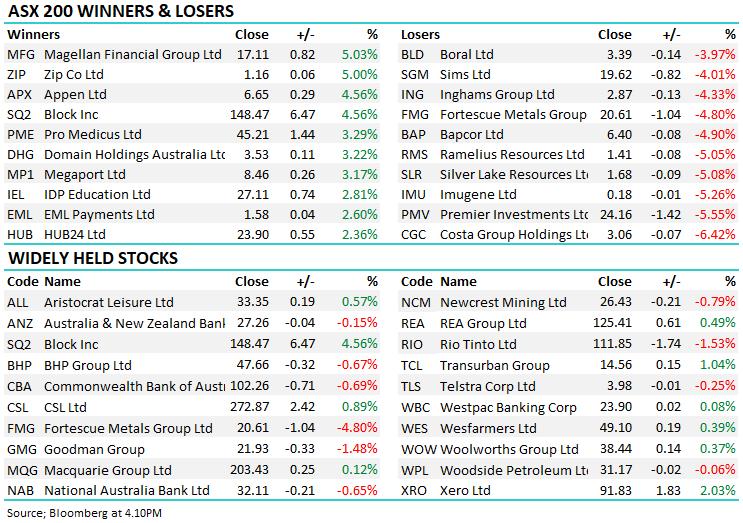 The Market Matters Team